HCMC –  The Saigon Times Group will cooperate with the HCMC Hospital of Hematology and Blood Transfusion to organize Blood Donation Day 2022 under the theme, "Saigon Times – Great Circle – Giving Blood", on October 1.
The blood donation is organized in response to the call from the HCMC steering committee for blood donation to ease the blood shortage in the city due to the impact of the Covid-19 pandemic.
Also, the program celebrates the 27th birthday of The Saigon Times (October 2, 1995-2022) and the 31st birthday of The Saigon Times Weekly (October 10, 1991-2022).
This meaningful humanitarian activity is a clear indication of the responsibility of the Saigon Times Group to the community.
The Saigon Times Group calls on all valued readers, domestic and foreign enterprises, and diplomatic agencies in HCMC to support and participate in the annual program.
The blood donation event is organized thanks to the sponsorship of ATM Online Vietnam, BAEMIN and Breadtalk Vietnam.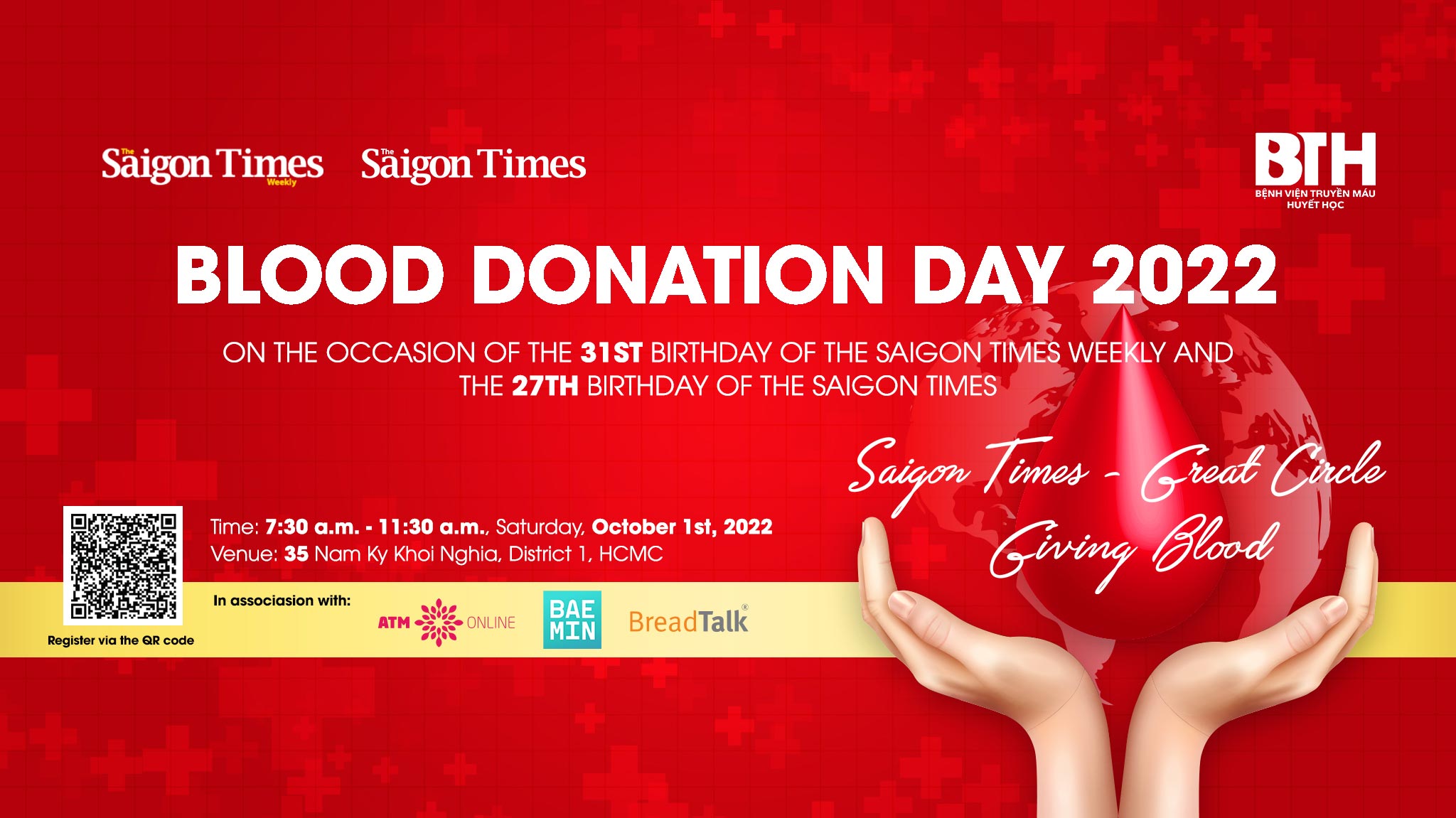 The Blood Donation Day will be held at the Saigon Times Group headquarters at 35 Nam Ky Khoi Nghia Street, Nguyen Thai Binh Ward, District 1, HCMC, from 7:30 a.m. to 11:30 a.m on Saturday, October 1.
Readers interested in the Saigon Times Group's blood donation drive can register here, contact Mr. Manh Dung on 0902.349.288, or email: manhdung@thesaigontimes.vn.
All registrations should be done before 5 p.m. on September 23.
Only register for blood donation when you:
– Feel healthy and not exposed to the risk of transfusion-transmitted infections and Covid-19 infection.
– Got two Covid-19 vaccine doses or one dose at least 14 days ago or recovered from Covid-19 at least a month ago.
– Meet the requirements on age (18-60), weight (45 kilograms or above), and minimum interval between two blood donations (three months).
– Wear face masks at the blood donation site, wash hands with soap or hand sanitizer before registering for blood donation, and follow the guidelines of medical workers or volunteers at the blood donation site.
– Carefully read and honestly reply to the blood donation questionnaire and fill in the health declaration form.
– Inform the doctor if you develop symptoms such as cough, fever, or shortness of breath within 14 days after blood donation.
Blood donors should:
Have a light meal and drink water (300-500ml) before donating blood.
Consume enough food and drink enough water for 24 hours after donating blood.
Lie or sit for 10 minutes after donating blood.
Hold a piece of cotton wool at the injection site for 10 minutes and a bandage for four-six hours.
Lie down with their legs elevated if they feel dizzy, tired, and nauseous.
Cover the injection site with a cold towel or ice if inflammation develops.
They should not:
Drink milk, alcohol, or beer before the donation.
Drive for a long distance, work hard or exercise on the blood donation day.
When donating blood, you will help:
Increase the blood reserves
Save costs for society (reduce costs of materials and chemicals for blood testing)
Allow patients to:
Pay less for blood transfusions
Receive blood transfusions swiftly when needed
Face lower risk of blood transfusion complications