Although in essence, packaging from OXO-degradable plastics is harmful to the environment, it is not easy for consumers to recognize. It is the misinformation that makes the "right" choices turn into the "wrong". How does society transform awareness and create room for truly "green" plastic products?
Avoid confusion between OXO-degradable plastics and environmentally friendly plastic products
From 3 July 2021, single-use plastic plates, cutlery, straws, balloon sticks and cotton buds cannot be placed on the markets of the EU member states. In addition, the same measure applies to cups, food and beverage containers made of expanded polystyrene, and all products made of OXO-degradable plastic. Besides the European Union, many countries around the world such as Australia, Canada, South Korea, Thailand, Pakistan, Denmark and Latvia have also formulated drastic policies against OXO-degradable plastic products due to concerns about the negative impacts of these products on the environment. However, in Vietnam, OXO-degradable plastic products are still advertised and marketed under the label "biodegradable, environmentally friendly".
According to Professor Dr. Dang Thi Kim Chi, in Vietnam many disposable plastic replacement products cause confusion due to the lack of distinction between compostable plastics and OXO-degradable plastics when both are labeled as biodegradable and environmentally friendly. It is this that has led consumers to mistakenly believe that OXO-degradable plastics is environmentally friendly, but in fact, it is toxic to the environment and human health.
"It is of great concern that OXO-degradable and compostable products are not clearly differentiated on the market when OXO-degradable plastic products are still labeled as 'biodegradable'," Professor, Dr. Dang Thi Kim Chi emphasized.
On the consumer side, when asked, they all answered: "Can't distinguish between OXO-degradable plastic bags and compostable plastic bags!" This is the common reply of many people who do the shopping at supermarkets in Hanoi, Ho Chi Minh City or many other provinces and cities.
The lack of control over labels and product quality is the main factor that facilitates OXO-degradable plastic products to be in the same class with compostable plastic products which have the ability to decompose into water, CO2 and humus without leaving microplastics in the environment. Meanwhile, because compostable products are twice more expensive than OXO-degradable plastic products, consumers often prefer OXO-degradable plastic products even though they are not really environmentally friendly.
Because of this inadequacy, a number of Vietnamese enterprises investing in the production of compostable products are looking for potential markets in other countries such as Europe and Japan because they have foreseen the fact: Compostable products have not prevailed in the domestic market.
Paving the way for "green" plastic
Concerned with the development path of Vietnam's plastics industry, Dr. Trinh Thai Ha, Country Director of the Vietnam National Plastics Action Partnership Program (NPAP), said that Vietnam still does not have a technical barrier to help users classify different types of plastic packaging. Therefore, it is necessary to have policies to clarify, provide regulations and standards, not indirectly promote more negative materials.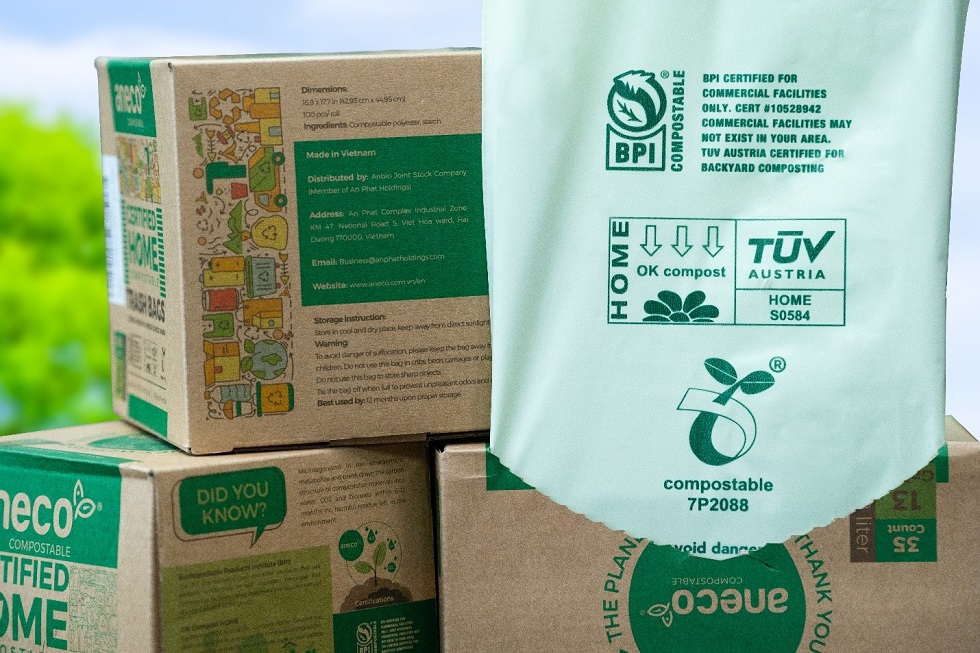 Meanwhile, Dr. Nguyen Trung Thang, Deputy Director of the Institute of Strategy and Policy on Natural Resources and Environment (Ministry of Natural Resources and Environment), said it is time to review and re-evaluate the criteria for environmentally friendly plastic bags.
At the same time, it is important to research and develop national technical standards and regulations to control products and goods capable of releasing toxic microplastics into the environment; research, review, and develop regulations on limiting and gradually eliminating the production and use of photochemical plastics (OXO-degradable plastics).
With the continuous development trend of the global bioplastics industry, the  market expansion potential  for Vietnam's compostable products is huge. Paving the way for businesses to actively invest in green production is the key to creating a green, circular and sustainable economy.
How to identify OXO-degradable and compostable plastic products:
– OXO-degradable plastic products: The label can be a biodegradable product, but the ingredients printed on the package will be over 95% PVC, HDPE, LDPE, PE… and "biodegradable" additives.
– Compostable products: the ingredients printed on the package are: "PLA, PBAT". In addition, environmentally friendly products will have important national and international certificates such as TCVN 13114, DIN Certco, Seedling, BPI Compostable, OK Compost HOME/ INDUSTRIAL