The Circular Economy concept aims to minimize waste, maximize potential usage of resources, and utilize the waste material in a loop system. At SCG, via its corporate social responsibility (CSR) programs, the corporation proves that the circular economy concept can not only be applied into business but also be a part of daily life.
Introducing the circular economy concept to young generation
The circular economy concept is incrementally becoming a part of society and of business. In education, it is recommended to start introducing this concept in the young age, where children start exploring the outside world and engage with peers. It continues through to higher education as it becomes embedded in an individual's mindset and way of living. Along the way, children learn about materials, waste leakage in daily life, personal skills, and collaborative action for change towards a circular economy society. Therefore, multiple stakeholders enriched with interdisciplinary thinking both now and in the future will play a decisive role in building a new economic system via the younger generation.
Understanding the importance of educating the youngsters about the circular economy concept, for many years, SCG has launched a variety of activities to raise its awareness in schools. This year, SCG organized the 14th International Children's Day at the School for Disabled Children in Ba Ria – Vung Tau. With a support package worth VND220 million, the program with many outdoor activities has educated children about the circular economy and empowered them to develop a "green" lifestyle from the simplest actions.
The program having taken place at the School for Disabled Children is one of the side events of the "Vietnam Circular Economy Forum 2022," which SCG in collaboration with the Ministry of Natural Resources and Environment organizes to improve the involvement among stakeholders and to promote a sustainable Vietnam through expertise sharing and initiatives. Its program also demonstrates SCG's commitment to pursue ESG (Environment – Social – Government) strategy.
At the event on the International Children's Day, more than 250 students were allowed to participate in activities to improve teamwork spirit as well as physical health, and recycling and waste segregation challenges to create habits of environmental reservation. Furthermore, the students also received gifts and scholarships from SCG, which encouraged their endless studying efforts, determination of life success, and love for the environment. In addition, SCG also donated three water purifiers to the school for students to have clean water and to limit single-use plastic bottles at school. The corporate also donated garbage bins to introduce students to waste segregation.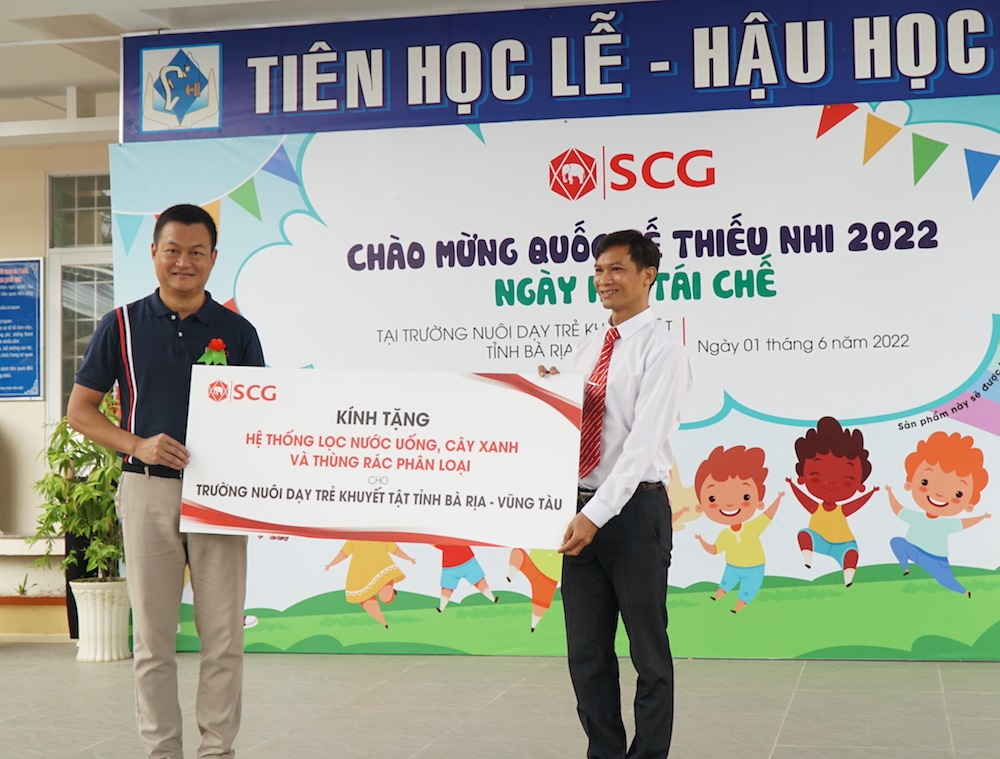 Mrs. Le Thi Thin, teacher at the School for Disabled Children, said: "The theme of recycling is very meaningful and useful. Thanks to the program from SCG, students now know how to recycle bottles, jars, milk cans, paper… and give them a new life. The program offers students opportunities to play-to-learn about the circular economy concept. The support from SCG has brought many positive effects on educating students, especially for students with disabilities. That is a huge motivation for us to keep accompanying them in the future."
Success comes from creative and friendly initiatives
The program at the School for Disabled Children in Ba Ria-Vung Tau has benefited the children on their journey to a circular economy. This success comes from a participatory approach where knowledge about waste segregation as well as recycling was introduced via concrete examples. The creative examples help facilitate an understanding of the concept and its possibilities for the benefit of the community.
One of the outstanding examples is the presentation and display of modeling art pieces made of recyclable materials from five groups, who are the school's staff, teachers and students. Instead of being discarded, models have been created and recycled from unused items to create new decorations, learning and teaching tools… Some of the displayed and presented initiatives include two Vietnam maps made of bottle caps, a model of a happy ecological garden made of seashells, a model of rotation made of old newspaper to serve for studying and practicing math, a clock model made of old newspaper and carton, etc.
Dang Van Thanh Duc, a student of class 4D, said: "With the support from SCG and teachers, my friends and I have had fun creating a model of rotation which can be used as a math learning tool. Made of boxes that we collected, this model now helps us learn effectively. We are students with disabilities but we can still do it, I'm sure other students can recycle too."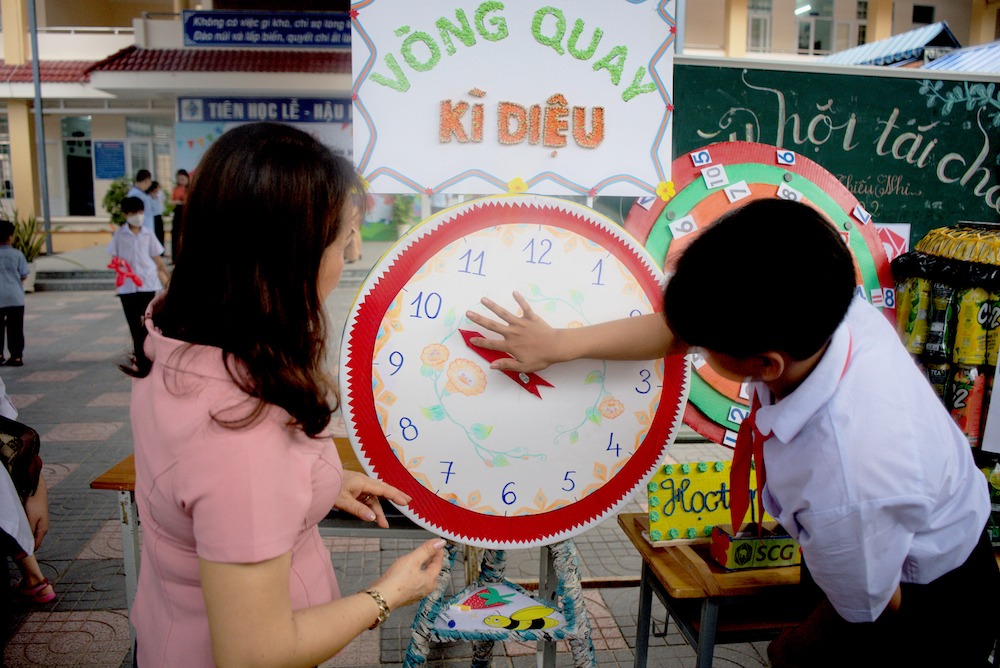 Aiming to empower and develop the young generation, on this occasion of the Children's Day, SCG also granted gifts to pediatric patients at District 8 Hospital. The corporate also sponsored VND100 million for the "From the Heart with Love" program (Trái tim yêu thương), supporting orphans affected by the COVID-19 pandemic. The program is a joint effort between SCG and the Thai Chamber of Commerce and Industry in Vietnam, the Royal Thai Consulate-General, and the Sponsoring Association for Poor Patients. Also, SCG sponsored VND30 million for the program named "Books in hand – Good things will come" (Sách báo trên tay – Điều hay sẽ đến) with the goal of taking care of the cultural and spiritual life for children with extremely difficult circumstances in Ho Chi Minh City.
With the commitment to support the local community, SCG with its CSR activities not only brings positive values to local people but also promotes a circular economy and contributes to a sustainable Vietnam.