Collaborating with Ba Ria-Vung Tau Eye Hospital and BRVT Youth Union to provide free eye health examinations for 600 local residents, successfully conduct 100 cataract surgeries, and hold training sessions on eye health for local public, SCG with its latest campaign called SCG Sharing the Brighter Vision 2022 has demonstrated the company's efforts to pursue ESG strategy (Environmental, Social, and Governance).
Eye health – Vision of the future
Eyes play a vital role in our not only professional career but also personal life, and thus they should be protected properly. However, the number of people facing eye issues is rising significantly every year. In Ba Ria Vung Tau, 3.01% of local people who are over the age of 50 have visual impairment, while approximately 7,000 people are blind in one or both eyes. Students have a 20% refractive error rate, with nearly 70% of them not wearing glasses, and those who have worn glasses have a 70% error rate. In addition, numerous local people have eye cataracts, which is mainly caused by the continuous exposure to strong sunshine and UV.
Given this understanding and in accordance with the ESG strategy, SCG initiates the SCG Sharing the Brighter Vision 2022 campaign in Ba Ria-Vung Tau Province. The campaign aims to improve eye health of local people, prevent avoidable illnesses that could result in irreversible eyesight impairment, and thus contribute to the communities' well-being.
"Under the ESG direction, we plan to improve people's quality of life and the country's development by promoting good health and well-being through a modern, accessible, and quality healthcare system. That's why we launched the SCG Sharing the Brighter Vision 2022 and hope to bring a better life and better future for local people…," said Mr Piyapong Jriyasetapong, General Director of SCG Vietnam, SCG's representative.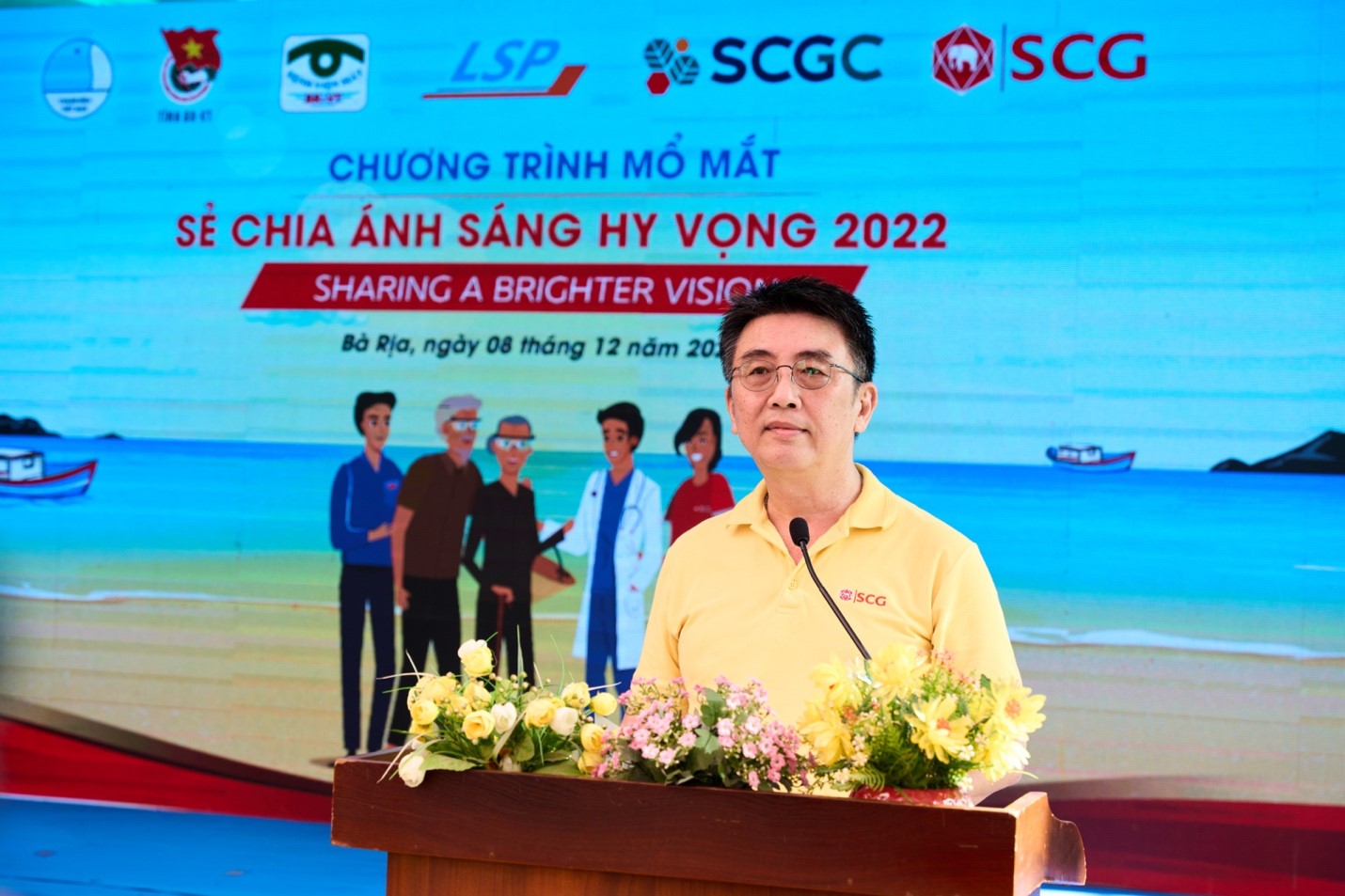 The SCG Sharing the Brighter Vision 2022 – Better lives for better well-being
The Sharing The Brighter Vision 2022 project carries 600 free eye examinations for people in BRVT province. The examinations help detects certain eye conditions such as cataracts, glaucoma and age-related macular degeneration, which could lead to sight loss in elderly people; and make sure any visual problems such as squint, lazy eye (amblyopia) or short-sightedness (myopia) are detected and treated early in children. Especially, under the campaign, SCG also offers 100 free eye cataract surgeries to elderly and disadvantaged people, thus would offer them a brighter vision for a better life.
Aiming to raise awareness about eye health, doctors from Ba Ria Vung Tau Eye Hospital and SCG also deliver training sessions that introduce good habits and useful ocular-care tips for local residents. These simple yet important daily habits can be easily adopted and can help prevent the development or worsening of eye problems.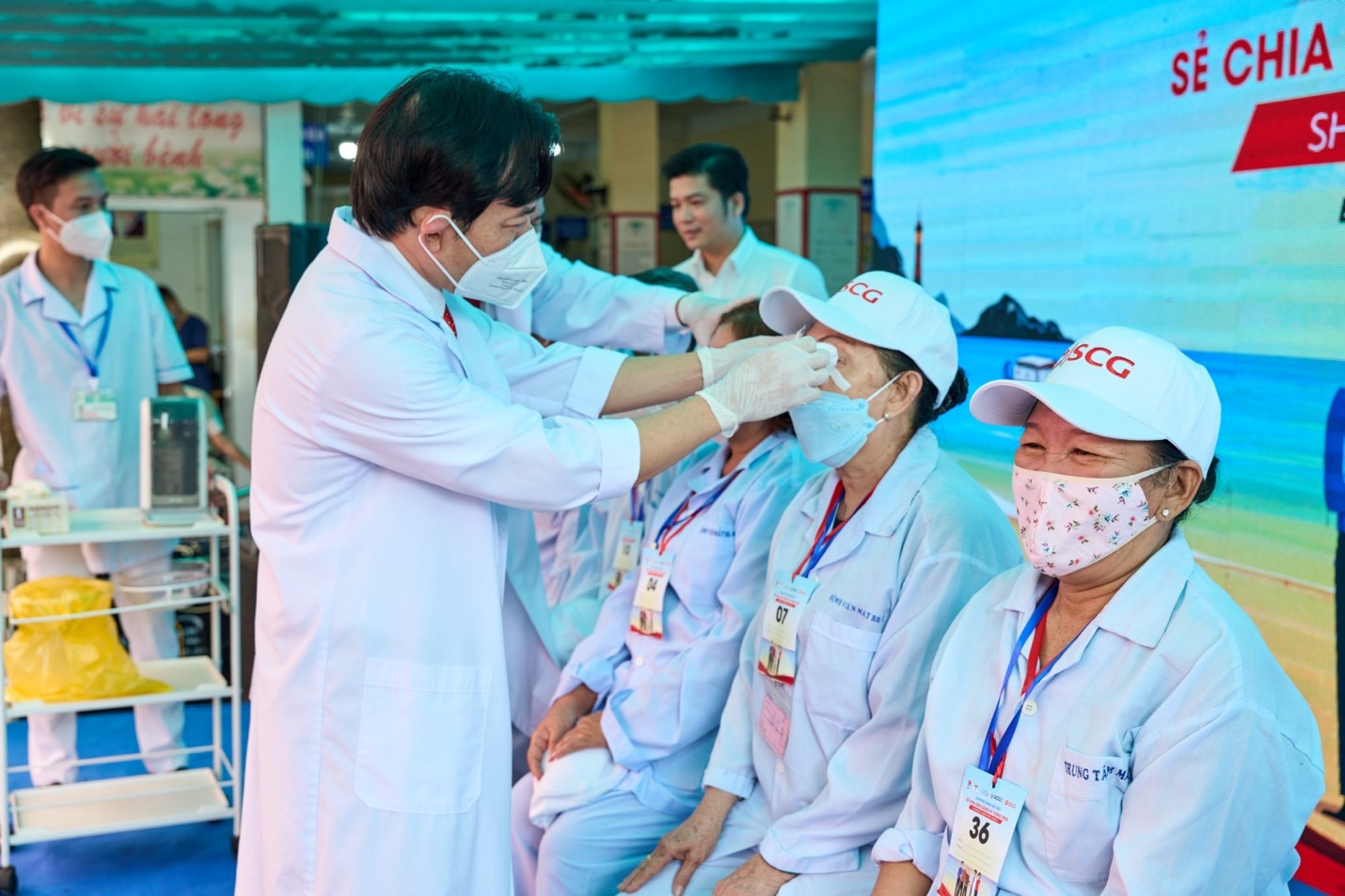 "Good health is our most valuable asset, which allows us to enjoy life and fulfill our dreams. Taking care of our health, especially our eyes, should be prioritized. However, because of financial barriers, some people in Ba Ria-Vung Tau Province do not have opportunities to properly protect their eyes. Therefore, I'm happy that SCG has sponsored and collaborated on the SCG Sharing the Brighter Vision 2022 and offered free eye care packages for local people. This is truly meaningful and clearly demonstrates SCG's contributions to local communities," said Mr. Nguyen Viet Giap, Director of Ba Ria Vung Tau Eye Hospital.
"For more than a year, my vision has been clouded on one side due to cataracts. I had an eye-check before and the doctor advised me to have surgery, but mostly because of the financial burden, I couldn't afford it. Today, I was finally able to have free cataract surgery thanks to SCG's program. I'm deeply grateful that SCG and the doctors have provided me with brighter eyes. This meaningful initiative not only is beneficial for me or my family, it also enhances the well-being of the whole community," said Mr Le Van Hoa (born in 1956), patient.
The SCG Sharing the Brighter Vision 2022 once again reaffirms SCG's ambitions to apply the ESG strategy to its business, as well as its leadership role in the ASEAN region in the direction of sustainable development.