Whereas the Myeongdong Pedestrian Street in Seoul, South Korea is just about 500 meters long, it boasts a wealth of independent boutiques and international stores. The place is packed with millions of tourists and visitors everyday, those that come to visit, shop, entertain and enjoy Korean unique cuisines. Myeongdong not only keeps up with the latest beauty and fashion trends, but also promotes the famous global Kpop trend Hallyu. The resemblance of location and the bustling, noisy and lively of this retail and leisure utopia has become a source of inspiration to make Metro Star right at the hub of Thu Duc City another Myeongdong.
Myeongdong –  Korea's mecca of shopping and entertainment
Located in the heart of Seoul, South Korea, not far from the Myeongdong metro station, Myeongdong is one of the most bustling corners for any shopaholic with lines of shops ranging from mid to high-end fashion and cosmetics brands, including flagship ones like Chanel, Bulgari, Mango, Lacoste, Giordano, Tommy Hilfiger, Adidas, Nike, and New Balance you name it. There are also those that are more affordable such as H&M, Zara, UNIQLO, etc. Moreover, the street is also home to well-known Korean brands such as SPAO, WHO.AU, Bean Pole, Basic House, MIXXO, Eight Seconds, TOP TEN, Roem, ZIOZIA, Teenie Weenie, The Face Shop, Missha, It's skin, Aritaum, Natural Republic, etc. Restaurants with more than 50 years of service like Yeongyang Center or Myeongdong Gyoja, Gogung, and others have chosen the street to approach the abundance of potential customers.
The Pedestrian Street in Myeongdong is separated into two halves. The main area are  shophouses that stretch over a large route that is laid out in a checkerboard pattern, merging stores with well-known domestic and international brands. Other popular brands can be found in small zig-zag alleys. With such a coherent plan, customers can easily find their favorite places. Many of those who visit shops on the main streets are usually celebrities, businessmen, merchants, and people with a high income. Small alley areas are widely favored by people with average wages and students.
Therefore, Myeongdong is like a magnet attracting shopaholics. Anyone who comes here witnesses the example of consumers entering stores then leaving with plenty of bags in their hands – the scene becomes a symbol of the street. Many famous Korean brands have created a huge market on the streets of Myeongdong, bringing their brands to not only Korean people but also a huge number of tourists from all over the world who flock here. It is likely that some people planning to visit Seoul even in just one day have to make sure that they get a train to Myeongdong, showing the immense appeal of this shopping street.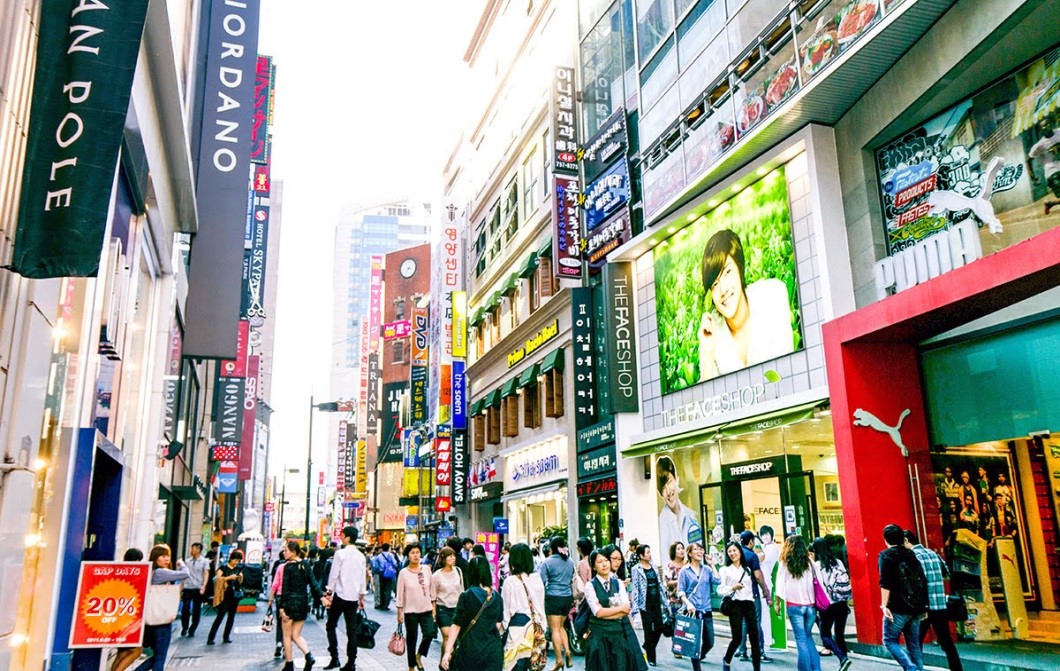 Aside from shops, cuisine and street performances are two specialties that should not be overlooked when visiting Myeongdong. Many businesses sell food with reasonable prices at the beginning and end of the streets which are all tasty. Every night, vibrant entertainment events held by local street artists help promote the wave of K-pop trends.
Myeongdong now attracts an average of 1 million visitors every day, providing a significant source of revenue for shophouses and retail establishments. The rent for shophouse space is also among the most costly in the world, ranging from $11,000 to $32,700/m2, which is three times more than the average rate in other parts of Seoul.
From Myeongdong to Metro Star
An interesting similarity between Metro Star and Myeongdong Street is that the project is also just a few steps away from Metro Station 10.  The Metro Star's project owner was inspired by the similarities of the location and the success of Myeongdong to apply this unique business model to shophouse development and a shopping-entertainment strip.
Metro Star's shopping street is "tailored" in detail and methodically designed, with Shopping – Fashion – Food – Street Art sectors tightly integrated to create a lively commercial service complex, using the Myeongdong as a model. The shophouse, which is situated around the podium of the two towers, catches the attention of customers.  The area of ​​shophouses is diverse, from 35m2, 69m2, to 310m3… scale of 1 or 2 floors with completely glass-covered facades and decorative signs designed synchronously and sponsored by the project's owner. Investing in the most expensive and most beautiful parts of the project will allow investors to own an area that is packed with famous brands of fashion, cosmetics, restaurants of Vietnam, Korea, and also worldwide, attracting middle-class, celebrities and businessmen.
On the other hand, the streets in front of the shophouse are arranged into a walking street in a zig-zag pattern, with each bend being a completely new, unique, and unrepeatable experience. The night market is like those alleys at Myeongdong, selling a wide range of fashion and cosmetic items at soft prices.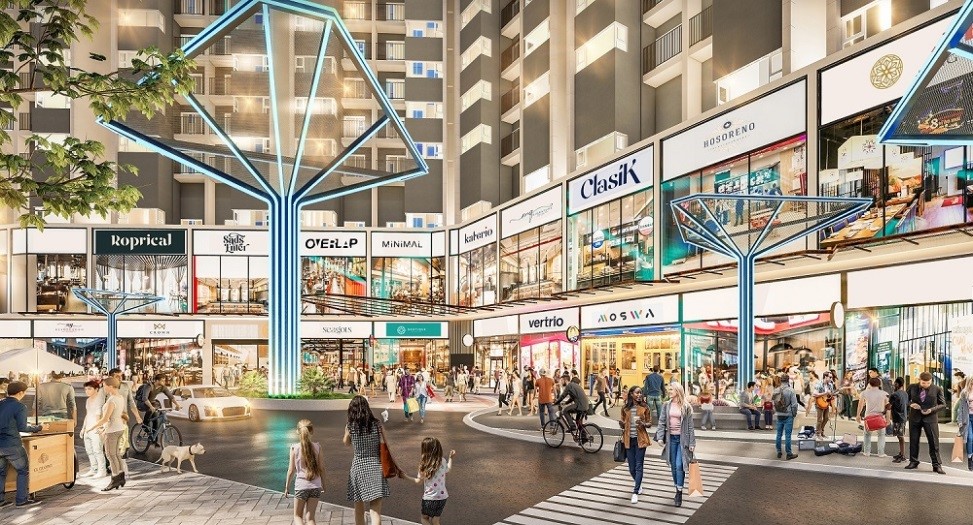 The key to success for investors also comes from the planning of shophouses – shopping streets at Metro Star. The process is consulted by leading experts in the field of building international-standard shopping streets. The layout and space arrangement are exceedingly scientific, rational, and precisely planned to guarantee that every brand is in the customer's view, and every shophouse is noticed.
On every weekend evening, the food street will help turn this place into a shopping-food paradise right at the middle of Thu Duc City, serving distinctive delicacies from various nations across the world with a strong street food taste, promising to attract thousands of visitors, most of them are youngsters.
As the only project that is connected directly to Metro Station 10 by a pedestrian bridge, the neighborhood at Metro Star is also an ideal stopover for passengers arriving at the train station. When Metro Line 1 is fully operational, it is expected that 250,000 passengers would utilize the service each day, generating a steady stream of revenue for Metro Star shophouses.