One of the most current controversial issues here is whether schools should be reopened now while the Covid-19 pandemic is still sweeping the world and vaccines for children aged 12 or younger are still unavailable. How should this problem be tackled in the case of Vietnam?
One point which has been agreed to by the World Health Organization (WHO) and scientists worldwide is that Covid-19 cannot be contained in at least five to seven years and humankind will have to live with it like they do with seasonal influenzas and other diseases.
So far, vaccines for children aged 12 or younger have yet to be developed. Pfizer is the only drug company to create Covid-19 vaccines for teenagers from 12 or older. The rest of the vaccines currently in use are for people of at least 18 years of age. The question is therefore whether schools should be reopened to welcome younger students or they should remain closed until the availability of a vaccine for this category of children.
To answer the question, one should consider whether Covid-19 is really dangerous to children under 18. What we should do is to assess the severity of Covid-19 patients in this age group as well as their mortality rate in comparison with those in other age ranges.
According to the United Nations Children's Fund (UNICEF), statistics gathered until May 2021 show that of the 2.7 million deaths worldwide because of Covid-19, 8,700 were under 20 years old (accounting for 0.3%). Of this, 60% of the cases were between 10 and 19 years of age. Deaths of patients between 0 and nine years old accounted for only 0.1% of the total death toll.
In Vietnam, of the 6,338 Covid-19 cases in this age group that had to be hospitalized, only 259 patients had to be treated in intensive care units (ICU), or 4.1%.
Another survey shows that from March 2020 to February 2021, of the 12 million people aged under 18 in Britain, 3,105 died and only 25 died of Covid-19 while the rest lost their lives because of other diseases or reasons.
To have a more accurate and balanced assessment of the mortality rate of Covid-19 patients under 18, we should consider U.S. data. From January 4, 2020 to September 4, 2021, 643,857 Americans died of the coronavirus. Of these, U.S. citizens aged 65 or older accounted for 78%. Only 148 death cases were children aged between 0 and four, or 0.02%; and only 338 children or teenagers from five to 19 years old died, or 0.05%. Consequently, the Covid-19 mortality rate of American patients under 18 was only 0.07% of the total.
It can be concluded that even if Covid-19 patients under 19 had to be hospitalized, the rate of severe cases was very low. The Covid-19 death rate compared with those of other diseases and other reasons was extremely low. An analysis of the full data of the death rate in America from the time of the first outbreak also gives us a general view of the death rate of Covid-19 patients under 19 compared with other age groups. Research studies as well as statistical data have also come to the conclusion that the severity of Covid-19 case ratio and the mortality rate of the 0-10 age group was lower than those of the 10-18 age group.
How have schools in other nations been reopened?
To protect their children from the danger of Covid-19, governments worldwide have closed schools in accordance with different levels. Except for a few countries or territories which have not shut down their school systems so far—such as Belarus, Turkmenistan, Burundi, Nauru and Tajikistan—almost all others have partially or completely closed schools in accordance with the severity of the pandemic outbreaks.
The longer the partial or complete closure of schools is, the more disadvantages it breeds. Studies conducted by researchers and UNICEF have indicated that school closure and compulsory online learning at home adversely affect the quality of learning in general. In addition, there are also many other consequences, such as higher rates of school dropouts, child labor, child marriage, teenage pregnancy, family violence and child abuse. Quite a few poor households or those in remote areas cannot afford distance learning equipment and tools for their children. Technological infrastructure and transmission speed there seriously affect the quality of children's online learning. Parents have to take care of kindergarteners while the latter are in their virtual classes. So have parents of primary school pupils. That children are unable to go to school for a long time may also lead to physiological and psychological problems and disorders, such as stress and video game addiction.
Currently, only some 17 countries still completely or partially close their schools the world over. Some countries—such as, India, Thailand, Indonesia and South Korea—may close or reopen schools in accordance with the situation of Covid-19 in a locality. South Korea has reopened almost all her schools at all levels. In localities where the Covid-19 infection rate is high, such as Seoul, pupils in grade two or lower come to class to learn directly with their teachers. The rest of students are required to study online.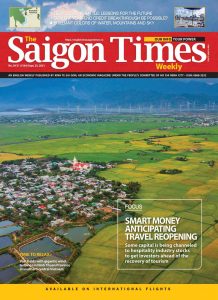 Should Vietnam reopen her schools at the time being?
The price to pay for a long duration of school closure is high, which can be said to far surpasses its advantage of infection and death prevention. UNICEF has officially urged governments to open schools soon to curb the adverse effects on social issues as well as children in the long run.
Official death toll of child mortality because of Covid-19 in Vietnam is not yet available out of the 590,000 infections so far. By September 12, 2021, only 13 children in HCMC had been officially recorded as Covid-19 deaths (including cases with cancer) among the 14,745 dead cases nationwide, or 0.007%, which is way below the global rate of 0.3% and 10 times lower than the U.S. rate (0.07%). In comparison with the mortality rate of other reasons—such as cancer, tuberculosis, heart disease and accidents—the rate of children under 18 dying of Covid-19 over the past one year and a half in Vietnam is very low. For a comparison, about 2,000 Vietnamese under 18 die because of drowning each year.
The above analysis may indicate that in line with the vaccination drive for adults, the Government should partially reopen schools after September 15, 2021 as follows:
Complete reopening should be permitted in remote areas or sparsely populated localities; when severe cases can be handled by the local healthcare system; or when 50% of the local population have already received two shots or 60% have received one shot.
Partial reopening should be applied to cities with a large population or big number of workers—such as HCMC, Hanoi, Binh Duong and Bien Hoa—and having a high rate of infection. They may partially reopen their schools at different levels. Primary schools, and final-year classes (grade 9 and grade 12) should be completely reopened. Other students should study online until the vaccinated population reaches the above rates (50% or 60%).
To ensure safety for school reopening, the following tasks must be fulfilled: weekly sterilization is conducted at all classrooms and face mask wearing is compulsory in class all the time.
All teachers, school members and educational personnel should be fully vaccinated. Each week or every two weeks rapid testing should be conducted for all students in schools. If an infection is detected, all the students in the class must be tested; and the class sterilized and turned into the online regime. After seven days, a test must be repeated. Subsequently, students with a negative result can continue to go to school; and infected ones have to be quarantined at home or in hospital if required.
It is also necessary to import vaccines for children of 12 years old or older. A class whose 60% of its students have been vaccinated will meet in person.
By Truong Minh Thanh