As of September 2, 2021, Vietnam had had 482,498 Covid-19 patients and 12,138 people dying of the disease, a death rate of 2.5%. Given the pandemic's complexity, the overwhelming majority of countries are imposing different social distancing measures. What are these measures like and what could Vietnam learn from them to live with the coronavirus?
The implementation of social distancing measures in time as soon as a pandemic strikes, particularly in the early stage when the number of infections is still low, would result in better care for patients. In such normal conditions of the healthcare system, patients would be better cared for, helping minimize the death toll and restrict the pandemic so that it could be contained or limited. In this case, social distancing imposition aims to flatten out the epidemic curve as time elapses.
The world's history shows that social distancing schemes, such as lockdown or isolation, could restrict pandemics. For instance, the Spanish flu (AH1N1) in 1918-1919—during which some 300 million were infected and around 50 million died—was contained. In 2003, the Severe Acute Respiratory Syndrome (SARS) broke out in China and spread to 29 countries and territories, including Vietnam. SARS infected 8,422 people and killed 916, leaving a mortality rate of 11%. Due to opportune detections followed by effective tracing and isolation measures, this epidemic failed to sweep across the world.
To put a long story short, the biggest benefit of social distancing in a pandemic relates to the fact that it helps governments afford more time to straighten the epidemic curve to make schemes for handling and mobilizing resources to cope with the pandemic. It also saves time so that a healthcare system can be better braced for infections and save as many lives as possible later.
Social distancing models
Covid-19 is still raging on across the globe and has shown no signs of alleviation in the immediate future. Scientists and researchers have worked out a host of social distancing models designed to prevent or slow down infections. A majority of countries have adopted the compromising one among those models that is the partial lockdown.
A full lockdown means the implementation of curfew-like measures when no schools, production facilities, public transport means, as well as cultural and sport events are allowed, and nobody can go out of their house unless he or she is authorized by competent agencies. What the Chinese Government did in Wuhan last year is a typical example of this model.
Meanwhile, partial lockdowns are currently adopted by a host of governments worldwide with a wide variety of levels in accordance with the severity of infections in each geographical unit in a country (city/province/district/ward/hamlet).
The Korean case
During the first global attack of Covid-19, the Republic of Korea (ROK) was one of the hardest-hit countries. However, due to a staunch and effective deployment of social distancing measures—such as lockdowns and tracing—this country has been able to quickly suppress the pandemic. Presently, the ROK classifies social distancing into four levels as follows.
Mobile contact tracing systems are in place in the ROK. Consequently, a person who makes contact with a Covid-19 patient will receive a message requesting him or her to take a test. If the case is positive, members of the rapid reaction force will take that person to a hospital where a quarantine period is enforced.
The ROK has never closed all her factories, many of which keep operating even in the prime time of the pandemic when it was raging on in the fiercest way. What this country has done in social distancing is using the partial lockdown. A place, a division or a production line with a positive case would temporarily stop working so that tests can be conducted on relevant people.
Otherwise, goods and passenger transportation go on normally with measures on distancing, disinfection and vaccination of the operators implemented.
In most of the cases, fully inoculated people (those with two jabs) are not restricted by social distancing measures because they are considered immune to the coronavirus. Only when they display symptoms and test positive for the coronavirus do they be considered patients.
Schools are allowed to reopen in accordance with the infection severity of the localities they are in. Pupils in grade two or lower learn their lessons directly with teachers. Those in grade three or higher can study online or offline depending on the number of infections in the locality.
At all levels, restaurants and coffee shops are allowed to remain open. However, different social distancing measures are in use reliant on the level of infections and the surface area of the restaurant or coffee shop.
The measures taken in the ROK has achieved remarkable results. Although the country's daily infections have climbed recently, the death toll has remained low. At the peak of the pandemic in January this year, the highest daily death toll rose to 25 persons a day. Currently, infected cases in the ROK have surged to 1,500 a day; however, the daily death toll is less than 10.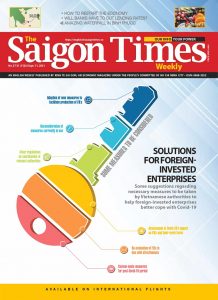 Should Vietnam adopt the Korean way?
During the fourth outbreak of Covid-19, almost all provinces and cities in Vietnam have imposed the full or nearly-full lockdown model (in line with Directive 16 signed into effect by the Prime Minister).
Reality has shown that in the early state of a pandemic when the number of patients is still low or infections are traceable, this model is highly effective. Yet as soon as positive cases have surged dramatically and traceability is impossible, the model is no longer efficacious with the infection number and death rising. Vietnam's social distancing model currently in use is costly while both creating a heavy burden on the national budget and jeopardizing the economic recovery during the post-Covid time.
Therefore, instead of staying faithful to full lockdowns as it is the case now, the central and local governments may study to apply the successful Korean way of social distancing. In concrete terms, it can be:
The first and foremost thing to do is to shelf immediately the classification of patients into F0, F1, F2 and so on. Instead, only two categories of people are defined: those with Covid-19 and those without. This is only a minor step, yet it may change the entire system and the method of pandemic prevention and fighting to living with it. A person with a positive test is a patient. Otherwise, he or she is normal. When a positive case is detected, tracing and testing will be conducted on those with direct contact with the patient using the same classification norm: persons with or without Covid-19.
In accordance with the capability of the local healthcare network, if the number of patients rises beyond the local capacity, patients will have to remain and be treated at home to give room to severe cases.
Assessments must be made of the capability of the healthcare system in each locality (now and in three months' or six months' time) to identify the maximum number of beds available to grave patients. Estimates of severe cases are also made so that the threshold of infections can be identified in a locality/region to come up with subsequent social distancing measures like in the ROK.
All people receiving two shots of Covid-19 vaccines are not forced to be subject to social distancing measures.
Factories and production facilities should be allowed to work normally. A section or division with an infection should be in lockdown so that testing and disinfection can be carried out in accordance with the classification of people with or without Covid-19.
Necessary daily activities—such as supermarkets, passenger transport and goods distribution—are allowed to continue. Full vaccination priority should be given to the work force in these industries.
Entertainment, cultural and sports events should be resumed in accordance with the pandemic development of each locality. Yet activities are clearly defined to suit each level of infections.
By Truong Minh Thanh