As reported by tuoitre.vn, as from September 15 this year, all local islanders and tourists are not allowed to bring single-use plastic bags and other items to Co To Island, an island district off Quang Ninh Province.
After one year implementing the warning encouraging local residents and tourists not to bring single-use plastic bags and products, and those items that might pollute the environment, onto Co To Island, the authorities of the island district have turned the warning into a regulation banning the use of such items by all who live on or visit the island as from September 15 this year.
In addition, all passenger boats and cargo boats that do not abide by this regulation will not be permitted to dock at the island. All government agencies, schools, markets, shops and fishing boats on the island are also banned from using single-use plastic bags and other products.
According to statistics of the island district, the island welcomes 6,000-8,000 visitors per annum. Before carrying out the warning, the island had to collect up to 15-17 tons of garbage a day during the peak tourism season, which were a great burden to the environment on the island.
Vietnam Agricultural Products Festival 2023 in Vinh Long
On September 11, the Vietnam Agricultural Products Festival 2023 was opened in Vinh Long City by the People's Committee of Vinh Long Province and the Vietnam Farmer's Union. The week-long festival attracted over 400 businesses from 32 cities and provinces showcasing local agro-products that are their specialties at more than 700 booths.
There were some activities at the Vietnam Agricultural Products Festival 2023 such as the Red Pottery Art Road, the Path for Developing Typical Agro-products of Vinh Long and the Mekong Delta, the seminar on improving Vietnam's agro-products, and contests of tasty dishes prepared from Vinh Long's typical agro-products, meals prepared from home-grown ingredients, and Vietnamese agro-product promotional vehicles.
Lu Quang Ngoi, chairman of the People's Committee of Vinh Long Province, said the Vietnam Agricultural Products Festival was aimed to introduce specialty agricultural products, especially fruits, of localities in the Mekong Delta and in other regions of the country.
On this occasion, the event organizers granted 100 scholarships worth VND1 million each to poor students having good academic results in Vinh Long Province, according to thanhnien.vn.
Delivery man saves nine people in Hanoi's condo building fire
Nguyen Dang Van, a 30-year-old delivery man who is a Bac Ninh Province native, has been known for bravely rescuing nine victims in the mini apartment building fire on Khuong Ha Street in Hanoi's Thanh Xuan District.
After finishing his last delivery in the early hours of September 13, Van received a phone call informing him that his sister's nine-story mini apartment building was on fire.
From Cau Giay District, Van rushed to the apartment building. When he arrived, the fire was mostly extinguished, and the authorities searched for victims. With a helmet on his head and a mask on his face, he immediately borrowed a hammer from a resident and entered the scene.
"I searched through the rooms from the first floor up to the ninth but could not find my sister. However, I managed to rescue nine other residents," he told the Dan Tri news site. Four of his relatives escaped safely, but his eldest niece could not escape the fire.
The fire broke out at a mini apartment building on Khuong Ha Street on September 12, leaving 56 people dead and 37 injured. The authorities are clarifying the responsibilities of organizations and individuals over the fire and supporting the victims and their families.
Two travel experiences in Vietnam ranked among top 25 worldwide
Jeep tours in Hanoi and street food tours in HCMC have been voted among the top 25 best travel experiences worldwide by readers of Tripadvisor, according to the VnExpress news site.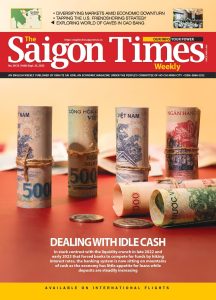 Offering travelers an excellent opportunity to witness a blend of city highlights and hidden treasures in Hanoi, the jeep tour secured the 10th position in the "Top Overall Experiences." On this tour, tourists will have four hours to explore the historical landmarks of Hanoi, savor enticing street foods, and enjoy beers at a rooftop bar. The tour price is US$55 per person.
The private street food tours by motorbike or car with local students in HCMC ranked 14th on the list. Students will accompany travelers to explore the city and savor local favorites that many culinary tours overlook, such as banh mi, grilled scallops, and cold beer. The street food tour, including hotel pickup and drop-off services, is priced at US$25 per person.