Leaving worries in the old year behind, the upcoming Tet holiday will be a good occasion for you and your families to travel to connect with each other and reunite happily, and Tra Su cajuput forest is an ideal destination.
Bring tourism back to its glory
Huynh Thi Nhu Lam, head of the Tourism Management Division under the An Giang Department of Culture, Sports and Tourism, said, "During the new year holiday, Tra Su cajuput forest attracted more than 2,000 tourist arrivals, proving that it was a bright spot of the provincial tourism sector."
Tra Su cajuput forest can meet new tourism trends, such as forest bathing, mingling with the nature or exploring scenic roads. Tra Su will help tourists feel safe during their tours as they can book tours in advance and make online payments so that they need not queue up to buy entrance tickets to ensure anti-pandemic measures.
Especially, Tra Su cajuput forest has launched a tourism promotion program which will last until the Tet holiday, including discounts of up to 50% of entrance tickets, buy 10 pay eight and buy 10 pay seven programs, discounts of 10% on catering services at the Tra Su restaurant and free drinks, giving tourists an opportunity to experience the spring space in Tra Su without worrying about service prices. This is a policy showing the humanity, understanding and sharing with tourists of the tourist site's owner in the context that everyone has been hesitant about their spending.
Warm spring
When nature witnesses the change of seasons, Tra Su has been full of vitality as buds and shoots nurtured in the forest have burst and flowers have bloomed, calling on tourists to quickly come to the cajuput forest to enjoy the beautiful weather in spring.
Tourists can sit on boats down the water flow to explore the beauty of sunshine and the large primeval forest in the morning and pass duckweeds blankets to reach the cajuput forest.
On the banks, ancient trees cast their shadows on the water surface. Unlike exquisite ornament trees, cajuput trees are old and beautiful from roots to branches, and young leaves and have special tree-trunks. When the sunshine floods cajuput leaves, they seem to produce twinkle lights as if they were silver-inlaid.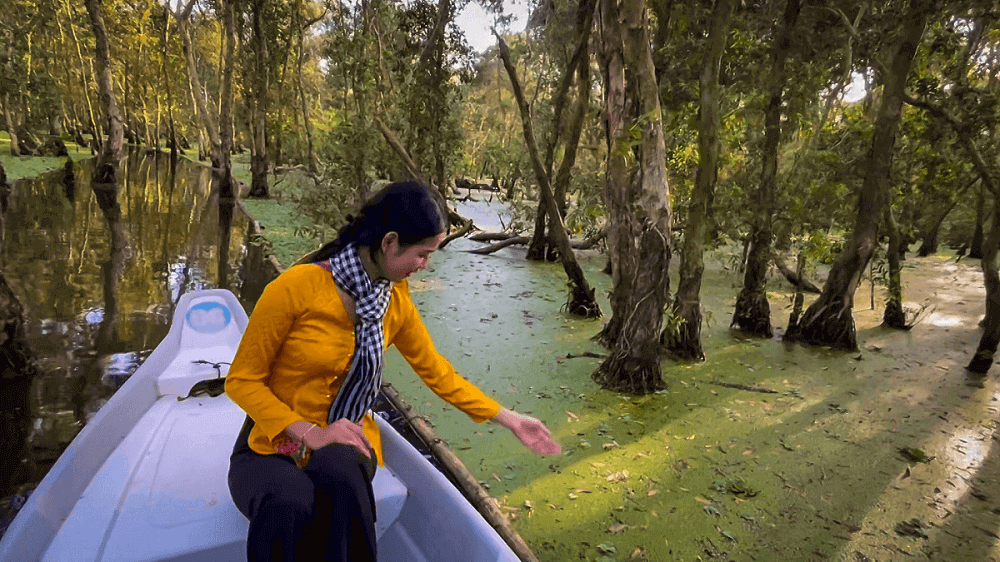 The older cajuput trees are, the more luxuriant their flowers are. Cajuput flower clusters, which symbolize the fullness and perfection, release a faint and romantic scent. This is how Tra Su attracts bees and butterflies to produce the top-ranking cajuput nectar.
While mingling with the landscapes in Tra Su, tourists can enjoy a cup of honey lemon tea to set their mind at peace. This valuable source of nutrients contains a large volume of natural antibiotics like a medicine which helps prevent viruses and bacteria.
Going deep into the forest, songs of birds will make tourists feel like getting lost in a romantic world of the nature. The forest becomes pink at sunset, when flocks of birds fly back to their nests. Nothing is more wonderful than seeing the colorful and lively nature and the breathtaking beauty of the forest.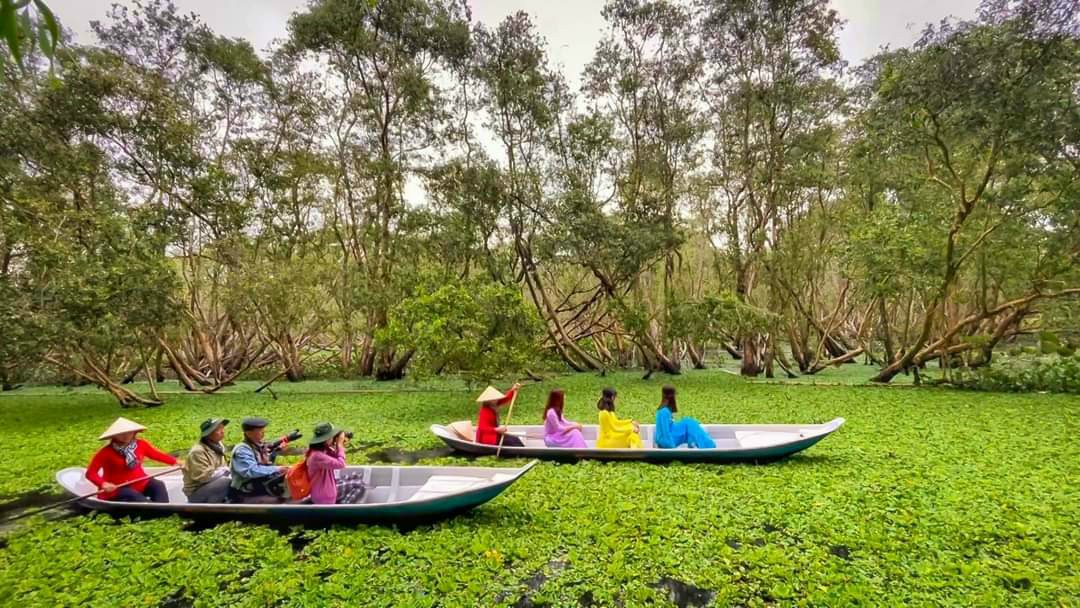 The spring space and time can awake all emotions and senses. Tra Su cajuput forest is willing to welcome the new year and tourists to experience the spring there after the pandemic.