Talkshow "Changing Perspective on Covid-19, Businesses Will Find Solutions Themselves", which took place on August 13, 2021, successfully cannoned business attention to measures to overcome hardships caused by the pandemic.
The event, held online via Zoom by American Star International Transport Trading Co., Ltd. (American Star Group), drew the participation of nearly 100 entrepreneurs, including representatives of many corporations in diverse industries.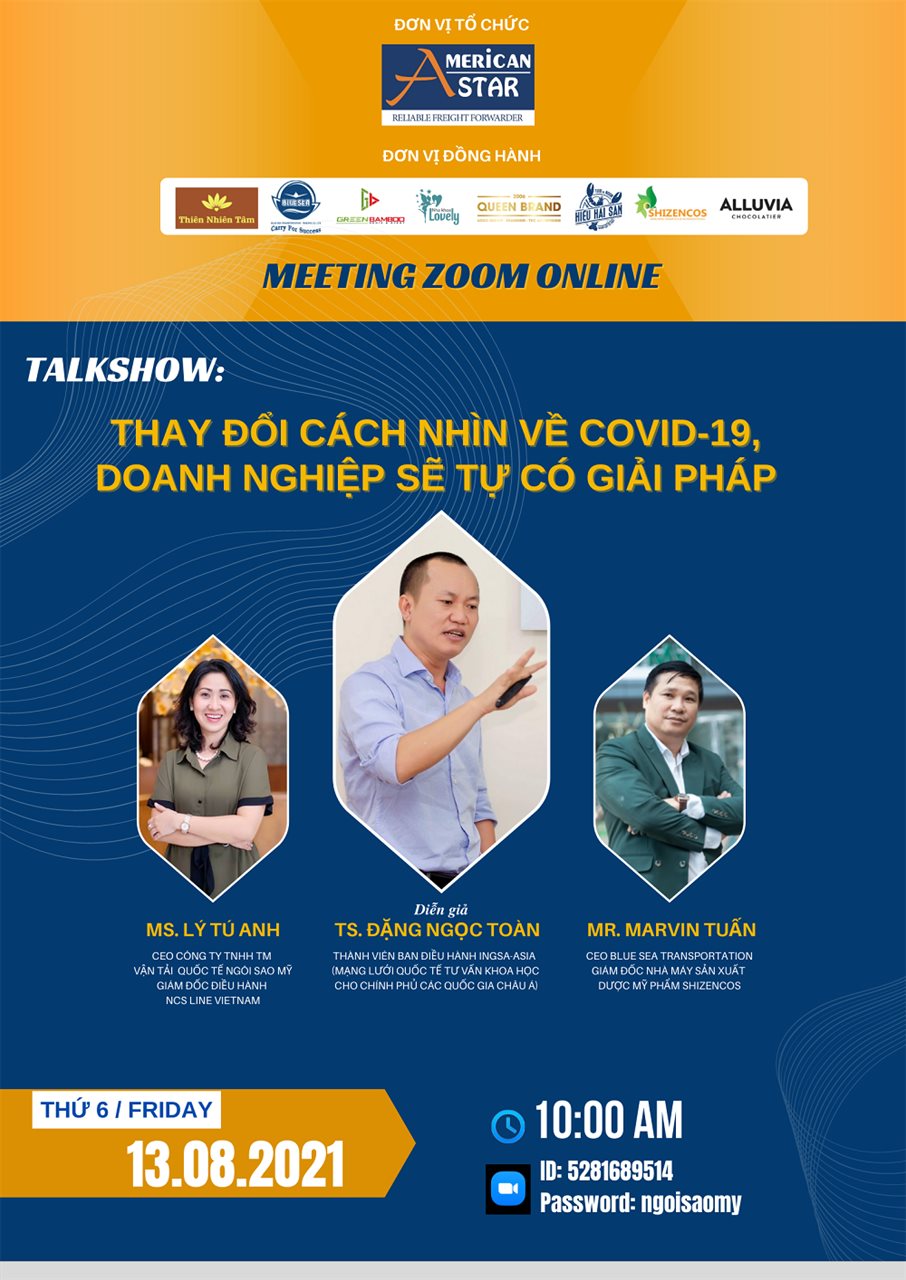 Talkshow speaker, Dr. Dang Ngoc Toan, member of the Executive Board of INGSA-Asia (International Network for Governments Science Advice – Asia Region), iterated his firm stance drawn from his research on Covid-19 in Vietnam. Toan, a prestigious speaker in the fields of education, entrepreneurship and sustainable development, affirmed that business leaders need to have an objective and positive view of the pandemic in order to restore trust and find comprehensive, durable solutions, avoiding passivity and fear.
Dr Toan graduated with a PhD from Western Sydney University under the Australian Government scholarship program and has more than 20 years of experience participating in international development projects and organizations in various positions. He has many valuable articles published in prestigious international journals, including some on the prevention of Covid-19 in Vietnam.
Agreeing with the speaker's presentation, Mr. Marvin Tuan, CEO of Blue Sea Transportation Co., Ltd., revealed that by taking advantage of technology and the strategy of diversifying fields of activity, his company overcome four waves of the pandemic.
Joining the online talkshow, many other business owners shared their experiences on how to manage their companies to adapt to the "New Normal".
At the end of the talkshow, Ms. Ly Tu Anh, CEO of American Star Group thanked all companions and guests. "In difficult times like now, businesses in the same industry should cooperate rather than compete, and help each other to survive stronger," said Ms. Ly Tu Anh. Highlighting the spirit of cooperation, she noted that American Star Group invited Blue Sea Transportation as a company in the same industry to join this event.
More than 18 years since its establishment, American Star Group has experienced many economic downturns but still stands today thanks partly to this core value. In addition to the head office in Ho Chi Minh City, American Star Group has built many branches in Hanoi, Hai Phong, the Philippines and a global agent network.
Simultaneously, the strategy of diversifying activities has also helped American Star Group successfully deploy two more segments: Training and Retail in addition to Logistics Services even during the ongoing pandemic.
In particular, the Training segment with the advice and mentoring of Dr. Dang Ngoc Toan has developed very smoothly. American Star Logistics Training Center has signed cooperation contracts with many universities to organize courses on logistics and business skills.
Video link: https://www.youtube.com/watch?v=1g8KIbMhRsw