In the nascent stage of Vietnam's fight against the pandemic, technology has been deemed as an important tool. As Vietnam shifts its approach from "zero Covid" to living with Covid, a review of the benefits and drawbacks of technology is essential.
Even when there are shortcomings in the battle against Covid-19, they do not mean the importance of technology has diminished. In fact, technology—especially data on every sector, including healthcare and socio-economic reopening—can work wonders when used optimally to (1) facilitate decision-making, enhancing its speed and accuracy; and (2) pave the way for processes to ensure efficacious socio-economic processes (vaccine passports, safe routes and production, etc.).
Points falling short of expectations
Technology, especially Information Technology (IT) applications in the battle against Covid-19, on both public and private fronts, has fallen short of expectations in four aspects: (1) the efficacy of contact tracing and the management of F0, F1 and F2 cases (in particular, the contact tracing application Bluezone, which facilitates travel and contact declaration); (2) data for forecasting, planning and decision [in particular, data pertaining to epidemiology and socio-economic indicators (population, population density, pre-existing conditions, healthcare capabilities, governmental efficacy, etc.)]; (3) technology for administrative processes (for example, travel permits) and (4) technology for sustaining socio-economic activities and minimizing supply chain disruptions (existing technology in the private sector including cashless payments, e-commerce, delivery and charity platforms).
While there are local highlights (for example, travel permits in Danang), the success of technology in these four aspects has been limited on a national scale. The authorities have adopted technology in the first three aspects, but implementation efficacy leaves much to be desired.
There are four possible reasons for this drawback: (1) vision and coordination, (2) implementation mechanism, especially in the financial aspect, (3) the confidence and capacity for collaboration with the private sector and (4) the State sector's limited IT capabilities.
The lack of a conductor
A vision on the role of technology, its affordances and how to coordinate its implementation is fundamental. Vietnam has almost one and a half years to prepare for the fight against the pandemic but access to technology is scattered.
For example, Vietnam has promptly rolled out technology solutions, but focus has been mainly on contact tracing. Before the pandemic erupted in HCMC and other southern localities and the fight intensifies, technology was perceived merely as a contact tracing tool and, to some extent, an instrument for gathering data for forecasts.
The second role, which was crucial for helping the authorities prepare (before the pandemic erupted), did not receive adequate attention.
The next drawback lies in coordination when applications overlap—across ministries or localities. The need for linked data has been discussed for years and is highlighted again during the pandemic (especially across applications) but there is no conductor to facilitate this. The Ministry of Health, The Ministry of Information and Communications and, as of mid-2021, the Ministry of Public Security have launched applications and asked the people to provide information. Localities also have their own data gathering tools. However, coordination has been lacking and data is scattered. Without data, the role of technology in facilitating planning, decision-making and responding is not fulfilled.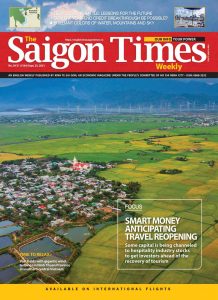 The lack of a financial mechanism for public – private collaboration in technology
Unlike healthcare and education, where public medical schools have been established for decades and are ready to support the fight against the pandemic in response to the Ministry of Health's request, IT is a new sector where private firms tend to be more capable.
The Ministry of Information and Communications and the Ministry of Health must seek help from the private sector to fulfill the first two roles, but the lack of a financial mechanism has been a bottleneck.
Private firms cannot be expected to help on a voluntary basis as they must survive, too. However, public – private partnership contracts tend to lack clarity. For instance, BKAV is the main developer of Bluezone and Viettel cooperates with the Ministry of Health in launching healthcare declaration software but the job scope and cost of such deals remain unclear. Moreover, "technology" does not mean a one-off software package.
Many people who provide support for the National Steering Committee on Covid-19 work on a voluntary basis, without contracts or payments.
Data is essential. Do firms provide data processing services when the authorities need information for decision-making?
Even vaccination data is collected, the job is performed mostly by healthcare workers instead of data collection staff. This has imposed an additional burden on healthcare workers and reduced the quality of data (as healthcare workers do not specialize in data collection and are more prone to mistakes in this regard). As data is not linked across applications, it tends to cover only basic information such as vaccination status. Valuable attributes such as age, existing conditions, places of residence, occupation and travel patterns are not gathered or extensively used in the fight against the pandemic.
Without a financial mechanism, it is difficult for technology to work wonders. Technology should not stop at applications. What matters more is a data collection and processing system. The value of technology lies in the quality of data and data analysis to facilitate decision-making.
Vietnam's technology firms may be capable of carrying out these tasks. However, over the past one and a half years, the Ministry of Information and Communications, the Ministry of Health and the Ministry of Finance have not fleshed out a clear, transparent and effective financial mechanism to encourage the participation of these firms.
Short-term and long-term vision
The Prime Minister has asked for a unified application managed by the Ministry of Information and Communications. A center on technology for fighting Covid-19 has been established and will play an essential role in the reopening process. The economic sphere is not restricted to any localities. A vaccination card limited to a locality may not work as supply chains straddle across cities and provinces. A unified application with linked data capable of helping eligible citizens travel across localities is essential. However, does this center have sufficient power? Are its human resources and technology capable of fulfilling its roles? In the short term, the Prime Minister should directly lead the technology sector and empower key personnel to solve problems quickly. The Ministry of Finance should also step in to offer contracts to capable enterprises to develop data solutions.
In the long run, data can pave the way for better national governance. Linked data forms the core of an e-government. The above center may focus on fighting Covid-19, but in the long run it can transform into a national center on digital data.
Only then will Vietnam hope to offset the damage, economic or otherwise, which she has grappled with during the pandemic.
By Nguyen Quang Dong (*)
(*)Director of the Institute for Policy Studies and Media Development (IPS)