In its drive to spearhead financial innovation, Techcombank – Vietnam's leading financial services group – fosters strategic partnerships, embraces digital transformation, and prioritises talent recruitment, setting a path for success and influence in the international and regional financial landscape.
The stage is set for a momentous event as the Singapore Regional Business Forum (SRBF) prepares to welcome over 500 of the most influential figures from the business and political spheres in Vietnam and Singapore. This year's forum carries special significance in marking 50 years of bilateral ties and a decade of strategic partnership between the two nations.
Techcombank, the leading Vietnamese bank, is proud to represent Vietnam's banking sector and stands ready to engage the audience with its groundbreaking achievements and important mission to lead the digital transformation of Vietnam's financial sector.
As Techcombank celebrates the 30th year of its founding, its presence at the SRBF signifies an unwavering commitment to revolutionise the banking landscape. The bank's visionary approach, encapsulated in its vision "Change banking, change lives," has garnered widespread acclaim from its customers and other stakeholders.
The endorsement from Kok Ping Soon, CEO of the SRBF, serves as an emphatic testament to the great potential held by Techcombank.
"Techcombank's unwavering focus on innovation, technology and a diverse financial services offering aligns perfectly with the objectives of the forum, namely the fostering of regional collaboration and sustainable growth. As a key player in the Southeast Asian financial landscape, Techcombank's continued contributions will undoubtedly benefit Vietnam, Singapore, ASEAN, and beyond. This will help us shape the future of banking together and elevate the region's economic prosperity," Ping Soon affirms.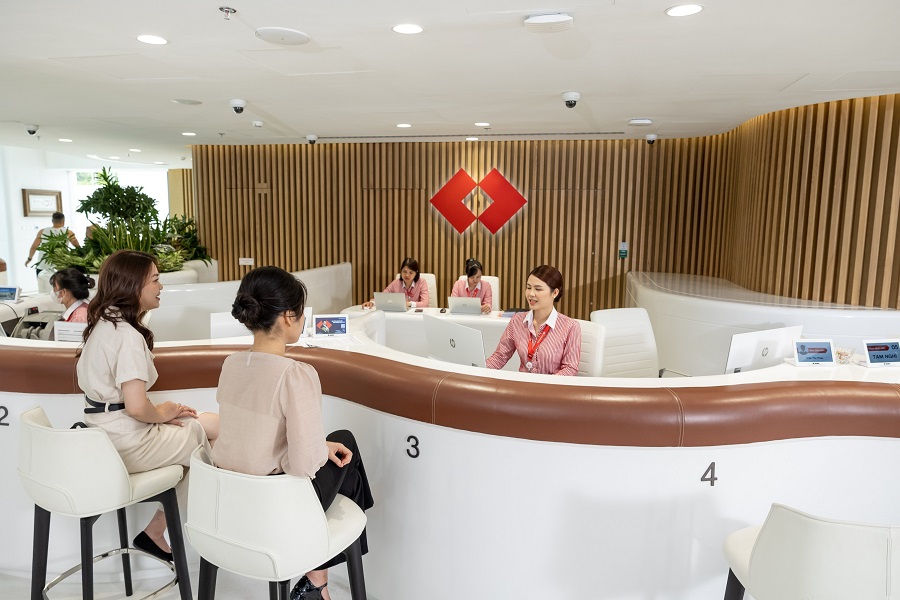 Jens Lottner, CEO of Techcombank, also highlights the significance of the bank's presence at the forum and its commitment to bolstering the relationship between Vietnam and Singapore.
He asserts: "Techcombank's participation in the SRBF is a testament to our relentless pursuit of collaboration and driving sustainable growth, not only within Vietnam but also cooperating with partners on a regional scale. As the foremost Vietnamese bank, we recognise the pivotal role of the Vietnam-Singapore partnership in propelling economic prosperity. We eagerly anticipate engaging with key stakeholders, shaping the future of the financial landscape, and solidifying Techcombank's position as a front runner in the industry."
In addition to providing core banking services, Techcombank has adopted a strategic model of nurturing important ecosystem partnerships, which have helped shape its three-pillared approach focusing on Digitalisation, Data, and Talent.
By embracing international standards and forging connections with leading entities worldwide, the bank demonstrates its commitment to providing best-in-class services and contributing meaningfully to the global financial ecosystem.
An early instance of this strategy was its 2009 alliance with global consulting giant McKinsey & Company – the first such move for any Vietnamese bank.
Other significant recent partnerships include the establishment of an integrated financial services ecosystem with Masan through the launch of the 'all-in-one' WINLife ecosystem, crafting a hyper-personalised banking experience through a tie-up with Adobe, and providing premier payment solutions for SMEs in collaboration with MISA.
Techcombank also regularly raises capital in the international debt markets. In 2022, the bank raised US$1 billion through a syndicated loan  – at that point the largest-ever medium and long-term transaction for a Vietnamese bank – which is used to support the bank's ambitious growth and transformation agenda.
The bank further showcased its dedication to enhancing the data and digital expertise of its workforce through strategic collaboration with Amazon Web Services (AWS). This empowered 2,800 employees with advanced Cloud technology training, which led to around 250 distinct AWS certifications.
Such partnerships underscore the role of innovation and collaboration in today's interlinked business world. As Techcombank plans its future, it aspires to spearhead regional success through close collaboration with its trusted partners.
Techcombank's strides in innovation and collaboration have led to its recognition as the fourth highest-ranked Vietnamese company on Forbes' annual list of the 2,000 largest companies worldwide in 2023.
With remarkable figures in revenue, profit, and assets, reaching US$1.8 billion, US$1.1 billion, and US$29.7 billion respectively, the bank continues to solidify its position as a leading player in the Vietnamese banking market.
A key driver of Techcombank's success lies in its unwavering focus on digital adoption. By leveraging technology and delivering seamless banking experiences, the bank has built up a substantial customer base, positioning itself as a pioneer in the digital banking landscape. In Q1 2023 alone, Techcombank welcomed 424,000 new customers, expanding its overall customer base to an impressive 11.2 million, with 68 per cent of these new customers joining through digital platforms.
Notably, Techcombank's commitment to innovation extends beyond its domestic borders. Not one to rest on its laurels, Techcombank has also taken significant strides in talent recruitment. For example, the bank was the first in Vietnam to organize overseas talent roadshows in global cities such as Sydney, London, San Francisco, and especially Singapore. Recognising the exceptional talent pool and thriving business environment in Singapore, Techcombank strategically designated it as its primary recruitment hub outside of Vietnam.
CEO Lottner shared, "By organizing talent roadshows in prominent global cities, Techcombank successfully engaged Vietnamese professionals with unique international experience, solidifying its position as a leader in attracting top-tier talent. This emphasis on Singapore underscores Techcombank's commitment to building a world-class team for driving innovation to deliver outstanding customer experiences and fueling our continued growth."