If local manufacturers do not afford changes in line with sustainable and greener production, better energy conservation and higher responsibility to the environment, global clothing brands may no longer place orders to the former and they will not be able to compete successfully on export markets.
That is one of the main points given during a seminar on Vietnam's textile and garment industry co-hosted by the Vietnam Textile and Apparel Association (Vitas) and the WWF late last month.
According to speakers at the seminar, global clothing brands have shifted their priority to be in favor of "green businesses" when they place orders in Vietnam. Polluting manufacturers that do not put into use energy-saving solutions and plans to consume fewer natural resources may face a refusal of their products or a halt of new orders.
James Phillips, general director of the garment manufacturer TAL Vietnam, said more than 250 global fashion brands have set standards and codes of conduct responsible to the environment applicable to their suppliers of clothing items.
Vietnamese garment businesses are therefore expected to comply with green production, which will help them do business more effectively, generate higher profit and sustain growth rates. Garment factories are supposed to save energy and water, use environment-friendly materials and fulfill their corporate social responsibility.
Tran Nhu Tung, head of the Sustainable Development Board of Vitas, contended that the majority of enterprises involved in the garment supply chain formed by global fashion brands have adopted the "green" requirements for production, such as assuming their corporate social responsibility, being friendly to the environment and cutting emissions.
According to Mr. Tung, the compliance with the criteria on social responsibility and the environment set by the global brands remains a fundamental commitment to be made by garment factories when they engage in a production chain.
For the immediate future, the implementation of sustainable development criteria may be a challenge to local garment businesses because these criteria require huge investment and personnel. However, in the long run, argued Mr. Tung, the credibility and brand value of the business in question will be better. Furthermore, such a business may later receive support from global clothing brands, international organizations and financial institutions.
"Businesses are compelled to be adaptive to changes to further develop," said Mr. Tung, adding that aside from meeting requirements and criteria set by the global brands, "green" development also means a business itself has to be more responsible to the community and later generations when it comes to production.
Participants at the seminar argued also that in reality the compliance with sustainable production criteria at factories will both raise the number of new orders and facilitate more effective operations which help cut costs by using less energy and water.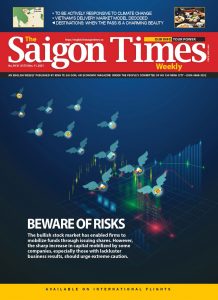 Experts insisted that once an enterprise is regarded as having developed sustainably, it will create added value to the entire textile and garment industry of Vietnam. Global clothing brands will then treat Vietnamese enterprises differently and may shift more orders to the country.
Considering the many opportunities created by free trade agreements signed by Vietnam and her trading partners, the local textile and garment industry is being given a big chance. However, that comes with an enormous challenge to local businesses when they have to meet requirements for environmental protection and low emissions included in the free trade agreements.
To rise to the challenge, local textile and garment enterprises are gearing toward modern production lines and technology which opt for cleaner production, save more energy and improve competitiveness of their products. This is, however, more challenging to smaller companies whose financial capabilities are limited.
Some speakers said to give a facelift to Vietnamese textile and garment enterprises, in addition to efforts made by businesses themselves, support from the Government, financial institutions and global clothing brands is also indispensable.