HCMC – Vietnam's textile and garment exports reached over US$32 billion from January to October 2021, increasing 10.8% compared with the same period last year.
Clothing exports amounted to over US$23.8 billion, while exports of textiles, clothing materials and accessories, and unwoven fabrics reached US$2 billion, US$1 billion and US$636 million, respectively.
Exports of fiber products surged 52% year-on-year to some US$4.5 billion. However, materials for fiber production were mainly imported, with over 50% of them shipped from the United States and the remainder from Australia, India, Brazil, West Africa and other countries.
The country expected to export some US$38 billion worth of textiles and garments this year, Vu Duc Giang, chairman of the Vietnam Textile and Apparel Association (VITAS), said at a press conference introducing Cotton Day Vietnam 2021, which will be jointly held by the U.S. Cotton Council International (CCI) and VITAS on December 1.
According to Vo Manh Hung, representative of Cotton USA in Vietnam, the global fashion industry is paying more attention to environmental protection and sustainable development. Clothing producers are using more materials that are environmentally friendly, including cotton.
"Cotton imported from the U.S. meets the Trust Protocol's standard, helping manufacturers and brands realize their sustainable goals," he said.
The U.S. Cotton Trust Protocol sets a new standard for more sustainably grown cotton. Aligned with the United Nations' Sustainable Development Goals, the Trust Protocol brings quantifiable and verifiable goals and measurements to more sustainable cotton production. It drives continuous improvement in six key sustainability metrics – land use, soil carbon, water management, soil loss, greenhouse gas emissions and energy efficiency.
Vietnam is the largest importer of U.S. cotton in the world. This helps the county improve its clothing industry's reputation among global fashion brands and consumers.
VITAS chairman Vu Duc Giang agreed that using U.S. cotton has significantly contributed to the expansion of the Vietnamese clothing industry and created favorable conditions for textile and garment production and exports.
Last year, Vietnam exported textiles and garments worth US$35 billion, falling 9.8% from 2019.
VITAS forecast that in November and December 2021, Vietnam will export some US$3 billion worth of textiles and garments a month, raising the total export of these products to US$38 billion this year.
With this growth momentum, the association expected the country's textile and garment exports to continue to grow strongly in 2022.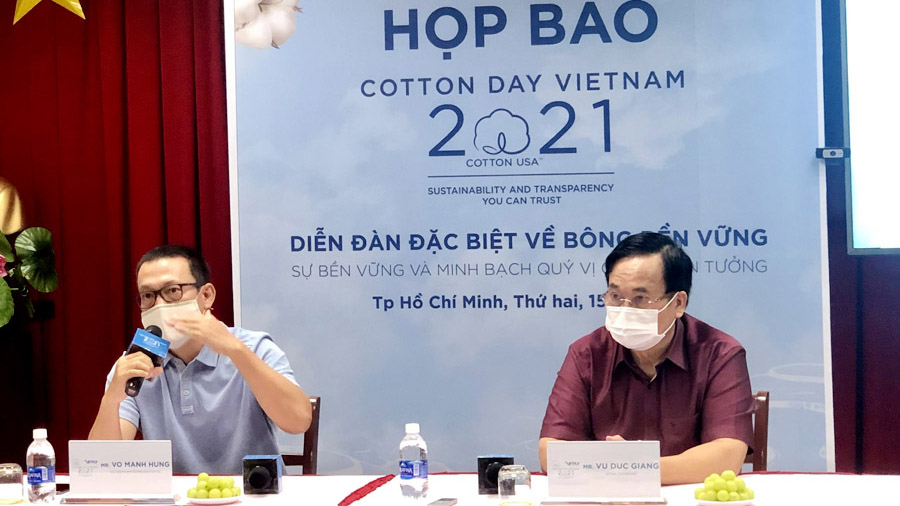 Cotton Day is one of the most successful events that the Cotton Council International has been organizing throughout the Asian countries since the early 90s. The program has been held annually in Vietnam since 2017.
Following the success of the Cotton Day Vietnam 2020, CCI will collaborate with VITAS to organize the fifth Cotton Day Vietnam this year with the theme "Sustainability and transparency that you can trust".
Cotton Day Vietnam 2021 will be held virtually on the 6Connex platform on December 1, offering information about new trends in the clothing industry as well as solutions for Vietnamese clothing companies to adapt to the new requirements of the market in the new normal.
The event will feature Marie Damour, Chargé d'Affaires for U.S. Mission Vietnam, and world leading experts in the cotton industry.