The People's Committee of Can Tho City has planned to organize the 10th Southern Traditional Cake Festival from April 28 to May 2 this year at the city's Binh Thuy District Square.
Themed "Preserving and promoting the value of southern traditional cakes," the festival is expected to have 250-300 booths making and serving various southern folk cakes, and regional specialties and dishes; showcasing machinery and accessories; and displaying and selling handicrafts, souvenirs and gifts of Can Tho and other localities.
The festival will also include the celebration of Hung Kings' death anniversary on the 10th day of the third lunar month (April 29) at the Hung Kings Temple in Can Tho, traditional cake-making contest and show, folk games, art and variety shows, and tourism promotion and cooperation activities of participating localities.
There will be a program for students to meet folk cake-making artisans and learn how to make some cakes. This is a meaningful way to preserve and promote the value of southern folk cakes.
According to laodong.vn, the 9th Southern Traditional Cake Festival in Can Tho last year attracted the participation of some 200 cake-making artisans and welcomed nearly one million visitors.
Paintings on pebbles
Nguyen Viet Cong Thanh, who lives in the mountainous district of A Luoi in Thua Thien Hue Province, has succeeded in drawing paintings on pebbles and making a decent living with this job.
Graduating from the University of Arts in Hue City, Thanh chose to make murals and decorations for coffee shops and restaurants around the city to earn his living. Three years ago, when wandering along a stream full of pebbles with his friends, an idea suddenly came to him: to draw paintings on such beautiful pebbles.
Thanh began to pick pebbles of different sizes and colors from streams, washed them and thought of what paintings he could draw on them. After some initial failure, he could finally turn out many lovely 2D and 3D paintings of sceneries, animals and birds, or calligraphy, on pebbles.
Thanh posted his pebble paintings on social media, and he has received more and more clients, many of them came from Hanoi, Haiphong and HCMC. His artworks are sold for hundreds of thousands of to millions of dong each.
Thanh has also opened a drawing class for local children. He told tuoitre.vn that he would like to open a showroom to display his pebble paintings in the near future.
Local man makes cross-country tour to all 87 Vietnamese cities
With his goal of being the first to travel to all 87 cities in Vietnam in one trip, Pham Viet Anh, a local freelancer in Haiphong City, completed his seven-month cross-country tour, which had initially been set to start in 2021 to celebrate his 40th birthday but then got delayed due to the Covid-19 pandemic. Anh had to reschedule the trip for mid-2022 when the pandemic in the country was brought under control.
"Some people have set records for walking, bicycling and motorbiking to all 63 Vietnamese provinces and cities, but as far as I know, no one has traveled to all 87 cities in one trip. Since I wanted to make a difference, I decided to establish a new record [of visiting the 87 cities," Anh said.
He departed on June 27 last year from his hometown in Haiphong, using an electric car. In 206 days, he drove to 33 northern cities, 24 central ones, and 30 in the south; conquered six furthermost points of Vietnam, including the northernmost province of Ha Giang, the Ca Mau Cape in the south, the westernmost point in Dien Bien, the easternmost in Khanh Hoa, the northeasternmost in Quang Ninh, and the southwesternmost in Kien Giang. He also visited the eight UNESCO-recognized natural and cultural world heritages.
Anh is waiting for the Vietnam Records Organization, or Vietkings, to proceed to recognize his record, vnexpress.vn reported.
Cao Bang gets two more national intangible cultural heritages
The Ministry of Culture, Sports and Tourism has added two cultural heritages in Cao Bang Province to the list of national intangible cultural heritages.
Ngo Quang Tu, office chief of the provincial Department of Culture, Sports and Tourism, was quoted by laodong.vn as saying that the two heritages include folklore knowledge, decorative art on the costumes of the Dao Do people in Vu Minh Commune, Nguyen Binh District, and the Luon Coi folk performance of the Tay people in Yen Tho, Nam Quang and Quang Lam communes of Bao Lam District.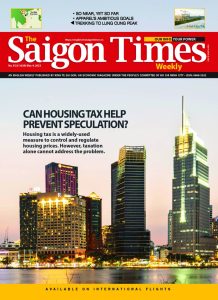 These two newly-recognized heritages would contribute to efforts to beautify this northern upland province, which is home to multiple unique, long-standing cultural heritages, Tu added.
Previously, four cultural heritages in Cao Bang were recognized as national intangible ones, comprising the Then Tay ritual practices, the Nang Hai Festival, the Tranh dau phao Festival (during which participants compete with each other to get a cannon which is believed to bring good luck) and the traditional blacksmithing craft of the Nung people.