In the past 10 years, multiple successful businesspeople have invested big in agriculture. Many have left while others have persistently stayed in the game.
Investment in agriculture in late 2014 and early 2015 was seen as favorable as Vietnam signed a series of free trade agreements (FTA).
For billionaires, investing in agriculture comes with two main trends: making a basic investment from the outset and then taking a shortcut via M&A. However, the most common question among these billionaires is how to achieve growth when the core business area becomes saturated. In the recent past, some have remained on the bandwagon and others have pulled out.
Ten years ago, when the real estate sector was in crisis, Hoang Anh Gia Lai (HAGL) announced its withdrawal from the real estate market to invest in agriculture for sustainable growth. HAGL was the first major business on the stock market to take investment in agriculture seriously.
HAGL spent a staggering VND18,000 billion raising livestock and developing farming in the first five years but large-scale farming has proven to be not that simple. While living truly with agriculture, HAGL managed to rotate capital for its business stabilization.
Following HAGL, Vingroup of billionaire Pham Nhat Vuong also ventured in agriculture by building a closed farming chain and consuming organic vegetables. The corporation invested up to VND2,000 billion in VinEco to renavigate the organic vegetable market in Vietnam with a chain of Vinmart mini stores.
During this period, Tran Dinh Long, chairman of Hoa Phat Corporation, also ventured into agriculture, with VND300 billion used to establish an animal feed company with an annual capacity of 300,000 tons. This was the first step for Hoa Phat to commence raising pigs, cows, and chickens on a large scale, as in the current situation.
Shortly after that, many enterprises chose to take a shortcut by conducting M&A transactions with their target companies instead of making a basic investment from the outset, such as Hoa Phat, HAGL and Vingroup. Masan and Pan Pacific selected this tactic carefully to penetrate the agriculture sector.
Large listed companies have their own ways of participating in the agriculture sector. One thing they have in common is that they mutually expand livestock farming with abundant financial resources and the applicability of modern technology.
However, a long stint in agriculture does not simply involve expanding scale and investing in technology and machinery but also needs a market-fit strategy. Financial capacity in agriculture is important but not the only thing to care about if investors are passive in an unstable market. Many major investors have left the game after many stumbles.
Until now, the story of HAGL stands out in the trend of agriculture investment. This company has a very straightforward declaration in doing business with agriculture. However, the first phase of its investment shows that doing agribusiness on a large scale is not simply a sowing and reaping process.
In 2008, HAGL began planting rubber trees in Laos while the world price of rubber in 2010-2011 surged. But in 2013-2014, when rubber trees were old enough for latex exploitation, the price of latex dropped, affecting the company's plan. As a result, HAGL put aside the rubber tree planting project and switch to investment in sugar, palm oil, and dairy farming.
After repeated failures, HAGL needed a new plan as it could hardly withstand pressure from investors and the market. Amid numerous hardships and uncertainties, at the general shareholders meeting in 2017, Doan Nguyen Duc, chairman of HAGL, finally revealed a project to grow dragon fruit, banana, and passion fruit for export.
However, that was not sufficient. HAGL once again narrowed the product structure and asked for capital support by entering into business cooperation with Thaco. The restructuring of the enterprise and acceptance to transfer billion-dollar assets enabled HAGL to move forward with agriculture.
Vingroup terminated its farming ambition. In 2019, Masan Group took over VinEco and Vincommerce of Vingroup.
Before Vingroup, many companies, such as Gemadept and Quoc Cuong Gia Lai, had stepped into large-scale agriculture. These businesses intended to do long-term business with rubber but rubber farming required huge capital, forcing these companies to reconsider their plans. Duc Long Gia Lai, another billionaire, also injected capital into agriculture to plant corn and raise cows in 2014. Until now, there have been no cows at its farm.
The "come and go" stories of many big companies mentioned above are perhaps lessons for businesses to prepare long-term strategies before investing in agriculture.
Some 10 years ago, investing in agriculture was rampant. Reality has proven that this is not an easy game. Giant companies have still injected billions of dollars into this sector, though. Those with enough patience and capital seem prepared to embrace hi-tech agriculture.
After a decade of hardships, HAGL realized that its path is the agroecosystem toward a circular economy. Though still making losses, the enterprise's cash flow is stable now and no longer facing a loss of financial liquidity.
Feeding pigs with banana trunks and leaves has helped HAGL save a large sum of money buying animal feed. Hence, it has set a target to have one million pigs in 2022. Doan Nguyen Duc told shareholders that raising pigs with banana trunks and leaves and vegetable protein resulted in a decline in rising costs, which were only VND38,000/kg, while the cost in the market reached VND58,000/kg. As the animal feed price has surged 11 times since late 2020, this figure took many people by surprise.
According to him, over half of the harvested bananas of HAGL, estimated at 200,000 tons per year, were not qualified for export. So instead of throwing them away, the bananas were dried, ground into powder, and mixed with vegetable protein to feed the pigs. Therefore, bananas make up 40% of the ingredients of animal feed.
Duc plans to sell pigs in the future and expand his ecosystem to include a slaughterhouse, butchery, and a factory producing sausage, ham, and other pork products.
Therefore, in the coming time, one million pigs of HAGL will not simply be for sale but will be included in the ecosystem as a survival solution to enable the firm to overcome hardships. Pork from pigs raised on the bananas of HAGL was launched in Danang and got a positive response from consumers.
Another example is Masan. Taking over an agriculture company and the retail chain of Vingroup is not a fresh start but a continuation of its previous ambition with agriculture. This is perhaps a perfect part of this consumer goods firm's 3F model (feed – farm – food).
With the familiar M&A strategy, Masan's current business ecosystem in agriculture is relatively complete, from animal feed, livestock raising, farming, and processing to distribution. This is a foundation for this company to complete the last "F" (processed products) in its 3F model.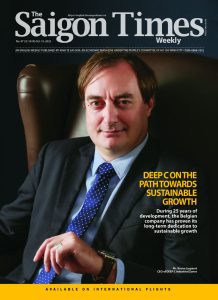 In 2018, Masan launched frozen meat under the brand name Meat Deli, with its factory in Ha Nam Province. Till 2020, Masan had expanded its business by setting up MEATDeli Saigon with investment capital of VND1,800 billion. Masan also acquired 3F Viet Company, a local enterprise providing poultry meat under the 3F model. Most recently, the firm announced a VND3,500 billion investment in a large-scale food industry center in Hau Giang Province. Masan's strategy in the next phase is rather clear: processed products.
When the agriculture sector with new models develops to the next level, it would be easy to see the participation of new investors. Nova Group has also shown its ambition in agriculture with Nova Consumer.
Nova Consumer is a newcomer, but it was previously Anova Group, a start-up company of billionaire Bui Thanh Nhon in veterinary medicine. Its experience and lessons from pioneers doing large-scale business have helped Nova Consumer gain an insight into agricultural investment. With its financial capacity, Nova Consumer has invested vigorously in processed products after its retail channel development plan.
Specifically, following the 3F deal, Nova Consumer will expand its pig farm in the next 4th quarter and then its retail channel. In addition, Nova Consumer will focus on promoting the export distribution channel, developing new products, and continuing M&A transactions.
Until now, some popular firms such as HAGL, Hoa Phat, Masan and Thaco, which have ventured in agriculture, have persistently stayed on and are ready for hi-tech agriculture.