Sa Mu – U Bo Peak, also known as Sa Mu Peak, boasts an impressive altitude of 2,756 meters above sea level. Nestled within the Ta Xua special-use forest, in Bac Yen District, Son La Province, this peak remains unfamiliar to many tourists.
However, the allure of its mysterious and enchanting primeval forest, adorned with unique vegetation along the trekking route, has piqued the interest of countless nature enthusiasts.
The trekking trail leading to the peak winds its way through a forest that embodies all the characteristics of a tropical rainforest. Serene mountain streams meander alongside, flanked by exquisite flora and fauna. As travelers ascend, they encounter a kaleidoscope of vegetation, each layer exhibiting a diverse array of vibrant colors. Furthermore, the path is often covered by a captivating carpet of moss, enveloping everything from the ground to the tree trunks in a thick, velvety embrace.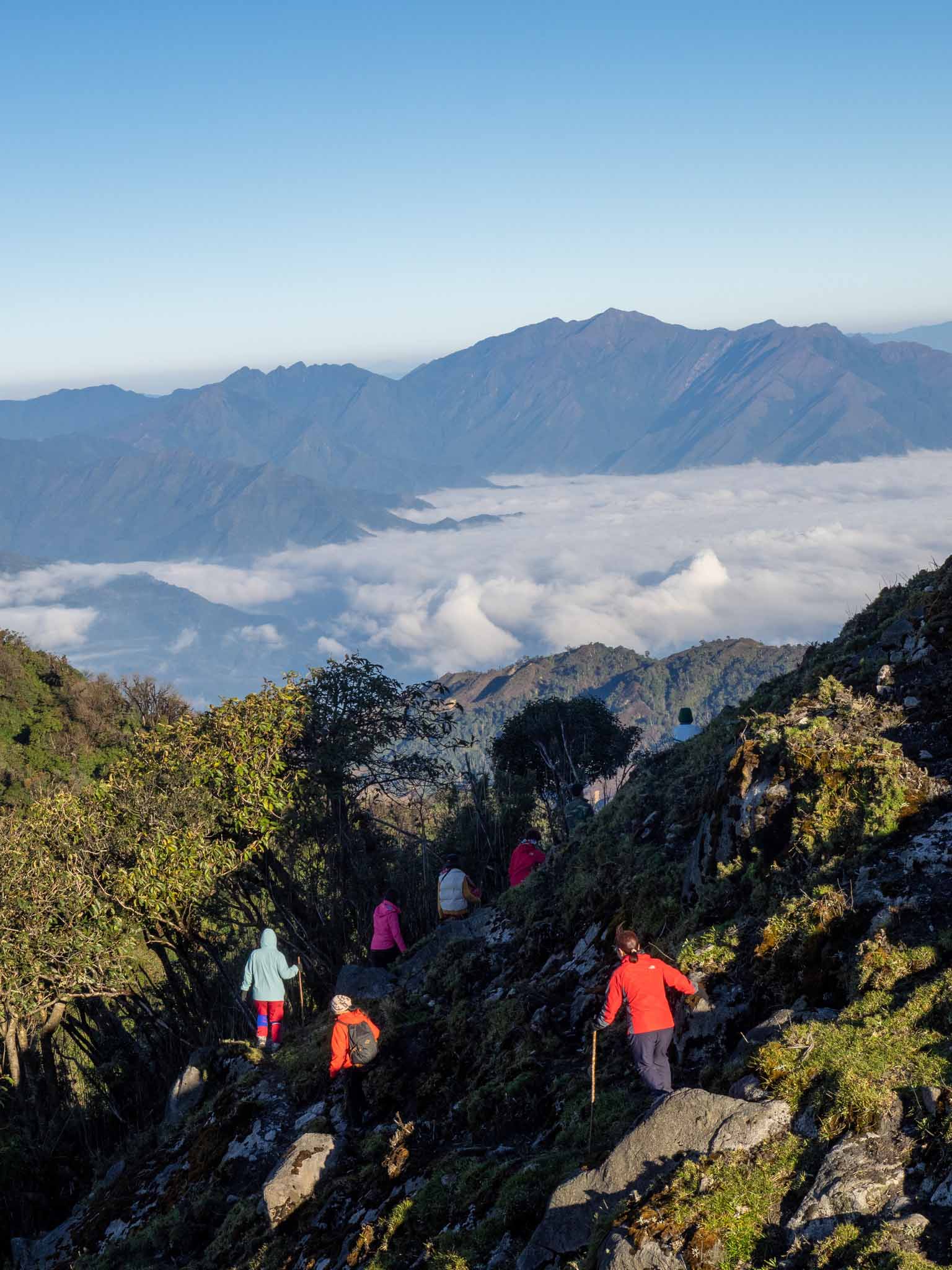 At an elevation of 2,000 meters above sea level, an air of mystique envelops the surroundings as ethereal fog descends upon the ancient forest. As visitors draw closer to the peak, the winds grow stronger, the temperature gradually drops, and the atmosphere becomes increasingly humid. During winter, the harsh climate can bring temperatures as low as minus two degrees Celsius.
Sa Mu – U Bo Peak boasts a unique ecosystem that holds immense value for the conservation of genetic resources. It serves as an ideal habitat for a diverse range of wild animals. Moreover, its magnificent natural landscape possesses vast potential for economic and tourism development, contributing to increased income and improved livelihoods for the local community.
From September to November each year, the maple leaves transform into a breathtaking palette of yellow and red, creating a picturesque scene. March and April usher in the azalea season, while the year-round presence of magnificent, oddly-shaped ancient trees and lush green bamboo forests provides additional allure. Visitors can combine trekking with cloud hunting on Sa Mu Peak, with December to February offering the perfect conditions for capturing the mesmerizing dance of clouds. Standing atop the peak and gazing downwards, they are treated to a surreal sight of clouds drifting and swirling from all directions, creating a truly enchanting panorama.