From an ice-cream and milk factory confronting numerous difficulties, after 24 years of establishment and development, Vinasoy has developed tremendously and become one of the Top 5 largest soy milk companies in the world for three consecutive years, according to GlobalData.
Vinasoy and its new milestones on the development journey
Established in 1997, Vinasoy has been the leading manufacturer in terms of revenue and output in the instant soy milk industry for nine consecutive years (according to Kantar), and has been the No. 1 soy milk manufacturer for 10 consecutive years (according to Nielsen). Especially in 2021, the business has made flexible and proactive changes when the pandemic situation is still complicated. As a result, its soy milk revenue increased 5% compared to the same period a year earlier, thanks to an 8% increase in sales volume and a 3% fall in average selling price. At the same time, since soy milk is a vital product, Vinasoy's market share increased to 92,2% (according to Nielsen) in August 2021, which was the peak month of the pandemic. This year, Vinasoy overcame the Covid's storm by launching a series of new products, including four new flavours of Fami Original and two new flavours of Fami Calcium.
Thanks to a strong sense of national pride and proactive corporate governance strategies, Vinasoy has been the first and only soy milk manufacturer in Vietnam to enter the Top 5 largest soy milk companies in the world for three consecutive years, according to GlobalData, the world's biggest data analytics organization. This indicates that Vietnamese soy milk has left a beautiful mark on the world map, and this will be the driving force for the business to continue its effort to reach new milestones on the development journey.
Success from a "spectacular" comeback
Vinasoy has gone through many difficulties to get to where it is now. A team with just over 100 people back at the time has struggled to explore a new path for the factory. Fami was chosen by the US Department of Agriculture as the exclusive soy milk product for the "School Milk Program in Vietnam" in 2001, which signaled the end of the difficult period.
Later, when the Vinasoy Board of Directors visited the USA's soybean seed and nutrition research center, they noticed the phrase "Soybeans – the Golden Food of the 21st Century" and realized that the US Department of Agriculture highly appreciated the nutritious benefits of soybeans and wanted to introduce the most essential elements to the program.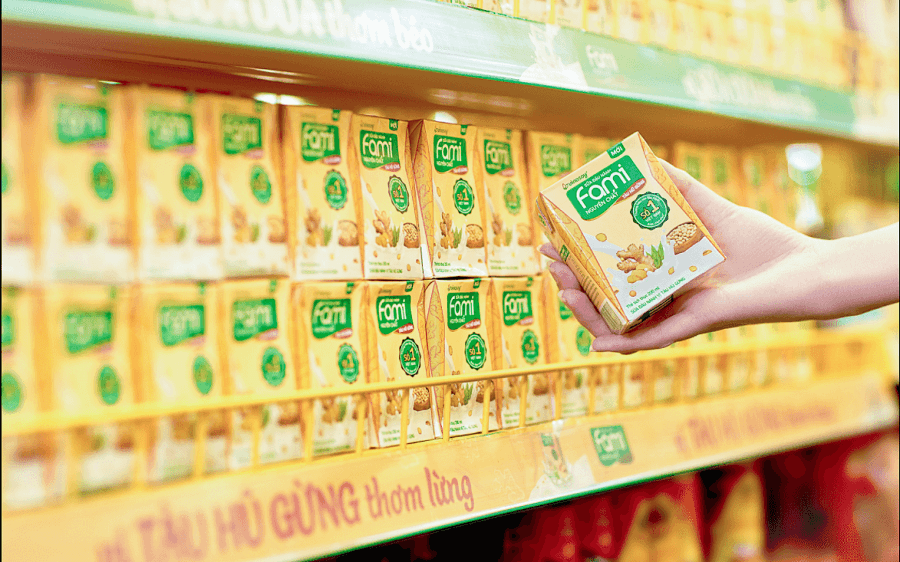 Seeing the trend of product diversification with the appearance of many companies in many fields and industries, Vinasoy's Board of Directors decided to dedicate their entire love and enthusiasm to soybeans. Truong Xuan Dairy Factory (Vinasoy's predecessor) changed its name to Vietnam Soy Milk Company – Vinasoy in 2005, re-affirming its commitment to soybeans. Vinasoy's progress has been aided by its willingness to take risks and buck the market trend, as well as methodical development strategies.
Stick to the five core values
The human factor is one of the crucial parts that not all businesses are privileged to have in their development journey. At Vinasoy, all employees have the same belief in and ambition for success, and they have consistently maintained a startup mindset while obeying to five basic values since the company's establishment, in which, the most important thing to the Vinasoy Board of Directors is a clean and robust manner.
Vinasoy's Board of Directors proudly shared a story on the occasion of the company's 10th anniversary, stating that of the 100 people since the founding days, 98 have still accompanied Vinasoy, despite appealing salaries and bonuses from other companies. "Because we all understand that Vinasoy's motivation at the time was not just about business, but also about the desire to deliver values and practical benefits to the workers, the farmers and for tens of millions of Vietnamese," said Mr. Ngo Van Tu, managing director of Vinasoy
With a consensus, a determination and a great love for soybeans and sustainable development strategies, Vinasoy emerged as a phenomenon in the FMCG industry around 2015 when the business consistently grew by a double-digit rate while the industry average was only about 4%, and many people thought it was a miracle. However, for Vinasoy, it is the obvious result of a united team, with adherence to the five core values, along with a leadership of consistency.
Development of sustainable raw material areas
The domestic soybean material area has always been the dream of Vinasoy's BOD. Originated from Quang Ngai Province, they have always been imbued with the spirit of farmers. As Mr. Ngo Van Tu once shared: "Vinasoy has what it is today thanks to soybeans farmed in the mother land. We are working hard to not only become experts in the field of nutritional drinks, but also an expert on soybean seeds, developing Vietnamese soybeans to meet the global standard".
Based on that spirit, Vinasoy established the Vinasoy Soybean Application Research Center (VSAC) in 2013 in accordance with the international model. Especially, the center built a soybean gene bank with over 1,500 different varieties, containing many valuable genetic resources rooted from both at home and abroad.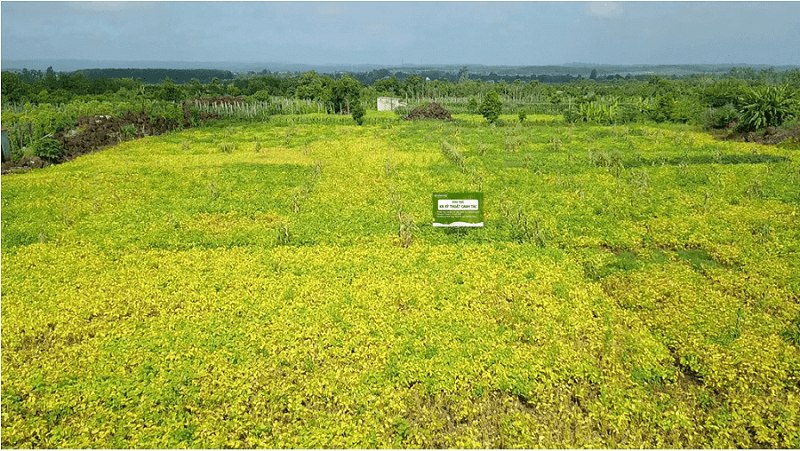 VSAC developed two soybean varieties that have been granted a plant variety protection certificate by the Department of Cultivation under the Ministry of Agriculture and Rural Development. The Department of Cultivation has authorized the Vinasoy 02-NS variety for seed production and trade in the Central, Central Highlands, Red River Delta, and Mekong River Delta regions. Vinasoy's soybean material areas have been developing steadily in these four regions by 2021. "This confirms that Vinasoy not only is a leading enterprise in the soy milk industry, but also has the ability to choose and create new non-GMO soybean varieties, that have agronomic characteristics suitable to raw material areas and meet product quality standards," said Mr. Huynh Son Hai, Director of VSAC Center.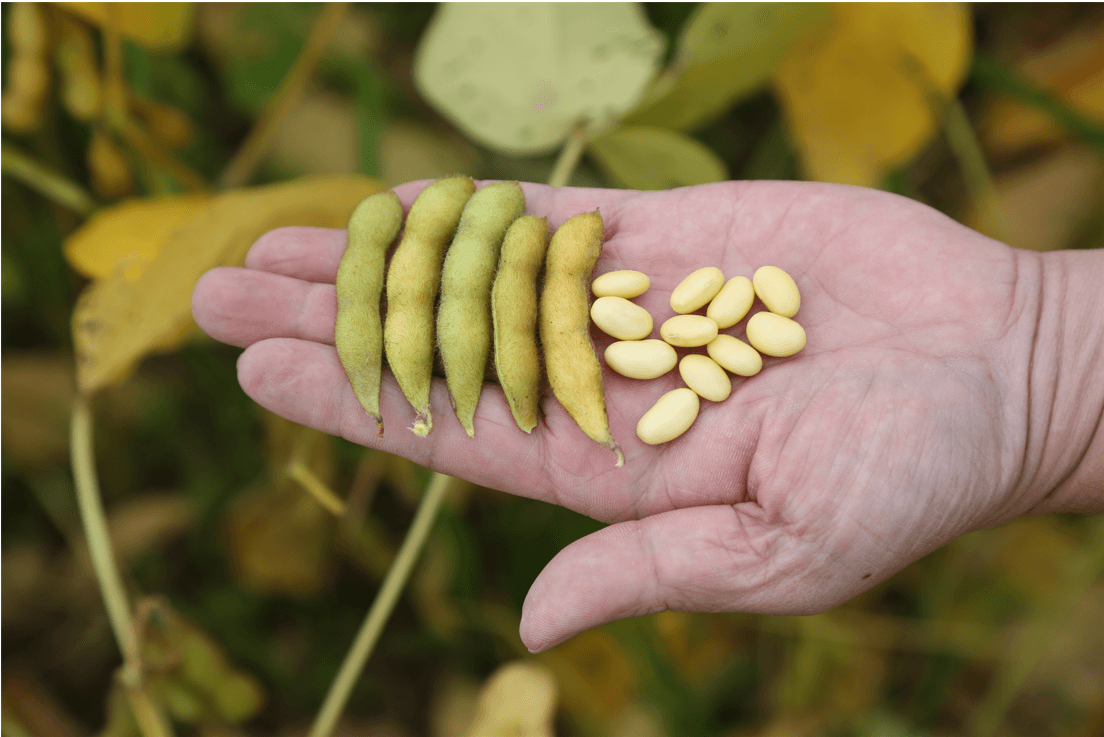 Talking about the future, Vinasoy CEO said: "Determining a strategic direction is the backbone of each company's operations. When doing business, there are always challenges, so each individual and the company must have enough enthusiasm, strategic vision and creativity to be a trailblazer. It takes perseverance, effort, and a strong desire to succeed". Besides, he also shared about Vinasoy's plan in 2022 which is to continue to develop more nutritional products from other plants, bringing many interesting choices to consumers.