With a total length of 737.3 meters, the mural in Ninh Hai District, Ninh Thuan Province, has been completed and recognized by the Vietkings as the longest mural in Vietnam, according to the VietnamPlus news site (vietnamplus.vn).
The award ceremony for the mural took place in Ninh Hai District on June 30, with the attendance of experts from the Vietkings, provincial leaders of Ninh Thuan, and many residents and tourists.
The mural, located on Highway 702 in the Dam Vua Area, Tri Hai Commune, was drawn under the theme of environmental protection. It vividly depicts the natural landscapes, famous beauty spots, and daily lives of farmers, salt workers, and fishermen.
Fixing vehicles free of charge
The story of Nguyen Thanh Nhan, who selflessly assists people in repairing their motorbikes for free during nighttime, has come to widespread public attention on social media. This 49-year-old man has begun doing this good deed since he was a motorbike taxi driver eight years ago in Hoc Mon District, HCMC.
Witnessing numerous people stranded on the streets at night with punctured tires or engine failures, Nhan decided to prepare spare parts and assist them in repairing their vehicles.
Nhan roams around many streets every evening from 8 p.m. to 2 a.m. the following day, seeking anyone who needs his help. His motorbike is equipped with a full set of repair tools, including tire levers, patches, air pumps, and a five-liter can of gasoline. He spent almost VND2 million of his saving on purchasing these tools.
After seven years of helping thousands of HCMC residents, Nhan decided to travel alone to the central region in May. Currently, he is in Danang City, continuing to assist other people.
"I want to travel to other cities and provinces to help more people and spread the message: It is better to give than to receive," he said in an interview with the VnExpress news site (vnexpress.net).
Making trans-Vietnam trip on foot
Huynh Thi Ngoc Nhu, 25, is a worker in Phu Giao District, Binh Duong Province. Wishing to make a trans-Vietnam trip on foot, she asked her mother for permission to start her trip.
At 9 a.m. on May 18, Nhu started her trip from the southernmost tip in Ca Mau Province with a backpack containing some essential belongings. She planned to do any job for locals wherever she arrived in exchange for board and lodging. However, after the first few days, she had to pay for an overnight stay at an inn in Ca Mau. Learning about Nhu's intention, many locals, even guesthouse's owners, were willing to offer her meals and stay gratis.
Nhu arrived in HCMC on June 20 after walking through 11 provinces in the Mekong Delta region and spending some VND2 million. Her sneakers wore out and she had to buy a pair of sandals. She posted her daily itineraries on social media, and she could therefore receive some help from strangers.
Nhu told thanhnien.vn that after visiting her mom in Binh Duong Province for two days, she would continue her walking trip to the central and the northern regions as planned.
Sisters donating blood for a decade
Dao Thi Ha and Dao Thi Hai, the two sisters living in Tam Giang Commune, Nui Thanh District, Quang Nam Province, have donated blood 30 times each over the past 10 years, becoming the most blood donors in the district.
Hai, the younger sister, told vnexpress.net that she donated 250ml of blood for the first time in 2011. The 48-year-old woman has donated blood three times per year ever since.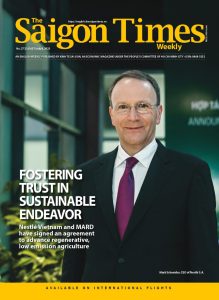 She runs a small shop, while her husband works as a builder to support their two children. She has also convinced her husband and her son to donate blood like her. Her husband has given blood three times, whereas her son has given blood four times (her younger child is not old enough to donate blood).
Meanwhile, Ha, the elder sister, has donated blood 30 times. The 51-year-old woman gives her blood at least twice a year. Her daughter, 24, has donated blood four times, while her son, 18, has donated blood once.
The two sisters have just received certificates of merit from the People's Committee of Quang Nam Province for their great contribution to the blood donation campaign of the province.