Tree-planting activities are often conducted by enterprises in their corporate social responsibility (CSR) programs, but The PAN Group, or PAN, has pushed harder. For the agriculture and food company, the goals are not limited to the number of trees being planted, but expanded to include socioeconomic impacts on local communities. Its large-scale forestation project "Life from Forestry" has been executed for three years in the 10-year timeframe, but the company has achieved more than half of its overall target.
From reforestation to protection of ecology…
The fact that reserve forests are thinning out has caused a huge headache for several provinces of the country. This is also the case for the provincial government of Long An, as Lang Sen Wetland Reserve Area as the core zone of the Dong Thap Muoi marshland is also being gradually depleted. According to a survey conducted in 2021, the reserve forest area here had shrunk by 139 hectares against 2014.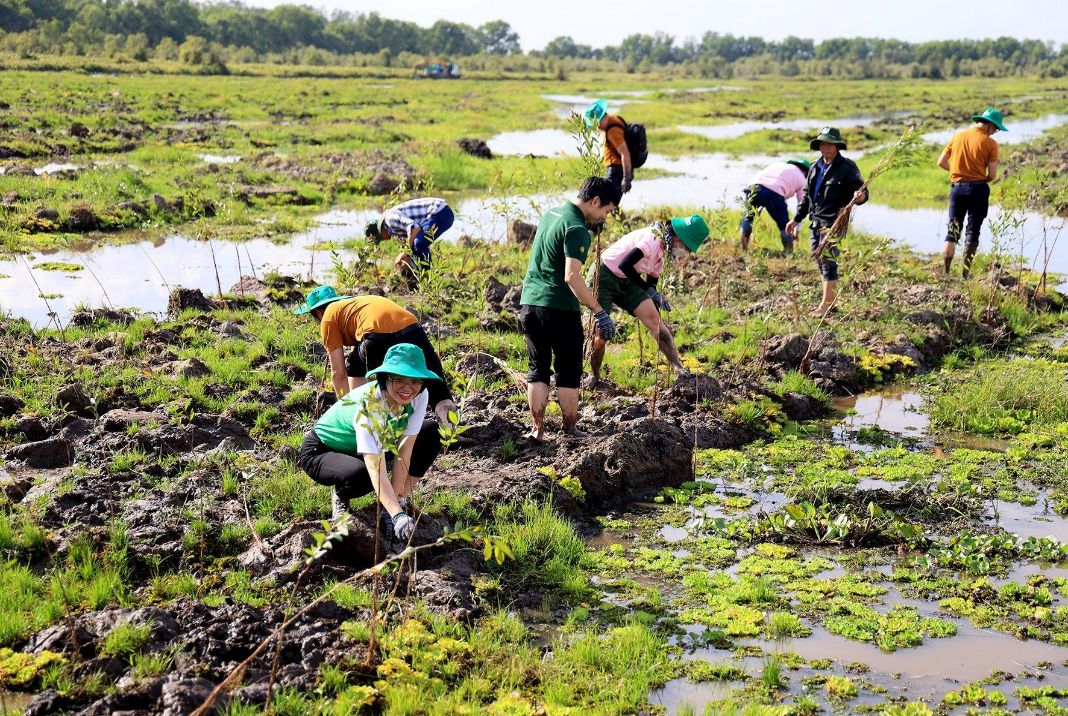 Covering more than 5,000 hectares comprising  melaleuca forests, marshland, pastures and rivers and streams, Lang Sen is one of the few natural wetland areas in the Mekong Delta with rich biodiversity. Recognized as one of nine ramsar sites in Vietnam, Lang Sen is home to 150 seasonal plants and 148 bird species, including the highly-endangered red-neck crane.
Late last year, PAN and partners kicked off a reforestation project at Lang Sen to improve green coverage at the area. The project aimed to plant 340,000 melaleuca trees on 17 hectares to recover part of the dead melaleuca tree area, which in the long term will help restore the ecological balance and biodiversity in the area. 
"PAN expects to contribute to the conservation and protection of the seventh Ramsar site of Vietnam, expand the green coverage, cut CO2 emissions, and inspire other enterprises to join forces in protecting our living environment," said a representative of PAN. Other partners involved in this project are the International Union for Conservation of Nature, the management board of Lang Sen Wetland Reserve, and CP Vietnam.
Restoring the melaleuca forest is just a component of a larger project named "Life from Forestry" that was launched by PAN in 2020. Apart from environmental protection as a primary aim of this reforestation project, PAN also seeks to improve livelihoods for local residents.
… to sustainable development
Improving the quality of forests is another issue of paramount importance. Data released by the Ministry of Agriculture and Rural Development in June this year showed that Vietnam's forest coverage reaches 42.02%, but the quality of forests is not high enough to ensure sustainability, as production forests still account for the majority.
Facing such a reality, PAN decided to launch the "Life from Forestry" project to increase green coverage on one hand and improve forest sustainability on the other. With a target to plant one million trees in 2020-2030, PAN is expected to create visible impacts in terms of environment, biodiversity, and livelihood for the people.
The "Life from Forestry" project is expected to improve the quality of soil, air and water, cut carbon emissions, safeguard the biodiversity, and create livelihoods for the residents benefiting from the forest, thereby reducing deforestation. 
Starting off as a project belonging to a single company, the "Life from Forestry" project has captured strong attention and participation from like-minded organizations, including local governments and non-government organizations. After three years in place, the project has seen 555,000 trees planted in nine provinces and cities, reforesting over 1,200 hectares and generating benefits for more than 6,000 households.
Another component of the project is the intercropping method, planting over 100,000 fruit trees on 1,200 hectares of coffee in Di Linh District of Lam Dong Province. The aim of this sub-project, implemented in collaboration with the Dutch-based IDH Organization, is to improve sustainability for coffee farming and improve incomes for farmers.
In this CSR project, The PAN Group has also supplied nearly 40,000 seedlings to islands of the Truong Sa Archipelago, including young fruit trees, woody plants, and vegetables.
Despite encouraging results from this project, the leadership of The PAN Group said there remain many tasks to perform to bring the "Life from Forestry" project to success, especially at a time when climate change is posing more risks for the country.