The pristine white sandy road that links O and Qua Islands in Van Phong Bay creates a remarkable walking path amidst the ocean, a not-to-miss attraction for tourists exploring Khanh Hoa Province.
Located approximately 60 kilometers north of Nha Trang City, Diep Son is a charming island village nestled within Van Gia Town, Van Ninh District, Khanh Hoa Province. It belongs to the breathtaking Van Phong Bay and comprises three small islands: Bip Island, O Island, and Qua Island.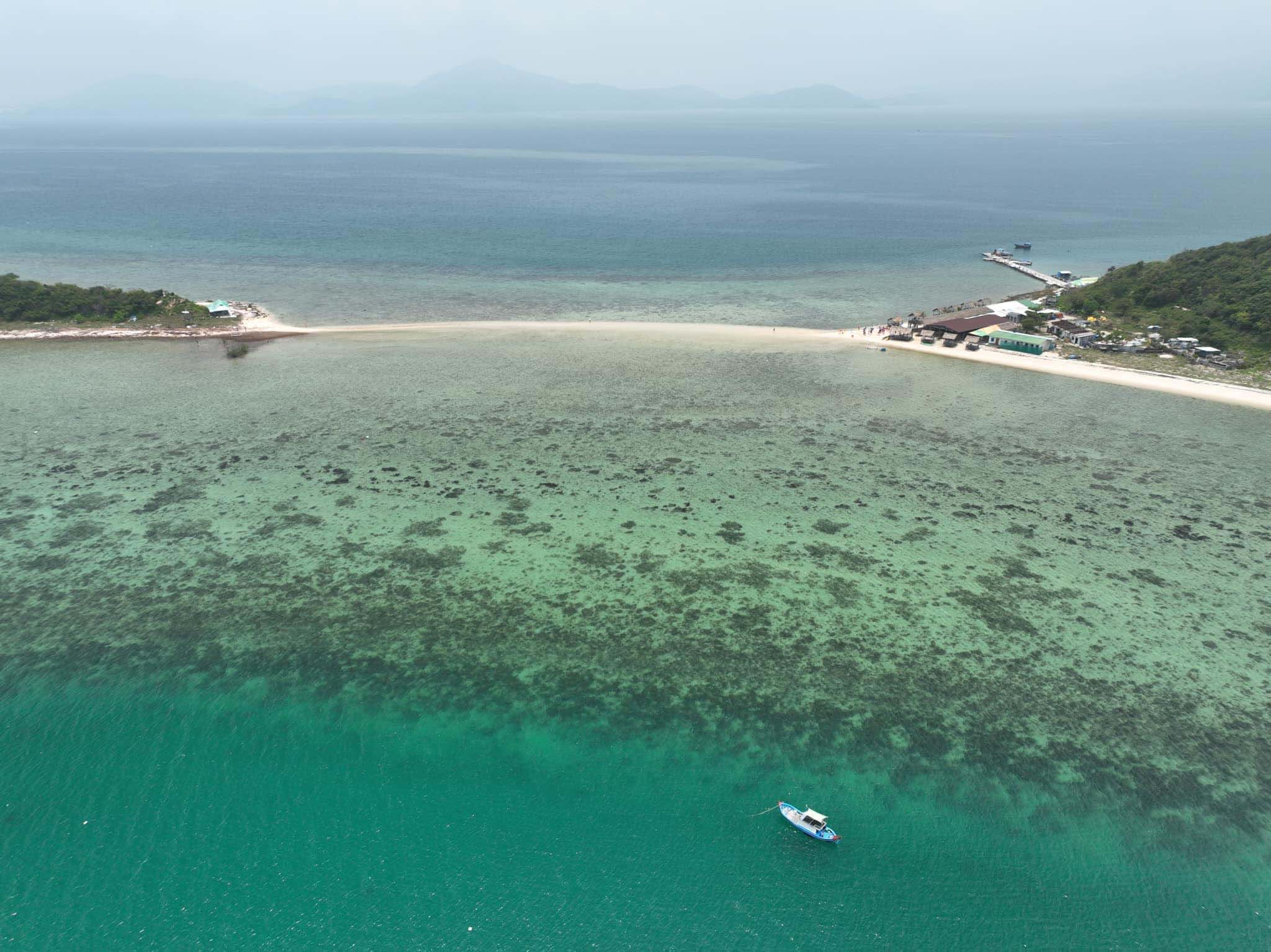 Travelers can embark on a journey from Nha Trang, which takes around 1.5 hours to reach Van Gia Port. From there, they can hire a boat and enjoy a mesmerizing 20-minute ride, taking in the stunning landscapes of Van Phong Bay en route to Diep Son.
Diep Son has been a long-standing destination, but it has gained recent fame thanks to its extraordinary walking path in the heart of the sea. The 400-meter pathway, made of pristine white sand, connecting O and Qua Islands, is considered one of Vietnam's most distinctive attractions.
This path is formed at the convergence of the ocean waves and is constantly fortified over time. During high tide, it rests beneath the sea surface by about 0.5 meter. Conversely, at low tide, it emerges gradually, winding its way amidst the crystal-clear blue ocean.
Strolling along this unique pathway amidst the vast ocean, visitors experience a sense of joy as gentle waves caress their feet while they walk on the smooth white sand. Colorful schools of fish gracefully swim around, adding to the enchanting ambiance. The surrounding water is relatively shallow, allowing travelers to relish the rare opportunity of walking on the sea itself.
The best time to visit Diep Son is from December to July. Aside from the enthralling walking path, tourists can engage in activities like stand-up paddleboarding, snorkeling, or rent a boat to explore the nearby small islands.
Additionally, visitors can immerse themselves in the daily lives of local fishermen by participating in activities such as fishing, squid-catching, crabbing, and snail gathering. Diep Son is also an idyllic destination for camping enthusiasts, with its long, flat coastline providing ample space to set up camp.