At the ongoing SEA Games 32 hosted by Cambodia, Nguyen Thi Oanh has made history when she is the first Vietnamese track and field athlete to win four gold medals for 1,500-meter, 5,000-meter and 10,000-meter running events, and 3,000-meter steeplechase, at this sporting event of the Southeast Asian nations.
On May 8, at the final round of the 5,000-meter running event, Oanh completed the long-distance race after 17 minutes 0.28 second, winning the gold medal. Pham Thi Hong Le, Oanh's teammate, was the second to arrive at the finish line and thus won the silver medal for Vietnam.
At 5:35 p.m. on May 9, Oanh competed in the 1,500-meter running race and was the first to arrive at the finish line after 4 minutes 16.85 seconds. Just 20 minutes later, she had to be present at the starting line to compete in the 3,000-meter steeplechase. It was like a miracle when she continued to win a gold medal for this race after 10 minutes 34.39 seconds, even though she had no time to take a rest.
On May 12, Oanh won the 10,000-meter running race after 35 minutes 11.53 seconds, becoming the first Vietnamese runner to win four gold medals at an international track and field event. Hong Le also won the silver medal at this long-distance race.
Young woman preserves Ma Chau silk weaving
Nine years ago, after graduating from the University of Economics in Danang City, Tran Thi Yen refused to work for a bank in Tam Ky City to return to her hometown, Nam Phuoc Town, also in Quang Nam Province, to help her father preserve the traditional silk weaving craft of Ma Chau Village, which was then on the verge of disappearance.
Formerly, there were some 300 silk weaving households with about 4,000 looms in the village. After incurring losses for a long time, only Tran Huu Phuong, Yen's father and head of Ma Chau Silk Weaving Cooperative, still maintained the traditional craft. Yen then lent her father a hand when the cooperative suffered debt of hundreds of millions of dong.
Using bank loans, Yen continued to produce handmade silk from worms and tried to make other fabrics from flax and bamboo fibers. She introduced products in big cities and at trade fairs and shops. She also posted her products on social media and invited young designers to use Ma Chau silk for their fashion clothes.
According to vnexpress.net, from 2018 to 2022, aside from wooden looms, Yen invested in modern machinery. At present, her establishment markets 3,000 meters of silk and other fabrics a month, earning annual sales of over VND2 billion and net profit of VND500 million, creating jobs for 10 workers.
Disabled man with passion for triathlons
Despite being born with undeveloped forearms and three fingers on each hand, Ngo Van Vinh, a resident of Chuong My District in Hanoi, is strongly determined to pursue his passion for participating in a triathlon.
Vinh firmly believes that sports offer him numerous benefits, such as good health, perseverance and discipline. Whenever he feels exhausted from work, he turns to sports as a stress reliever. 
He trains for triathlons and participates in mountain climbing. He decided to participate in the Ironman 70.3 held in Danang to fulfill his passion for sports, improve his health and challenge himself. 
Vinh struggled to finish the race as big waves made swimming difficult, and the 90-kilometer bike ride left his hands numb and tired. Despite the scorching heat during the run, he completed the race in almost seven hours and expressed satisfaction with the result in an interview with thanhnien.vn.
Zero-dong kiosk of students in Can Tho City
Over the past four years, the Youth Kiosk of the Can Tho University of Medicine and Pharmacy has been frequented by needy students and poor people. The kiosk (on Tran Bach Dang Street, Ninh Kieu District, Can Tho City) was established in March 2019 by the university's Youth Union and the Students' Association to support students in need and poverty-stricken people.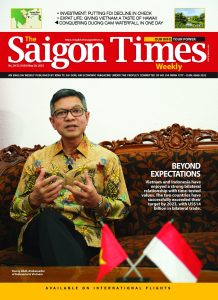 The number of volunteers at the Youth Kiosk amounts to 840 students, over 200 of them are permanent ones. It opens from Monday to Friday a week to receive used clothes and learning documents donated by students, and to run a coffee shop and a laundry to raise funds for the kiosk. Accordingly, 30% of the revenue of the laundry will be contributed to the funds, while VND1,000 from a drink sold out at the coffee shop will also be earmarked to the funds.
Apart from handing out used clothes and learning documents to those in need, the kiosk also offers psychology, health and employment consultation to students. The kiosk's volunteers have also organized many charitable activities to help poor, disadvantaged and disabled people in and outside the city, thanhnien.vn reported.