Owning unique advantages, OneHub Saigon is the "new economy" oriented project with a focus on the fastest-growing technology sectors. "Home to nurture the 4.0 technology community", "Ideal destination for leading technology corporations" – Are those widely-known lines enough to describe OneHub Saigon?
In search for a true modern tech hub in HCMC
Vietnam's tech communities have been longing for a tech hub that empowers and connects talents with businesses, and OneHub Saigon – a campus-style integrated business park has emerged as a potential one. OneHub Saigon prioritizes promoting sustainable business growth, fostering community engagement and creativity. The project is expected to create ideal conditions for prospective tenants in the new economy i.e., information technology, biotechnology, new material technology, precision engineering, back office of financial institutions, ecommerce, fintech, and the internet industry, etc.
OneHub Saigon is also highly rated for its excellent connectivity, thanks to its prime location right at the entrance Saigon Hi-Tech Park (SHTP), fronting Hanoi Highway, directly connected to Metro Station 12 (Saigon Hi-Tech Park Station) of Ben Thanh – Suoi Tien Metro Line No. 1, which starts a trial run by year-end. Thus, OneHub Saigon offers seamless access to both the central business district and Tan Son Nhat international airport within a 25-minute drive.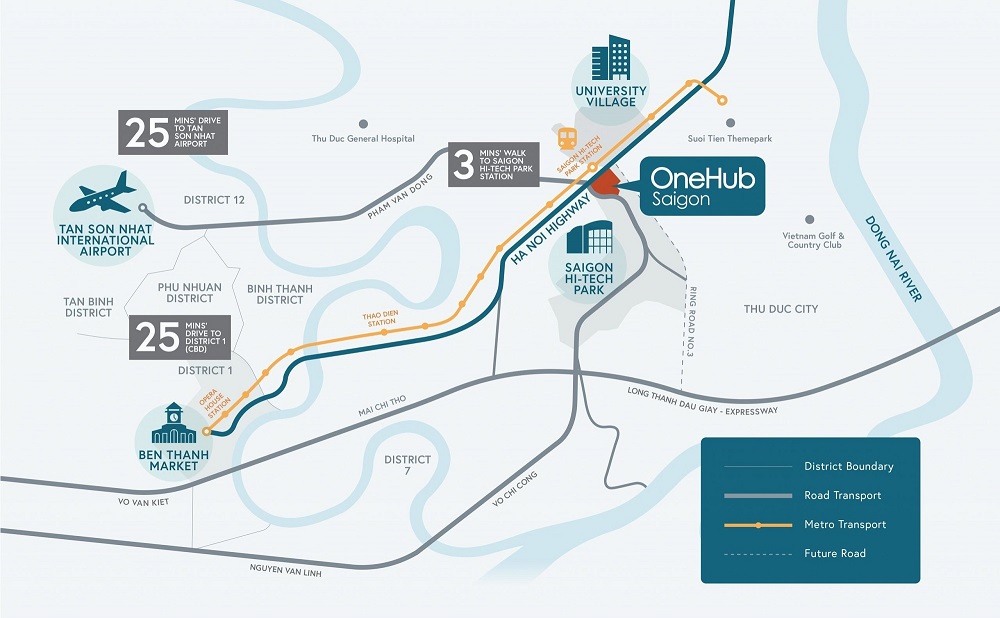 In December 2021, Singapore-based Worldwide DC Solution has successfully obtained a license from Saigon Hi-tech Park (SHTP) to invest $70 million in developing 1Hub – a data centre in OneHub Saigon. With a total construction floor area of ​​over 18,000 m2, 1Hub DC is well-designed to meet the strict technical standards of Uptime Tier III data centre. The data centre is scheduled to be put into operation in early 2025, making OneHub Saigon an attractive destination for the digital economy.
Corporations often seek workplace designs that are both sleek and functional. And now they can find a place that serves such purposes in OneHub Saigon. Column-free 2,000 sqm of net usable area per floor, 3m high ceiling height and lush greenery landscape are some of the key superior specifications of the completed Tower 1, among 7 international grade A office towers of OneHub Saigon. 2 Work Office – Home Office buildings brought the concept "Work-Live-Play-Learn" to life, meeting the dynamic living near the office needs.
Furthermore, those spaces can be customised in single or multi-tenanted buildings. Remote working employees can share a living space and multi-functional facilities to save cost or choose a smaller apartment by themselves. Corporations can conveniently arrange accommodation that serve short business trip or long-term purpose for their foreign experts.
The ideal workplace that meets the "new economy" standards
Since the outbreak of the pandemic, Vietnam has been transforming, rapidly growing 4.0 technology industries. Super app Grab, e-wallet Momo, and e-commerce platforms like Shopee, Lazada, and Tiki are successful case studies. In 2021, Grab announced a 44 per cent increase in adjusted revenue to $675 million.
The success story above has set an example for others to follow.
By 2025, Vietnam aims to have 70,000 digital tech companies with a workforce of 1.2 million people. This technology community is expected to create revenue growth 1.5-2 fold higher than the country's GDP expansion rate and export growth per year. To make the most of available support and advantages above, fast growing corporations need a corresponding office space with large floor plate, green space at the most optimal cost for expansion or re-location purpose. Such high requirements are hardly met at the office buildings in central areas, leading to decentralization trend over the past 2 years.
Vo Sy Nhan, general director of Gaw NP Capital, the developer of OneHub Saigon said, the global health crisis has accelerated some pre-existing trends in the commercial real estate sector which are occupiers' wellbeing, business flexibility, better utilisation of space, and cost optimisation.
"New office offerings like sustainability, smart buildings, and the digital workplaces are desirable for occupiers in a post-pandemic world. OneHub Saigon has been developed with such forward-looking visions, providing workplace solutions that address all those needs, leading the decentralisation trends for businesses to enjoy quality office space at a fraction of usual office costs," Nhan said.
Thu Duc City is the ideal destination for this decentralization trend, thanks to its well invested public infrastructure system: New Eastern bus station (bến xe Miền Đông), Metro Line 1 Ben Thanh – Suoi Tien, and Long Thanh – Dau Giay Expressway. Thus, projects such as OneHub Saigon located within Thu Duc City also benefit from these advantages to lead the decentralization trend. In one place of 360,288 m², OneHub Saigon is the reflective design of the "Work-Live-Play-Learn" concept. The integrated business park provided an optimal environment that meets the tenants' diverse needs of working, entertaining, living-near-the-workplace within reach.
Prioritising people's well-being as the main objective, OneHub Saigon inherits characteristics from successful business park projects such as International Tech Park, Bangalore in India, and Changi Business Park in Singapore.
The person behind this unique design is renowned landscape architect Colin K. Okashimo – winner of the Singaporean Architect of the Year award. He is widely known for close-to-nature masterpiece designs such as Ephelia resort (Seychelles), Halaveli Resort (Maldives), and The Pullman Hotel Mandalay (Myanmar).
Furthermore, Gaw NP Capital as a reputable developer is one of the criteria that give foreign corporations peace of mind while choosing their ideal workplace. Being a reliable and trusted partner of prestigious international and local partners, Gaw NP Capital has managed and developed large-scale projects across Vietnam.
Those corporations at OneHub Saigon, together with widely known international corporations in Saigon Hi-Tech Park such as Samsung, Intel, and Schneider located in SHTP will form a vibrant business eco-system, promoting greater collaboration and fostering synergistic growth.
The 12-hectare OneHub Saigon comprises of 11 blocks of international standard grade A buildings: 1 mixed-use commercial building, 7 premium eco-friendly office towers, 2 Work-Office-Home-Office (WOHO) buildings, training center, entertainment facilities and digital infrastructure.

For more information, please visit: https://OneHubSaigon.com.vn/