Lam Dong Province's success in agritourism has paved the way for other regions, including HCMC as Vietnam's most populous city, to achieve sustainable development in the near future.
Agritourism, a combination of three main elements of agriculture – farming, farmers, and rural areas – and tourism, includes any activity that brings visitors to a farm to increase its income and offers entertainment or educational experience to them. Recently, agritourism has emerged as a trend among travelers seeking to explore local lifestyles and farming practices in certain provinces.
Initially, these activities were merely part of tour packages, with tour guides showing visitors how rice was grown, how buffaloes were raised, how a sickle was used, and how coconut candy was made.
After realizing the high demand for these activities, travel companies conducted research and promoted agritourism as a new type of service along with urban tourism, island and sea tourism, spiritual tourism, heritage tourism, wellness tourism, and adventure tourism.
Agricultural tourism has long been present in certain regions and countries thanks to distinct economic and social factors. Its name varies across different countries and territories,  such as "nomadic tourism" in Mongolia and "grassland tourism" in Inner  Mongolia (China). Once overlooked, around wheat and rice farms in the Sharjah desert.
Lam Dong Province became the first in Vietnam to pilot a model combining tourism and agriculture in  2015. Despite initial challenges and setbacks, the "agritourism" model has been carried out successfully there over the past seven years. "Agritourism activities generated average revenue of VND2 billion per hectare, with some locations recording an amount of over VND6 billion,"  said Tran Van Hiep, chairman of the  Lam Dong People's Committee.
This model has currently spread to other provinces in Vietnam, including Ha Giang, Lao Cai, and Yen Bai in the northern region, as well as Mekong Delta provinces such as Ben Tre and Tien Giang.
Agricultural tourism offers travelers various experiences and activities at different levels. The first level involves observing the production process and enjoying fresh products such as coconut candy and strawberries on the farm or production site.  This is usually called "observation activities", as visitors can see how local people make dried persimmons, coconut candies, and rice paper.
Local guides and residents introduce visitors to the production processes and tools and then serve them some products. The second level of agritourism is real-life experience, whereby tourists can participate in various stages of production. Visitors have the opportunity to join the farmers in picking flowers in greenhouses in Dalat, growing vegetables in Tra Que vegetable village in Hoi An City, picking herbal leaves with the Dao people in  Lao Cai, harvesting shrimp in Halong Bay, and ultimately, enjoying the fruits of their labor. Tourists find it exciting to immerse themselves in the hot tubs of herbal leaves they harvested, washed, and boiled.
The third level is known as the  "three-in-one" experience of "living, eating, and working" with locals for a few days. Tourists become members of the community to live and experience daily activities with the locals, including riding buffalos and harvesting bamboo shoots. Moreover, visitors may get a chance to participate in local weddings, funerals, festivals, and rituals at temples and pagodas.
Agritourism levels vary depending on location and organization, with each place offering a unique experience. Agritourism only reaches the first and second levels in the majority of provinces.
Agritourism in Lam Dong Province has reached the third level and has become the most appealing to foreign tourists. Visitors are willing to spend more money and stay longer for these real-life experiences.
Tourists, especially those from abroad, have long complained about the monotony of tourism products in HCMC. Day tours typically include stops at Bui Vien Street, followed by visits to the Reunification Palace, Notre Dame Cathedral, Saigon Central Post Office, Dragon Wharf, or the Cu Chi Tunnels. After a day tour around the Mekong Delta region, tourists can travel on to central and northern provinces.
Given the situation, agritourism in HCMC can be seen as a new product to make tourists stay longer and increase spending on the trip. With the HCMC People's Committee temporarily suspending the plan to upgrade districts to cities, opening homestays combined with agritourism is one of the feasible solutions to boost tourism and achieve sustainable development.
A leader in HCMC once said, "Farming on one hectare of agricultural land only yields an average of VND55 million in a year" and suggested converting it into industrial land for more profits.
However, this approach is now seen as problematic due to its potential negative impact on the estimated 800,000 individuals who rely on agriculture for their livelihoods, as well as the tangible and intangible cultural heritage in outlying districts.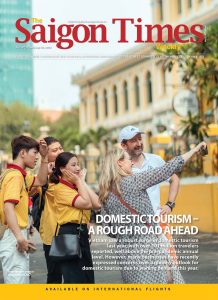 The adoption of a high-quality agritourism model, together with homestays, presents a viable solution to economic, cultural, and social issues. An agritourism village in Hoc Mon will feature 18 betel nut gardens, temples, and shrines, traditional houses in the southern region, kilns, as well as traditional art performances like cai luong (reformed theater), don ca tai tu (southern folksongs), and tantalizing local delicacies such as rice paper, clay-baked snakehead fish, and sweet-and-sour soup. These are precisely the cultural experiences that foreign visitors seek, rather than the glamour of highways or skyscrapers.
Notably, a hectare of agritourism land in Lam Dong Province could generate an impressive VND6 billion per year, underscoring the potential success of this tourism model. Therefore, agritourism is considered a promising source of revenue for HCMC, and even the districts of Hoc Mon, Cu Chi, and Can Gio, to gain more success and head toward sustainable development.