In 25 years of operation in Vietnam, Toyota Vietnam, besides developing its business as a leading automaker, has always tried to make contributions to the local community in a bid to make Vietnam a better place. As the country is grappling with the Covid-19 pandemic, the automaker has rolled up its sleeves to help ease the burden on the economy.
Supporting the fight against Covid-19
These days, Covid-19 and the fight against it have become the hottest issues in Vietnam. Aware of the heavy burden caused by the pandemic on the country, especially the healthcare sector, Toyota Vietnam has donated VND10 billion to the Covid-19 vaccine fund and a Covid-19 Real-Time PCR testing system worth VND1.57 billion to Vinh Phuc Province, where its plant is located.
In fact, the automaker has joined the fight against Covid-19 since the pandemic first broke out in the country in early 2020. Last year, Toyota contributed VND10 billion to the Vietnam Fatherland Front Central Committee to help tackle the pandemic and presented medical equipment valued at VND1.1 billion to Vinh Phuc Province.
At Toyota Vietnam, multiple anti-virus measures have been applied to ensure safety for its employees, customers and the community and prevent production chain disruptions.
Hiroyuki Ueda, president of Toyota Vietnam, said since Covid-19 broke out in Vietnam, the safety of employees and the community has been Toyota's first priority. It has employed many anti-pandemic measures in its workplace, such as disinfecting offices, cars and canteens, asking staff to wear face masks during working hours and checking their body temperature, among others. In addition, many of its staff have been asked to work from home since May 3.
It has also informed its agents and suppliers of anti-pandemic measures and regularly got updates on the pandemic to work out appropriate response plans and prevent pandemic transmission.
As required by the Vinh Phuc government, Toyota has conducted Covid-19 tests on all of its employees and all of their results came back negative. The firm has yet to record a Covid-19 case, so its production is maintained, thus ensuring its employees' incomes and its tax payments.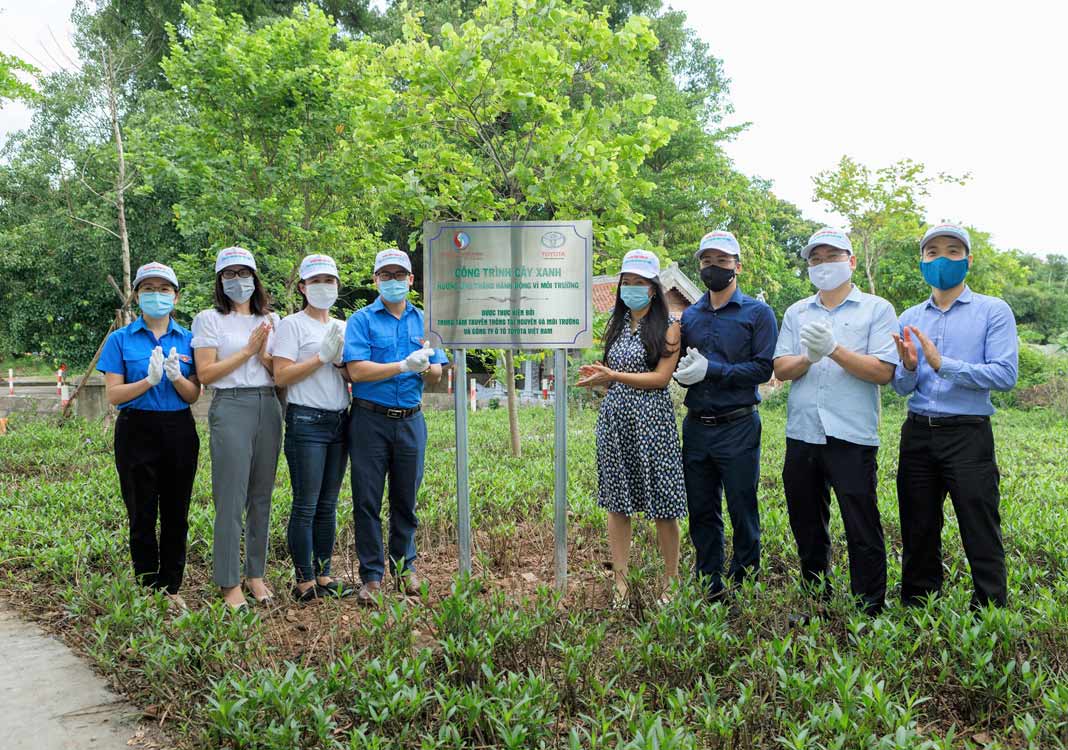 Traffic safety, environmental protection and education
Toyota has joined forces to build up a better traffic safety culture in Vietnam. The "Toyota and I study traffic safety" program has been held annually since 2005 to raise teachers' and primary students' awareness of traffic regulations and safety.
Students can learn basic traffic regulations and safe driving skills through a painting contest and many games. Through the program, Toyota has presented more than 7.5 million books about traffic safety to primary students and nearly 129,000 books to teachers.
The program has been held in some 500 primary schools in 61 localities, plus 12 contests on traffic safety at the national level.
Toyota has also considered environmental protection as part of its missions while operating in Vietnam. It has coordinated with the Natural Resource and Environment Media Center, under the Ministry of Natural Resource and Environment, to plant trees in schools, helping to raise young people's awareness of environmental protection.
The program was launched in 2017 and has been highly evaluated by the community, especially the young. Last year, Toyota and its 36 agents planted more than 1,400 trees in 12 schools in Vinh Phuc, Phu Tho, Binh Dinh, Phu Yen, Long An and Tien Giang provinces.
After five years, the firm has planted over 6,400 trees in 53 schools across the country.
This year, Toyota will carry out the program in six other localities—Bac Giang, Hung Yen, Khanh Hoa, Binh Thuan, Ba Ria-Vung Tau and HCMC.
Moreover, Toyota and the Natural Resource and Environment Media Center are conducting the "second journey of tires" program, in which Toyota will build playgrounds for children, using used tires. This program has helped reuse tires, contributing to environmental protection.
Toyota Vietnam has also paid much attention to the education sector. It annually awards 85 scholarships to support young music talents and presents musical instruments to traditional music faculties of five music schools.
As of 2020, Toyota Vietnam has awarded nearly 1,100 scholarships to students and created conditions for them to perform with professional orchestras in large music programs of Toyota.
Furthermore, the company since 1997 has annually presented 115 scholarships to excellent auto, mechanics and environment students of 16 universities nationwide. The total number of scholarships awarded in the period has reached some 2,500. Additionally, the company has presented technical equipment to support the teaching and training work at these schools.
In addition, Toyota Vietnam has accompanied the Mottainai program, themed "Giving Love – Receiving Happiness", since 2018 to raise funds for disadvantaged children, especially orphans and those suffering from traffic accidents.
Mottainai is based on the exchange of secondhand items initiated in Japan to prevent wastefulness. However, in Vietnam, it has been expanded to environmental protection and activities to raise funds for children, and become a nationwide community activity which has been conducted annually over the past eight years.
Last year, Toyota Vietnam sponsored VND200 million for the program while its agents donated used clothes and shoes.