CANTHO – The Tran De Port project in the Mekong Delta province of Soc Trang is poised to revolutionize Vietnam's foreign trade by streamlining cargo transportation and cutting logistical costs.
The port's strategic location is set to draw cargo from both within the Mekong Delta and neighboring Cambodia, said Le Tan Dat, deputy general director of Construction Consultation JSC for Maritime Building (CMB), at an August 7 conference titled "Investment in Tran De Port in Soc Trang Province."
Leveraging the Mekong River's inland waterways, Tran De Port offers a more efficient transportation option compared to existing alternatives.
This advantage becomes apparent when comparing distances. The route from Phnom Penh to Tran De Port is only 306 kilometers long, shorter than the routes of Cai Mep-Thi Vai Port in Ba Ria-Vung Tau Province (384 kilometers) and Cat Lai Port in HCMC (346 kilometers).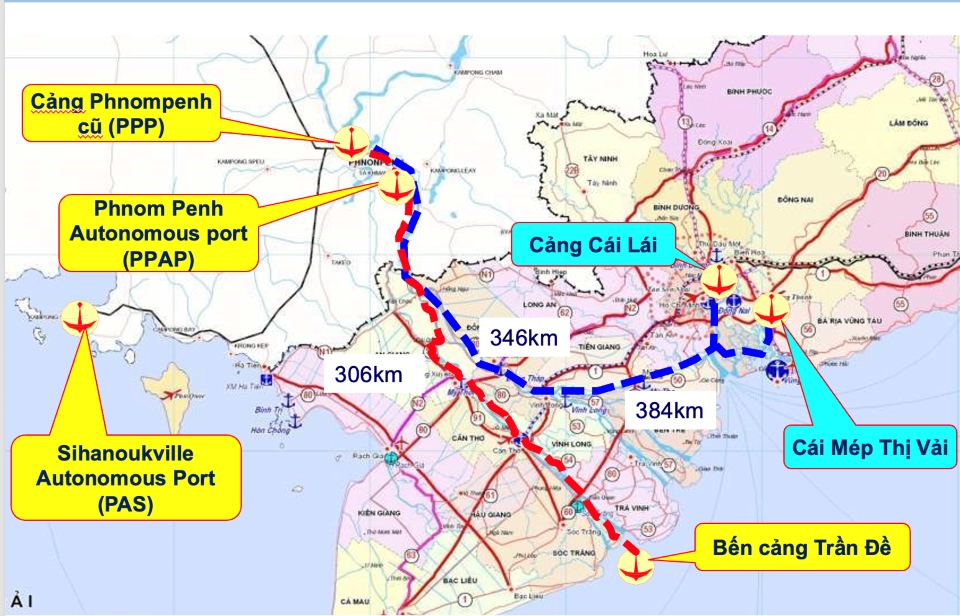 Such distance reduction translates into tangible savings of time, resources, and costs for businesses engaged in international trade, Dat said.
Moreover, Tran De Port is poised to optimize coal imports for the Mekong Delta's thermal power plants, such as the Long Phu and Song Hau thermal power plants.
The development plan for Tran De Port envisions robust cargo throughput, with annual cargo volumes projected between 30.7 and 41 million tons. Off-shore terminals can handle a significant portion of this, ranging from 24 to 32 million tons. The container segment is forecasted to be between 11.6 and 16.3 million tons.
However, the strategic importance of Tran De Port goes beyond cargo quantity; it lies in connectivity. Experts emphasize that the port can become a vital node in global trade routes, optimizing cargo flows and diversifying trade pathways, thereby bolstering Vietnam's global competitiveness.
During the conference, Tran Van Lau, chairman of the People's Committee of Soc Trang, underscored the Mekong Delta's pivotal role in the nation's agricultural goods supply, particularly rice, shrimp, tra fish and fruit.
He noted the region's current infrastructure inefficiencies, with 70% of goods requiring road transport to reach HCMC ports due to the lack of direct waterway access. This results in higher transport costs, longer transit time and compromised product quality.
From a corporate perspective, Pham Thai Binh, general director of Trung An Hi-Tech Farming JSC, pointed out operational hurdles. The company exports around 200,000 tons of rice annually, but a significant portion of this exported rice takes a detour to riverside ports in the Mekong Delta region before being transported to HCMC for further global export.
Furthermore, a substantial seven million tons of Vietnam's annual rice exports are directed to HCMC before onward shipping. This elongated route significantly inflates transportation costs, thereby significantly impacting the overall expenses of exported goods.
Hence, Tran De Port holds substantial potential to dramatically reduce costs for both businesses and residents of the Mekong Delta. Rice transportation costs could potentially drop 40% or even 50% for other commodities like fruits, said Binh.
The implications extend to the seafood industry as well. Ho Quoc Luc, chairman of Sao Ta Food JSC, a seafood producer and exporter, pointed out that transporting seafood products from the Mekong Delta to ports in HCMC and Ba Ria-Vung Tau Province adds a significant extra cost of around US$700 per 40-foot container for a round-trip journey.
For Sao Ta Company, which annually exports around 1,500 40-foot refrigerated containers, this translates to at least VND15 billion in additional transportation expenses due to the need to transport goods to the southeastern region of the country before export.