Restaurant owners fear the tourist city of Hoi An might stumble into the trap of low-cost tourism, reducing the value of the old town
A businessperson operating an age-old restaurant on the bank of the Hoai River in Hoi An City recently said that Hoi An has been seeing many tourists from Hanoi, HCMC, South Korea, Thailand, etc. The city's downtown area, especially the streets along the Hoai River, is bustling with tourists, buyers, and sellers every night.
The street food stalls on the banks of the Hoai River are always busy. Hoi An's specialties, such as cao lau (noodle dish), grilled meat and pancakes, etc., are priced at VND30,000-40,000/serving (approximately US$1.5).
According to the restaurant owner, the street carts sell them for much cheaper than the restaurants. Moreover, street vendors always hover around the old quarter instead of the private space designated for them.
Despite the high number of tourists, restaurants such as his only end up serving a few diners, he rued, adding that guests find it more convenient to buy from the street vendors as they can directly see, touch and smell the food while walking about the old quarter and pay a lower price.
He said that since many tourists favor budget travel, Hoi An could soon unknowingly stumble into the trap of cheap tourism. On the other hand, he also agreed that the city could not improve its tourism quality either, as it may reduce the value and appeal of the old town.
While some agreed with the restaurant owner as restaurants are under great pressure due to fierce competition from street food stalls and street vendors, others said restaurants have to deal with the situation because this is a market economy with the participation of different economic sectors. Restaurants can attract more diners if they are more active in online and offline marketing. They said that marketing must focus on product quality, hygiene, food safety and space.
Meanwhile, an expert said Hoi An needs to rethink its position. Hoi An is seen as a famous tourist city in Vietnam and the world with unique cultural and heritage values. Hoi An is as renowned as other small tourist cities in Europe, such as Freiburg in Germany, Salzburg in Austria, La Rochelle in France or Venice in Italy. Therefore, Hoi An can focus on high-quality tourism, attracting guests from Western Europe or the U.S. and China, South Korea, Thailand and India.
However, although the local government wants to attract as many visitors as possible and improve the quality of tourism services, they need to work on a sustainable tourism strategy in accordance with local characteristics.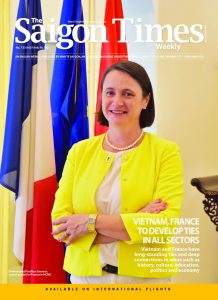 Hoi An has successfully asked some famous coffee brands, such as Starbucks and Cong, to adhere to Hoi An's signature colors. For instance, the Starbucks coffee shop's logo turns yellow (the typical color of Hoi An) instead of its traditional green and white. It is the same with Cong café. To some extent, this is a unique point that helps cafés attract more guests. Such examples show that Hoi An can fully enhance dining services in the old quarter.
The businessperson suggested that owners of street food stalls should improve the quality by raising the prices of dishes. They must showcase it as an experience offering Hoi An's specialties and the unique atmosphere and value of the world-renowned ancient town. They must also return to the private area designed for them.
With such improvements, Hoi An will become a true tourist destination, avoiding stumbling into the trap of cheap tourism.