Tri Ton and Tinh Bien districts in An Giang Province are among the ancient areas endowed with a host of mesmerizing scenic spots thanks to magnificent mountains surrounded with fertile plains. Each piece of land there still contains traces of ancient humans, especially Tuc Dup Hill, which experienced a "glorious past" with historic victories. The hill nurtured the Mekong Delta region's revolutionary soldiers during wartime.
Nowadays, with its beauty and historic vestiges, the sacred hill is attracting many visitors, mainly those who like to immerse themselves in historical nostalgia.
Epic struggle during wars
Tuc Dup Hill is hailed as an "eternal fortress", where fierce fighting has been vividly described in movies. In addition, the hill has become an inspiration for poetry. The hill rises majestically, storing such natural treasures as caves shrouded in clouds and streams, and cultural and historical treasures.
Mystical clefts in the hill have turned deep caves into secret wartime shelters. Through the clefts, Vietnamese soldiers inside the caves could look out, while enemies outside only saw trees, shrubs and grasses stretch across the hill. As such, the soldiers could secretly get in and out of the caves in spite of being besieged.
With an aim to use advanced weapons and toxic chemicals to destroy the hill, American forces repeatedly attacked Vietnam's military base there, but failed. During its 128-day fight, the enemy had no way to break through the Vietnamese soldiers' line of defense.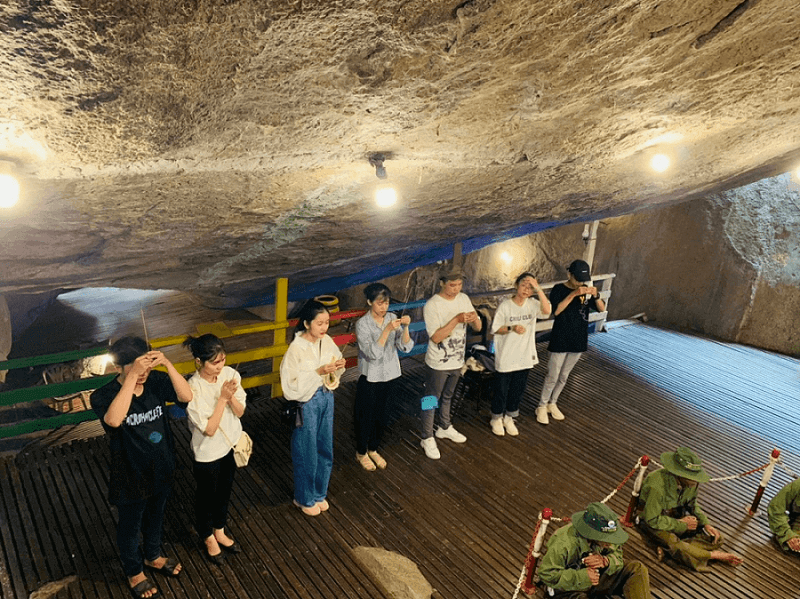 Despite disproportionate forces, Vietnamese soldiers, with an indomitable spirit, defeated the enemy at Tuc Dup Hill. The hill is a source of pride of An Giang residents for its wartime legend and countless stories of spiritual miracles. Such historic and legendary stories are drawing many tourists to the land.
"Time has passed quietly, but my memories about epic stories, comradeship, compatriotism, happiness and sadness and loss never fade," former Colonel Le Thanh Cu told a meeting with students on a trip to the Tuc Dup military base.
Love and love for motherland also originated from the hill and were incubated by their action on the battlefield and experience in bomb attacks, creating numerous beautiful stories about sacrifice. Tuc Dup Hill strengthened the steadfast and indomitable will of soldiers who were ready to sacrifice themselves for a noble ideal.
"Chill" on Tuc Dup hill
Tuc Duc boasts a wartime treasure with valued objects donated by residents and veterans, creating a priceless asset. From a macroeconomic perspective, developing sustainable tourism in association with the historical and cultural values and traditions will reinforce the trend of tourism and meet the demand of travelers. Tuc Dup is one of the places which have enough artifacts and documents to serve research, education, archeology and geology.
Glorious stories are still continuing in peacetime. Tuc Dup is famous for exploration tourism. Visitors can explore Vietnam's longest granite cave and embark on an adventure to the "US$2-million hill."
Tuc Dup also boasts multiple gorgeous check-in sites such as Dreamy Hill, God Fish Stream, Fairy Stone Stream, Love Bamboo Bridge and zoos. Beneath the hill lies an unspoiled lake with green water shadowed by trees.
Sunset, a transition like strange miracle, turns the color of the sacred hill into flaming red, with twinkling sunshine left. A cloud of smoke billowing from kitchens to the hill, coupled with flocks of birds flying overhead, also creates a poetic picture.
Sitting on the back of "Phoenix," visitors can easily "pick cloud" at the altitude of over 216 meters and admire the landscapes, green paddy fields, mountain ranges, and far-flung endless rows of palmyra palms.
If you intend to take a tour to a tourist area, Tuc Dup hill is recommended. The hill offers a majestic mountain panorama, bringing tourists to an airy and natural space and giving them relaxation. The peaceful and picturesque scene will refresh their mind and help visitors recharge to be ready for work and study.