HCMC – United Nations (UN) Secretary General Antonio Guterres, speaking at a meeting with Vietnam's State President Nguyen Xuan Phuc on September 21, said that the UN would provide continued support for Vietnam to combat the Covid-19 pandemic and assist the country in the socioeconomic recovery effort.
State President Phuc met with UN Secretary General Antonio Guterres and President of the UN General Assembly Abdulla Shahid in the framework of the UN General Assembly's 76th session in New York, the local media reported.
Both Guterres and Shahid said they were impressed with Vietnam's socioeconomic development achievements and highly evaluated the country's increasing role and position in the region and the international arena.
They spoke highly of Vietnam's active, responsible and effective contributions to the UN's tasks, especially as a non-permanent member of the UN Security Council as well as in joining the UN's peacekeeping missions and implementing sustainable development and climate goals.
Phuc asked the UN to continue helping Vietnam, especially with the Covid vaccination program.
He affirmed that Vietnam values and supports the central role of the UN in the global governance system to respond to common challenges and seeks to promote comprehensive cooperation with the organization.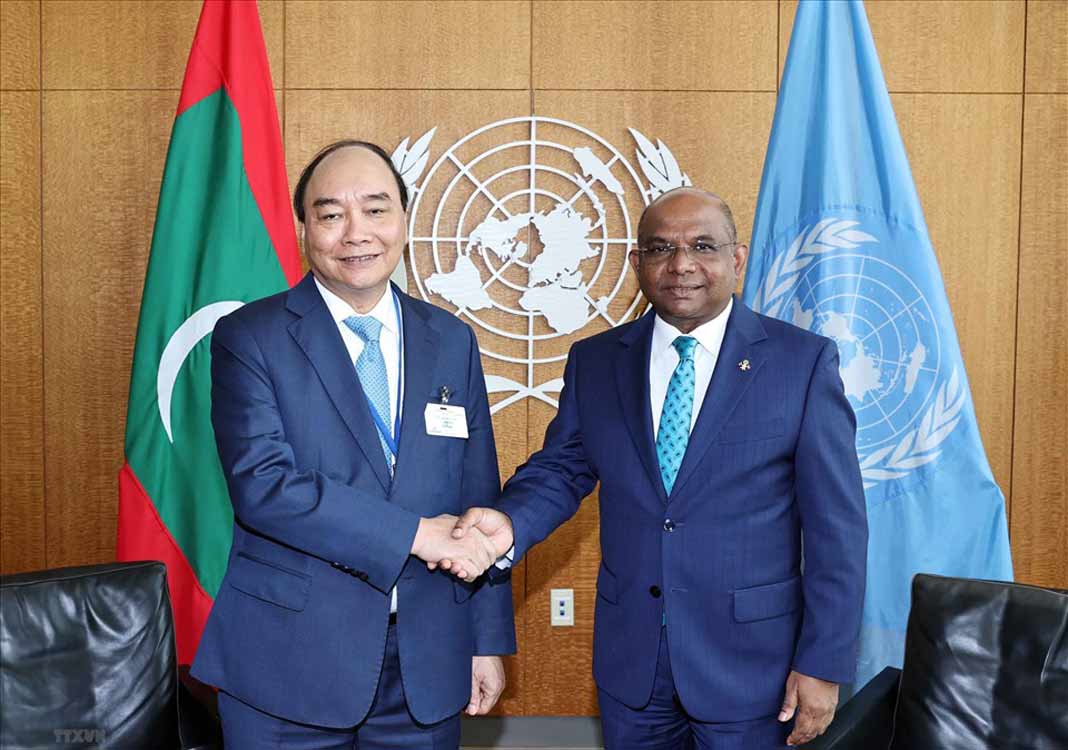 Vietnam is exerting efforts in the fight against Covid and considering the safety and health of the people as the first priority, President Phuc said. He also thanked the Covax Facility and the UN's agencies for supporting Vietnam with vaccines, medical equipment and consultancy on policies to fight the pandemic and recover after it.
Phuc added that Vietnam has always made effective contributions to the common tasks of the UN, including taking the role of a non-permanent member of the UN Security Council for the 2020-2021 term, participating in peacekeeping activities, realizing the sustainable development goals and the Paris Agreement on Climate Change, participating in elections to UN agencies and contributing to improving the organization's performance.
While discussing regional and international issues, Vietnam and UN leaders stressed the need to continue strengthening multilateralism, with the UN playing the central role and speeding up the deployment of the 2030 agenda on sustainable development and the Paris agreement on climate change.
They also agreed to enhance the cooperation between the UN and the ASEAN, to promote ASEAN's central role in solving regional issues and supporting the efforts of the bloc and relevant countries in maintaining peace and stability in the region and upholding the respect for international law, especially the 1982 United Nations Convention on the Law of the Sea.
UN Secretary General Guterres also expected Vietnam to contribute more to the climate change response, especially improving its commitment to reducing greenhouse gas emissions toward the COP26 Conference in November in the United Kingdom.