Although domestic tourism outcomes were far beyond the pre-pandemic period, international tourism headwinds remain a significant concern for the industry in the lead-up to the new year. Besides, 2023 is expected to be when the prospect of a smokeless industry is fulfilled.
The assumption that the tourism sector will fly high due to pent-up travel demands after the Covid-19 pandemic has been underpinned by the domestic travel sector's performance. In late 2021 when HCMC and the southern provinces reopened, tourists flocked to resorts near big cities, especially HCMC and Hanoi. Success bred success in the later months when other travel spots, such as Ba Ria – Vung Tau, Da Lat, and Phu Quoc, attracted an impressive crowd, breaking the record of 85 million in 2019.
A new set of challenges emerges for domestic tourism
Some worrying signals started to emerge in the market. According to large businesses, purchasing power in domestic tourism grew rapidly as of October and began to fall from November to the end of the year, which is the Tet travel season. Moreover, only a small number of domestic and international flight ticket orders were booked as part of tourist agencies' Tet season ticket sales. Although the outcomes work out within a reasonable margin, they still cannot match those in 2019.
Tourism is a clear marker of a country's economic growth. When people travel frequently, it can be assumed that they earn a lot of money and the economy is doing well. Otherwise, the tourism industry will be the first to suffer. Many businesses blame the drop in purchasing power since November on the economic downturn, which has begun to affect clients.
As for the business client segment, traveling is now viewed as an elective choice amid a dampened business picture characterized by a hike in interest rates, tightened cash flow in real estate, bond fragmentation, and the declining purchasing power of major markets. Facing the same fate, individual tourist segments keep a lid on spending during the time.
How tourism will advance in the new year 2023 is still an open-ended question to many businesses, as it is greatly subject to the economic growth rate. Inbound and outbound traveling will see difficulties on multiple fronts if the aforementioned economic policies continue to tighten economic growth. The whole industry would see a sharp fall in the volume of business clients in 2022 as the budget is prioritized to make up for the expense of traveling, meetings and backlog in the two pandemic years of 2020 and 2021. In terms of individual tourists, it is hard to see the economic boom of 2022 as people are reconsidering their travel budgets after their pent-up travel need is satisfied. Hence, a lesser volume of travelers is inevitable.
Currently, few businesses are hopeful enough to seize the nettle in the next new year. Business owners have to regulate the cash flow more carefully and develop manufacturing methods and customer care services when the market is increasingly losing its ground. Demand stimulation initiatives on a business-to-business scale to a larger extent of the destination scale must be ensured to improve purchasing power. To share difficulties with customers during a hard time, some firms are implementing policies such as partnering with banks and service parties to diversify payment options such as deferring payments, paying with preferential interest rates, or buying tours and travel services with incentives.
International tourism slump
While domestic tourism has done well this year, international tourism remained flat. The number of visitors in 2022 is less than 20% of the total in 2019 and far below the 5 million arrivals target set earlier this year by the travel authorities.
According to the Vietnam Tourism Annual Report 2019 by the Vietnam National Administration of Tourism, international tourists brought US$18.3 billion to Vietnam in 2019. For this reason, other industries are also awaiting the return of worldwide tourists, which raises a huge source of foreign exchange along with foreign direct investment, exportation and exchange rate stability in 2023.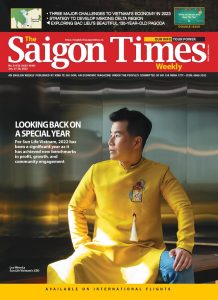 Moreover, international tourists create employment for tourist organizations and raise the room occupancy rates in hotels and resorts during local traveler off-seasons, particularly from October 2022 to March 2023. Currently, many tourist accommodations in Cam Ranh, Nha Trang, and Danang have yet to fully open their doors to all passengers due to the shortfall of international tourists. Following a period crowded with domestic tourists, Phan Thiet is now experiencing a quiet time. Despite the attempt to entice more visitors, there is little optimism for tourist enterprises from this season through the first half of next year.
Market volatility is the main reason for the absence of international tourists. Among them, the Northeast Asian region, which accounts for nearly two-thirds of the country's international arrivals, has yet to be unfrozen. China, the region's and the world's largest market, is suspending international travel, which is expected to last until next year as the Chinese Government needs more change in the anti-pandemic policy.
Few Southeast Asian countries have been successful in attracting clients from the markets of the U.S., Russia, Southeast Asia, and Europe. In the above-mentioned report, Russia, which contributes over US$1,830 per visit and has the longest stay of more than 15 days in Vietnam, is likely to be inactive in the coming year. Businesses attribute the issue to flight scarcity due to the conflict between Russia and Ukraine. Once the situation is resolved, Vietnam will be able to accommodate a large number of guests, as Thailand did in November since its flight resumption to Russia.
Domestic travel is still the centerpiece of the tourism sector despite a nearly one-year pandemic slowdown, according to enterprises at the World Travel Market 2022 held in November. Travelers tend to frequent less expensive destinations with busy flight schedules and lax entry policies. While European travel booths were busy at the WTM 2022, Asian travel booths did not appear to draw much interest. However, guests seemed to prefer Thailand and Korean booths, which could suit the aforementioned needs.
Many tourism authorities said that the expectation of overall growth amid a new context is impractical. Not only businesses but relevant authorities also need to study the specific needs of each market to woo more customers to Vietnam. In addition, there should be public-private partnerships in marketing, generating new products, services and promotion to stimulate tourism.
Some may say that it is a little too late to consider these moves as a number of destinations have done it for almost one year since the reopening after the pandemic. Yet it is worth trying to make a difference toward creating an attractive destination for tourists, hence spurring the volume and value of tourism in the New Year 2023.