As the largest wetland nature reserve with imposing mountain ranges amid a vast lake, Van Long Lagoon in Ninh Binh Province has been recognized as "the largest natural picture in Vietnam" by the Vietnam Book of Records.
Van Long Lagoon, with a total area of more than 3,500 hectares, is located in the northern delta, Gia Sinh Commune, Gia Vien District, Ninh Binh Province. It is home to thousands of rare fauna, flora and aquatic creatures, many of which are on the edge of extinction.
Van Long Lagoon has become a popular tourist destination in Vietnam, boasting two records in the Vietnam Book of Records 2010, comprising "The place with the highest amounts of delacour's langur" and "The place with the largest natural picture."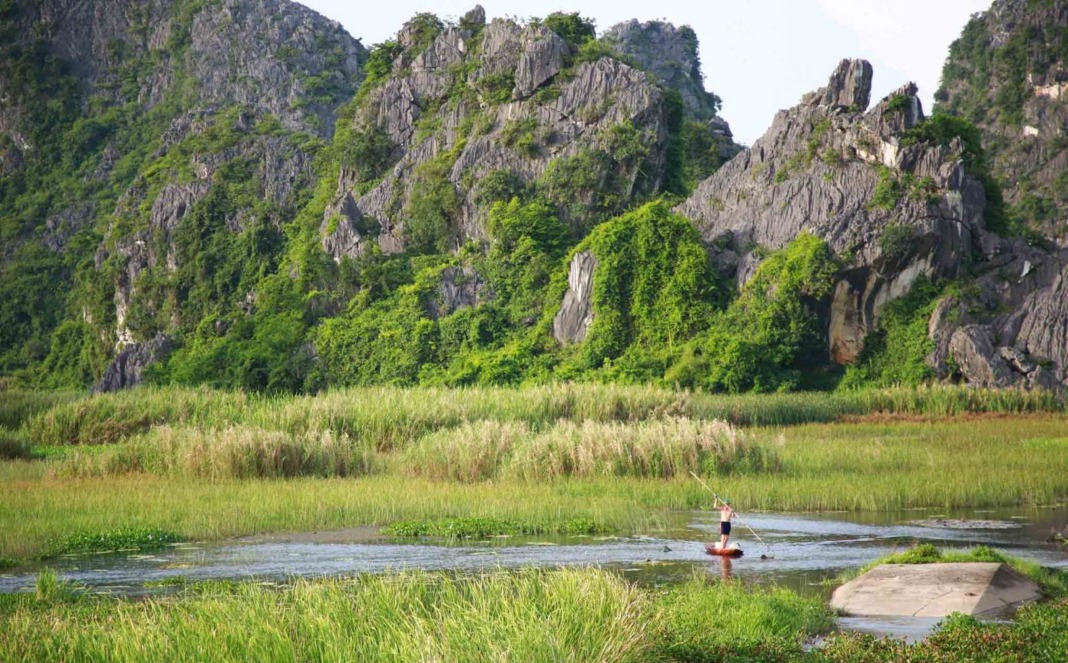 However, Van Long was not always a natural lagoon. After building a dyke line on the Day River bank to prevent flooding in 1960, Van Long emerged as a wetland with a vast lake, limestone mountains and over 30 magnificent caves.
Put into operation in 1998, the untouched and pristine beauty of Van Long Lagoon has attracted many domestic and international tourists to visit and explore the landscape every year. The lagoon grew in popularity after film director Jordan Vogt-Roberts chose it as the background for several sea battle scenes in the blockbuster, "Kong: Skull Island".
From November until April next year, Van Long will be the hibernating spot of choice for many birds migrating from the North, such as the Bonelli eagle, gray heron, white stork, etc. If tourists visit Van Long in the afternoon, they may spot langurs swinging from one branch to another, swimming in the lake, and storks returning to their nests at sunset.
Van Long Lagoon is also known as "the bay without waves" because tourists can see the water's surface as flat as a giant mirror reflecting the majestic mountains when sailing on the lagoon. The water in the lagoon is crystal clear, so tourists can admire aquatic creatures swimming underwater amid a layer of moss and colorful corals.
Tourists can take a one-hour bamboo boat tour to explore the entire landscape at Van Long Lagoon. Sitting on a boat, floating on the water's surface and around the canyon in a tranquil and poetic atmosphere, tourists can feel completely immersed in nature.