VietinBank and MUFG Bank, Ltd. (MUFG) commemorate 10 years of strategic alliance that has enabled both organizations to support the growth of Vietnam's banking sector and foster deeper Vietnam-Japan business and knowledge exchanges. The anniversary was celebrated in a gala ceremony in Hanoi last Friday evening (May 19), with senior executives from Vietnam's business community and senior government officials of Vietnam and Japan in attendance.
The partnership officially began in May 2013, when MUFG, the banking entity of one of the world's largest financial groups, acquired a 19.73% stake in VietinBank, one of Vietnam's top banks. This strategic investment and comprehensive cooperation agreement was regarded then as an unprecedented M&A investment in the history of the Vietnamese banking industry. Since then, both organizations have leveraged their respective strengths to better serve clients and connect them to opportunities both within Vietnam and across Asia.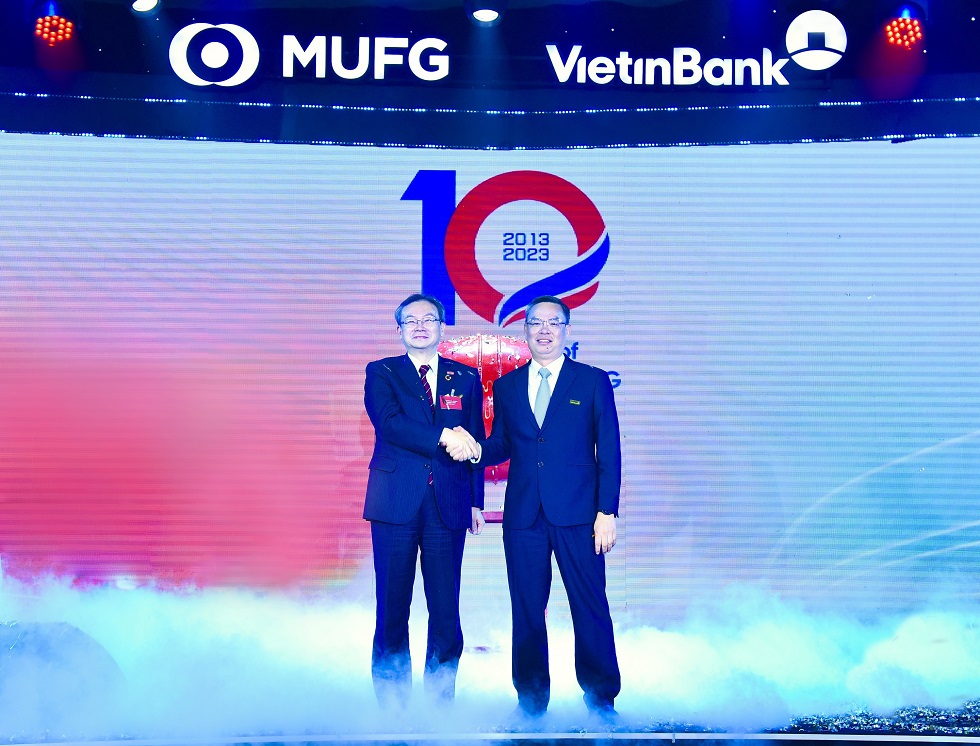 Ten years of progress together
Over the past 10 years, the synergy of VietinBank and MUFG's combined network and expertise have allowed both banks to not only expand their business franchise but provide comprehensive solutions targeting the diverse financial needs across the entire customer value chain.
Under this strategic partnership, MUFG cooperated with and supported VietinBank in various areas such as  promoting retail banking, corporate banking as well as the sharing of best practices in risk and compliance and strategic planning.
Mr. Trần Minh Bình, VietinBank Chairman, said: "The VietinBank – MUFG Bank partnership has grown to foster and develop continuously over the last ten years, not just limited in the predefined collaboration areas but now expanded to a comprehensive coverage of MUFG's strategic partner banks in ASEAN – Bank of Ayudhya (Krungsri) in Thailand, Security Bank in the Philippines, and Bank Danamon in Indonesia, as well as the subsidiaries in VietinBank Group's ecosystem."
Mr. Yasushi Itagaki, Head of MUFG's Global Commercial Banking (GCB) Business Group, said: "MUFG's partnership with VietinBank was the first strategic investment that kickstarted the growth of an unrivalled APAC network comprising some of Southeast Asia's top financial institutions. As such, it serves as both a cornerstone of our regional franchise and a special reminder of our strategic intent and commitment to Asia. Our core strategy has been to leverage the capabilities of both banks to contribute to the growth of our customers in Vietnam and the country's economy.
"Over the course of the past 10 years, we have made great progress in furthering not just the partnership, but in the fostering of Japan-Vietnam bilateral ties and growth of the local banking sector. As Vietnam's ascendancy in ASEAN gains momentum and is further integrated into global supply chains, we remain committed to deepening our partnership with VietinBank to further contribute to the next chapter of the country's success story."
Speaking at the ceremony, Mr. Phạm Thanh Hà, Deputy Governor of the State Bank of Vietnam, shows his high appreciation of the strategic alliance which has successfully synergized the two banks' potentials and strengths to create remarkable achievements, supporting the business communities and promoting the bilateral investment and trade ties between Vietnam and Japan. The State Bank of Vietnam acknowledges the kickoff of the cooperation between VietinBank and MUFG in the area of Environmental – Social – Governance (ESG), and hopes VietinBank will be leveraging on MUFG's experience in this area to become a leader in sustainable finance in the country.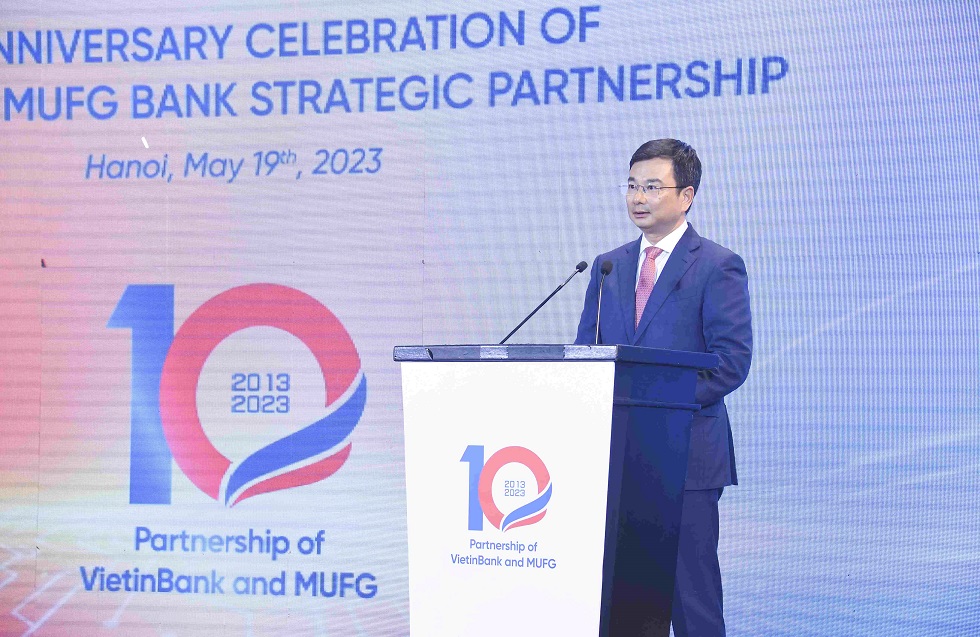 Deepening Japan's ties with Vietnam
Over the last 10 years, the VietinBank-MUFG alliance has demonstrated the role of supporting and connecting the business communities. Since 2013, VietinBank and MUFG have jointly organized conferences for the Prime Minister of Vietnam to meet senior executives of Japan's leading corporates during his official visits to the country, and Business Matching fairs which open up new business opportunities for the corporate clients in both countries.
At the ceremony, Mr. Yamada Takio, Ambassador of Japan to Vietnam, expresses his hopes for the VietinBank – MUFG Bank strategic alliance to grow further and deeper, serving to connect the business communities of Vietnam and Japan while continuing to contribute to the economic development of the two countries.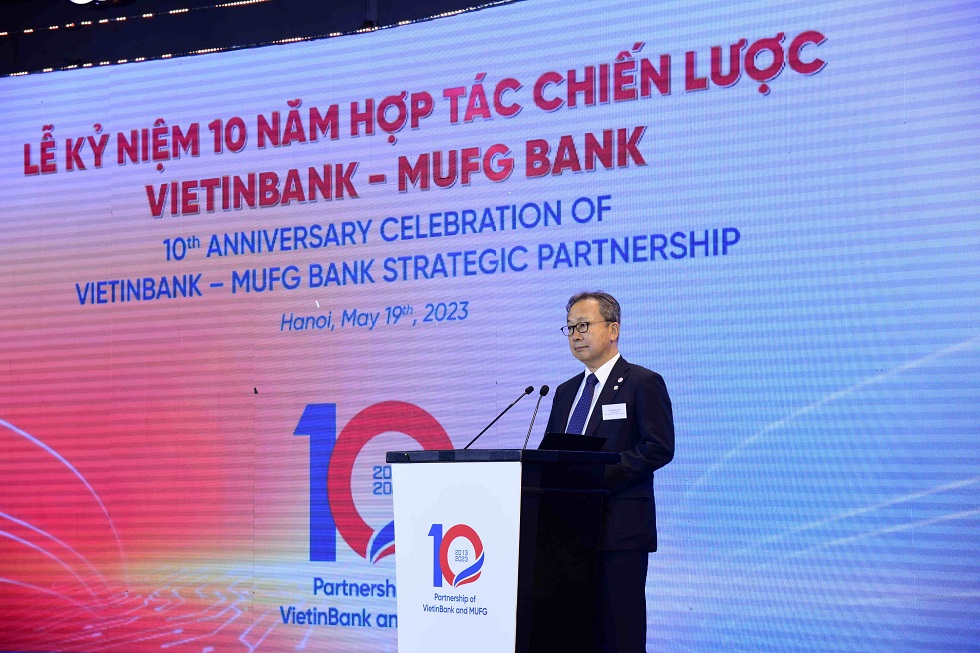 In a strong show of support for the community as well as Vietnam-Japan bilateral ties, VietinBank and MUFG have jointly provided financial aid to primary and nursery schools in Dong Thap and Hung Yen provinces, a child care centre in Hanoi, and helped Vietnamese students in Japan tide through economic difficulties during the COVID-19 pandemic, with an amount of sponsorship of VND32 billion.
Mr. Trần Minh Bình, VietinBank Chairman, said: "These achievements are the results of our two banks' efforts to overcome cultural and language barriers, geographic distance, the pandemic, and the challenges of an unpredictable global economy, showing our commitments to a long-term and sustainable partnership.
"Looking forward, I believe the two organisations will have more good collaboration initiatives, contributing to the promotion of economic and trade ties between Vietnam and Japan, in commemoration of the 50th anniversary of the establishment of Vietnam – Japan diplomatic relations (1973 – 2023)."
Mr. Kojima Masao, MUFG Vietnam Country Head, said, "MUFG Vietnam has worked closely with VietinBank to nurture greater friendship between Japan and Vietnam through business collaboration and contributions to the community. We remain committed towards empowering a brighter and more sustainable future for Vietnam and look forward to working with VietinBank towards achieving this shared vision."