Vietnam secured the 14th position among the 53 countries and territories preferred by expatriates for settling down, based on a survey conducted by Internations, a global expatriate network with over four million members.
Internations' survey focused on some of the most important elements of getting life started abroad, such as living costs, housing, healthcare quality, and digital life. The top four countries on the 2023 list include Mexico, Spain, Panama, and Malaysia.
Vietnam was among the Asian countries and territories rated highest by foreigners in the "safety and security" index. In Asia, Vietnam ranked below Taiwan, the UAE, Singapore, Bahrain, Qatar, Oman, South Korea, Japan, and Saudi Arabia, and stood at 35th place globally regarding this index.
The country also received high scores in the indexes of culture and welcome, finding friends, and local friendliness, as well as took the lead in the "personal finance" index, according to the Vnexpress news site.
Vietnam's food map with 126 delicacies to be launched next month
An extensive food festival to honor Vietnamese culinary culture will be held in HCMC from October 20 to 22, during which a food map is set to be unveiled with 126 delicacies from different regions across the country.
Crafted by hundreds of skillful chefs, this food map will exceed the record set by its earlier version, which included only 63 dishes, according to the Tuoi Tre news site.
It will be exhibited during the upcoming festival days to showcase the quintessence of Vietnamese cuisine to visitors.
The food festival, held by the HCMC Tourism Association and other organizations, will take place at the Independence Palace in District 1. As part of the event, over 100 booths will introduce a variety of delicacies, along with music performances and cooking demonstrations.
PMs' ladies visit Vun Art
On the occasion of the official visit to Vietnam of Prime Minister of Singapore Lee Hsien Loong from August 27 to 29, Ho Ching, his wife, and Le Thi Bich Tran, Vietnamese Prime Minister Pham Minh Chinh's wife, paid a visit to Vun Art Cooperative in Van Phuc Ward, Ha Dong District, Hanoi, on August 28.
Vun Art Cooperative was established in 2017 by Le Viet Cuong, a disabled man, aiming to make folk paintings from fabric scraps to contribute its part to protecting the environment and creating jobs for the disabled. With the help of some leading Vietnamese artists, interested disabled people are guided and trained to make folk paintings from fabric scraps, thus enabling them to earn a living by themselves.
At Vun Art, the two ladies were introduced to the folk paintings displayed at the cooperative, and were then showed how to make fabric scrap paintings by disabled artisans there. The Vietnamese lady made a painting of the merlion, the national personification of Singapore, whereas the Singaporean lady made a painting depicting Ha Long Bay, a UNESCO-recognized world heritage site of Vietnam.
According to nld.com.vn, artisans at Vun Art have made a fabric scrap painting inspired by a new orchid species of Singapore, which was named Pham Le Tran Chinh, the combination of the names of the Vietnamese PM and his wife.
The soup kitchen of a heartbroken mother
In 2014, Quynh Nhu, the three-month-old daughter of Pham Nguyet Linh was detected to have pancreatic cancer. The little girl died in 2018, after four years undergoing treatment in HCMC.
Three months after the death of her little daughter, Linh and her friend, whose child also died of cancer, rented a small room in HCMC's Thu Duc City to open a soup kitchen to cook free helpings for young cancer patients and their parents.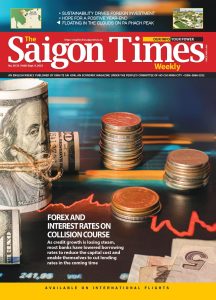 Later, the two mothers moved to a wider place to be able to cook free meals for young patients and their relatives three times a week, supplying 350-400 helpings at a time.
The food kitchen of Linh and her friend is now assisted by three volunteers who live in the neighborhood. It has also received generous contributions in cash and in kind from many philanthropists, which enable the kind mothers to cook free meals, mainly vegetarian portions, for those in need.
In July this year, Linh opened a lodging place with 21 beds free of charge for young cancer patients and their parents, vnexpress.net reported.