This information was released by Trade Investment Queensland in Vietnam (TIQ Vietnam) at the "Taste of Queensland" event, which took place on June 6, 2023 at Sofitel Saigon Plaza in Ho Chi Minh City. The event was an opportunity for Vietnamese import and export enterprises to meet, connect and do business with the leading Queensland exporters from Australia.
Queensland promotes cooperation with Vietnam in various fields
Mr. Tom Calder, Queensland Trade and Investment Commissioner in ASEAN, shared: "Vietnam is in the list of Queensland's seven largest trading partners in 2022. The bilateral trade value has increased six folds since 2016. In 2022, the total import and export turnover between Vietnam and Queensland reached over AU$8 billion. This shows how important Vietnam's market is to Queensland's enterprises. The successful cooperation has helped Vietnamese consumers have easy access to Queensland's quality products, including leading beef brands such as Kilcoy, NH Foods, JBS, Stockyard, Standbroke, Teys; 'free-range' pork, veggies, fruits, packaged foods such as Free Dairy Down Under, Lime Caviar, Sugo Tu Sour Sough; and the beverage brand of Bundaberg."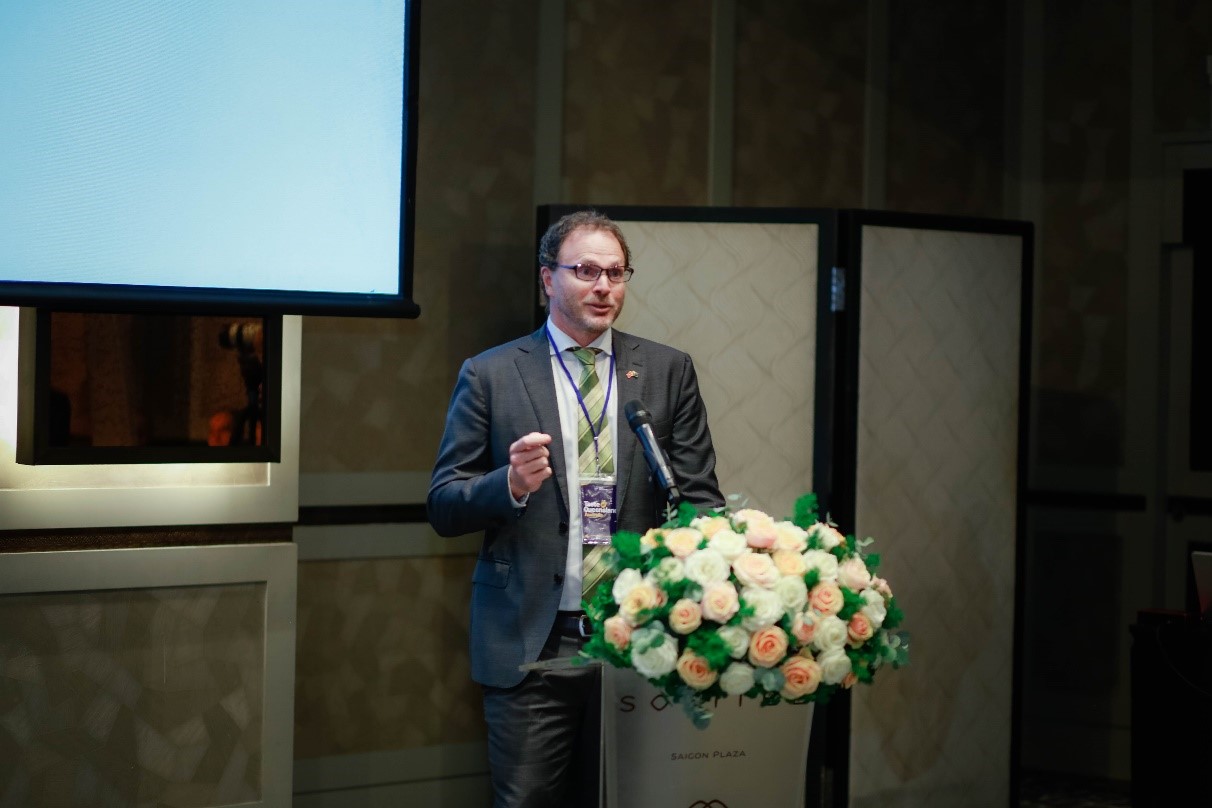 According to TIQ's report, in terms of investment, the number of business-investment applications from Vietnam to Queensland has increased considerably. Several large Vietnamese corporations are actively looking for opportunities to do business in Queensland. "We are facilitating the investment of Thanh Thanh Cong – Bien Hoa JSC (SBT) in the sugarcane-growing area in the north of Queensland. In Vietnam, TIQ is continuously promoting the trade and investment activities for both sides especially organizing field trips to Queensland  and vice versa so that Vietnamese businesses and investors can have more insight about the Queensland market and what it can offer to them," Mr. Tom Calder emphasized.
During the "Taste of Queensland" Reception, for the first time, a number of Queensland's most iconic products were introduced to Vietnamese importers such as premium quail, coral trout, rock lobster and some of Queensland's fruits and beverages.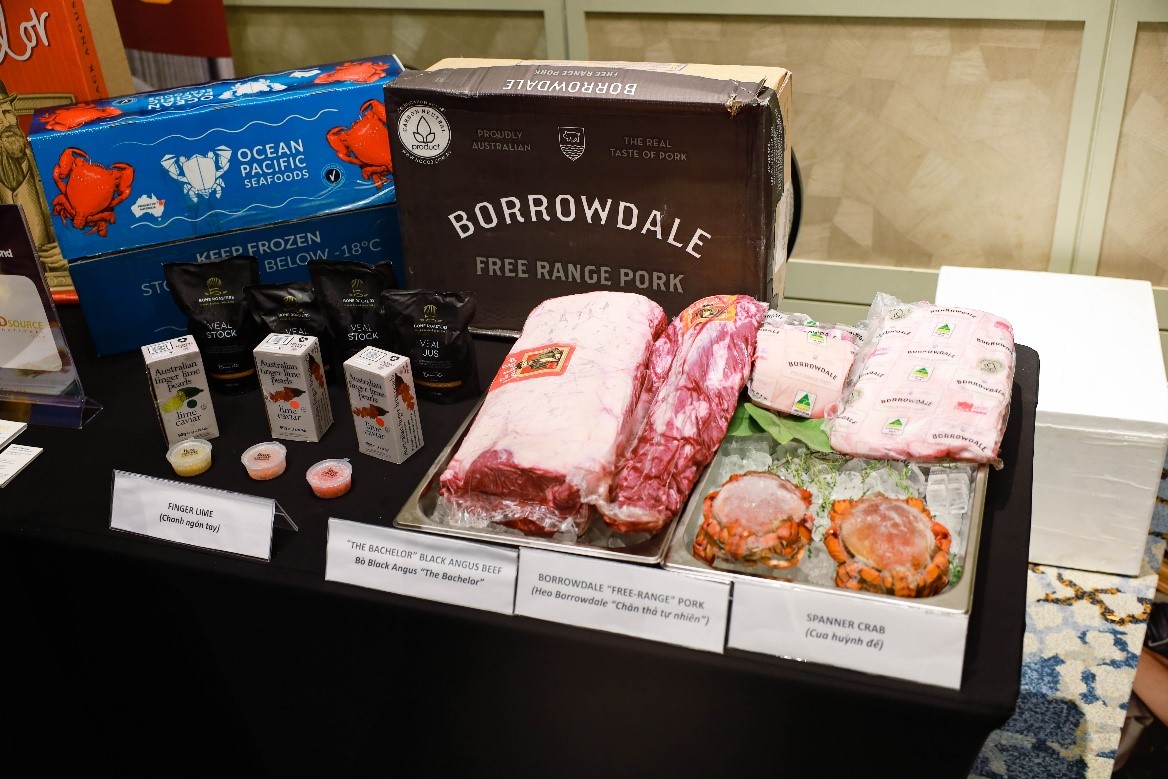 Coming from Queensland, the representative of Trisco – a long-standing and famous enterprise providing different types of sauces for fast food restaurants, said: "We would like to collaborate with the Quick Service Restaurant, bars, and café industry. We specialize in these markets and can also develop products to suit our customers' needs."
From Vietnam, the representative of Food Source, an enterprise specializing in supplying Queensland's products, said: "The products of red meat and seafood from Queensland are highly appreciated in terms of their stable quality by chefs in hotels and restaurants. Beef brands, including cereal-fed Black Angus, have been imported by Food Source into Vietnam for many years and still win customers' trust."
Enhanced activities to connect trade
In the agenda of the event, the Government of Queensland and Vietjet Air announced that the direct route between Ho Chi Minh City (SGN) and Brisbane (BNE) would officially be launched on June 16 with two round-trip flights every week, operated by large modern A330 aircraft. Accordingly, Ho Chi Minh City – Brisbane is the third direct route by Vietjet Air between Vietnam and Australia.
Mr. Tom Calder also cheerfully said: "In 2022, the Government of Queensland announced a fund of AU$200 million to launch more international direct flights to Queensland, including those from Vietnam. With the investment and support from the Government of Queensland and Vietjet Air, the direct flight between Ho Chi Minh City (SNG) and Brisbane (BNE) promises to create favorable opportunites for trade and tourism cooperation between Vietnam and Queensland.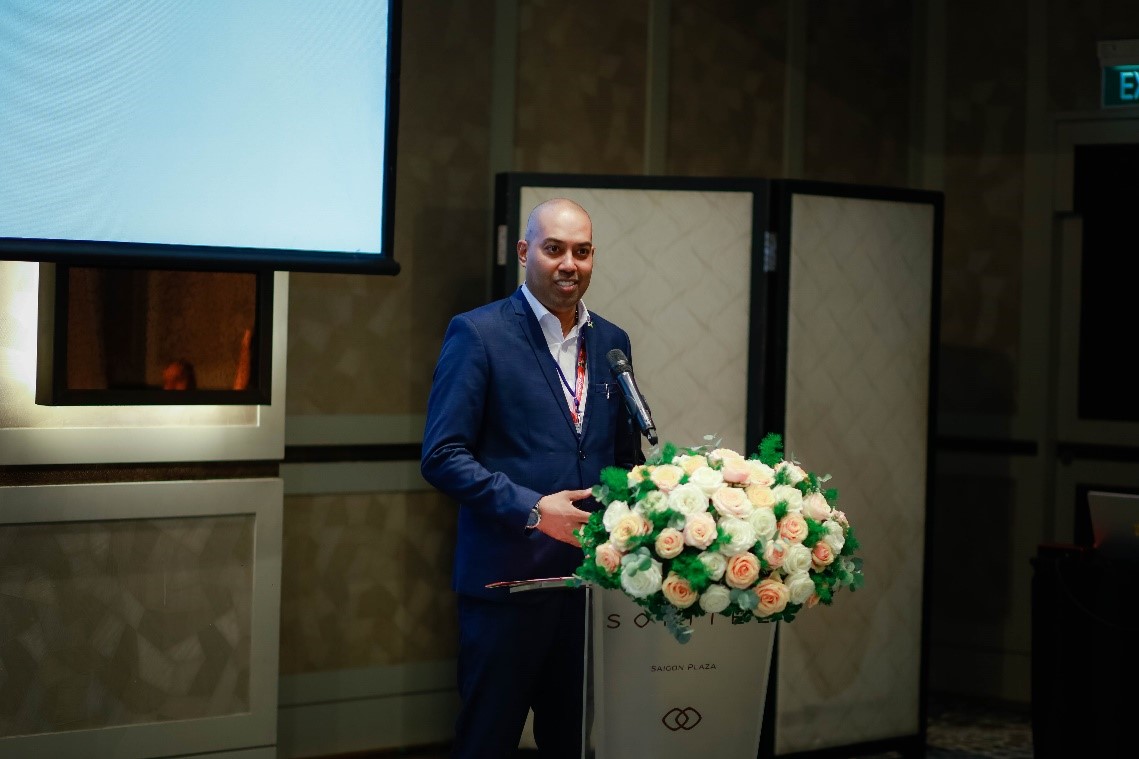 Mr. Jay L Lingeswara, Vietjet Commercial Vice President, said: "The first direct flight in the history connecting Vietnam with Queensland state (Australia) will officially open in just a few days. Vietjet is pleased to launch this Ho Chi Minh City – Brisbane route on the 50th anniversary of the establishment of diplomatic relations between Vietnam and Australia, marking a new development step in the relationship between Vietnam and Australia in general, and Queensland state in particular. In the first year of operation, Vietjet's flights are expected to bring over 30,000 Vietnamese tourists to Brisbane, helping to generate AU$25.6 million in tourism and 240 jobs in Queensland. In the opposite direction, Vietjet is also expected to contribute to the further development of economic and trade relations between Queensland and Vietnam, creating favorable conditions for more Australians to come to Vietnam, transporting Vietnamese goods and products to Queensland, Australia, etc."
Trade and Investment Queensland (TIQ) has been providing and supporting many economic, educational and cultural programs in Vietnam. Aiming at promoting bilateral trade, TIQ has successfully organized field trips to farms, businesses and processors of agricultural produce and seafood. In the future, TIQ promises to further support Vietnamese enterprises in the search of potential and high-quality goods for the Vietnamese market and consumers.