HCMC – The Vietnam-Netherlands Friendship Association in HCMC was officially set up today, March 18, with a mission of promoting the friendship and cooperation between HCMC and the Netherlands and between Vietnam and the northwestern European country.
The association establishment congress was held at the headquarters of the HCMC Union of Friendship Organizations (HUFO) with the participation of senior representatives of the HCMC Home Affairs Department, HUFO, HUFO member associations, and the Committee for Overseas Vietnamese Affairs in HCMC, and nearly 60 official and honorary members of the Vietnam-Netherlands Friendship Association in HCMC.
Representing the Dutch side at the event were Dutch Consul General in HCMC Daniel Stork, Frank de Laaf, Dutch consul in HCMC, Alexander Koch, Chairman of the Dutch Business Association in Vietnam (DBAV) and Managing Director of Heineken Vietnam.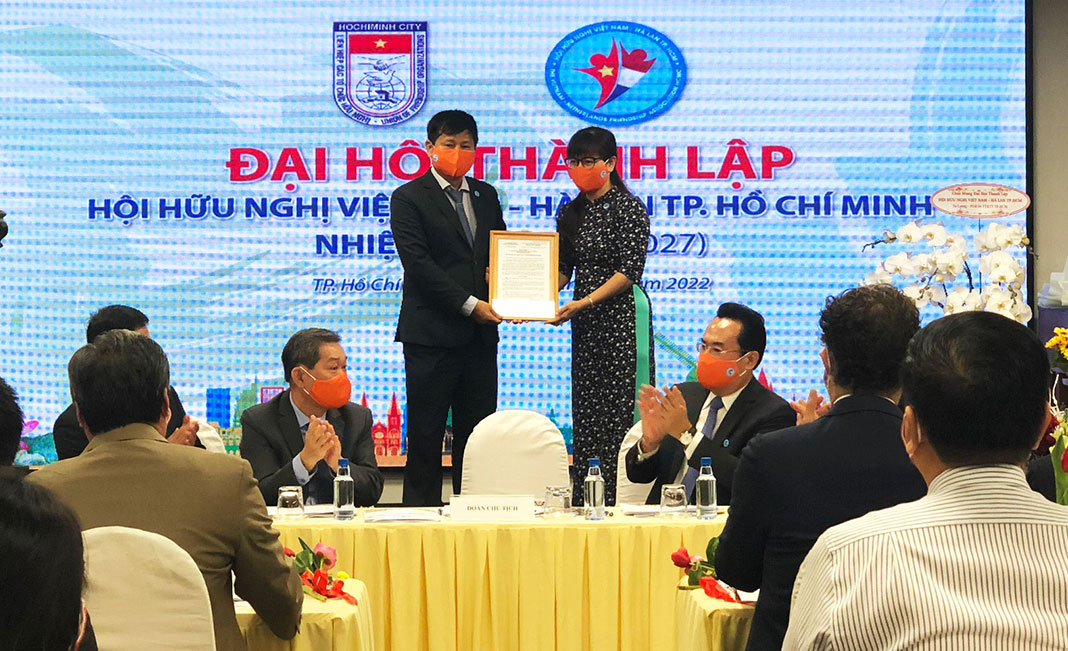 Since the Netherlands has strong partnership and cooperation ties in multiple fields with HCMC and Vietnam as a whole, many HCMC residents, especially those who used to study, work and live in the Netherlands, expressed a need to have an association to promote friendship ties with the Dutch people.
Therefore, Tran Trong Dung, vice chairman of the Vietnam Journalists' Association and chairman of the HCMC Journalists' Association, met and asked four other interested people to join him in promoting the setting up of the friendship association.
Thanks to the enthusiastic support of HUFO and HCMC authorities, the five called on individuals and organizations to participate in the effort to form the Vietnam-Netherlands Friendship Association in HCMC.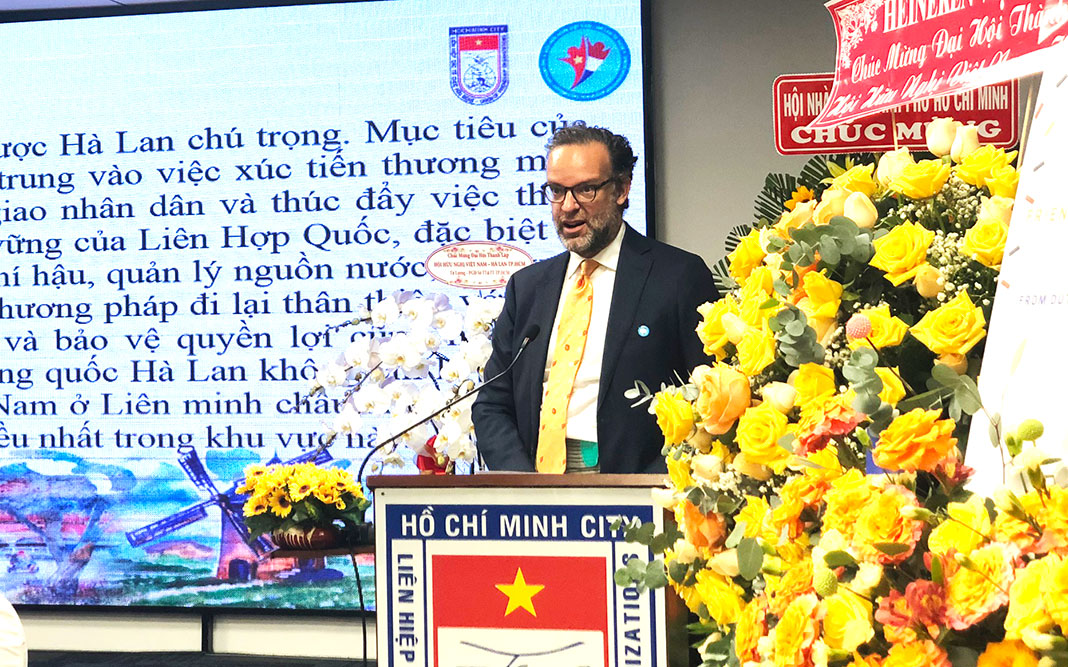 On March 12 last year, the HCMC government recognized a preparatory committee for the establishment of the friendship association with five members, namely Tran Trong Dung; Doan Hoai Minh, deputy general director of Saigon Trading Group and vice chairman of Heineken Vietnam; Tran Quoc Dat, director of Minh Huy JSC; Pham Huu Chuong, deputy editor-in-chief of the Saigon Times Group; and Huynh Dinh Thai Linh, executive director of the World Trade Center in Binh Duong New City.
On May 14, 2021, the city government issued a decision on the establishment of the committee. On December 24 last year, the HCMC government issued a decision approving the establishment of the Vietnam-Netherlands Friendship Association in HCMC.
The association is a voluntary social organization in HCMC and a member of HUFO.
Among the main goals of the association is to assist organizations and businesses of the two countries to foster cooperation in multiple sectors such as financial services, commerce, tourism, culture, education, scientific research, technology transfer, hi-tech agriculture, clean energy, circular economy, flood control, climate change and social welfare, and sustainable development.
The association also expects to arrange Netherlands trips for members to visit and learn about the nation, culture and people of the Netherlands, as well as to join hands with HUFO to meet and work with Dutch delegations to HCMC.
The executive board of the association in the 2022-2027 tenure has 15 members and the inspection board has three members.