HCMC – Vietnamese President Vo Van Thuong has requested the International Atomic Energy Agency (IAEA) for deepening ongoing technical collaboration and support to bolster the nation's capabilities in nuclear surveillance, security and safety.
Thuong made the request during his official visit to Austria on July 24, where he met with IAEA's Acting General Director Najat Mokhtar.
Mokhtar praised Vietnam's capabilities and active engagement in making positive contributions within the UN framework and cooperation with the IAEA for peaceful use of atomic energy.
"The fruitful cooperation between Vietnam and IAEA spans various areas, including agriculture, healthcare, renewable energy, and climate change adaptation," she said.
IAEA confirmed its commitment to enhance cooperation with and technology transfer to Vietnam.
Thuong expressed his appreciation for IAEA's efforts in ensuring nuclear safety and security, preventing nuclear weapons proliferation, and promoting nuclear technology advancement for peaceful purposes and sustainable development. He also thanked IAEA for providing medical equipment and COVID-19 testing technology to support Vietnam.
Currently, IAEA is supporting Vietnam through projects within its technical cooperation program, focusing on nuclear technology's application in addressing diseases originating from animals (ZODIAC) and combating ocean plastic waste (NUTEC Plastic).
Thuong affirmed that Vietnam would actively participate in IAEA-initiated technical cooperation projects for the development of atomic energy applications for 2022-2027. He also appreciated IAEA's support in the trilateral collaborative project involving Vietnam, IAEA, and Laos/Cambodia, which aims to facilitate the peaceful application of atomic energy.
During the same day, President Thuong also met with the President of Federal Council of Austria Claudia Arpa.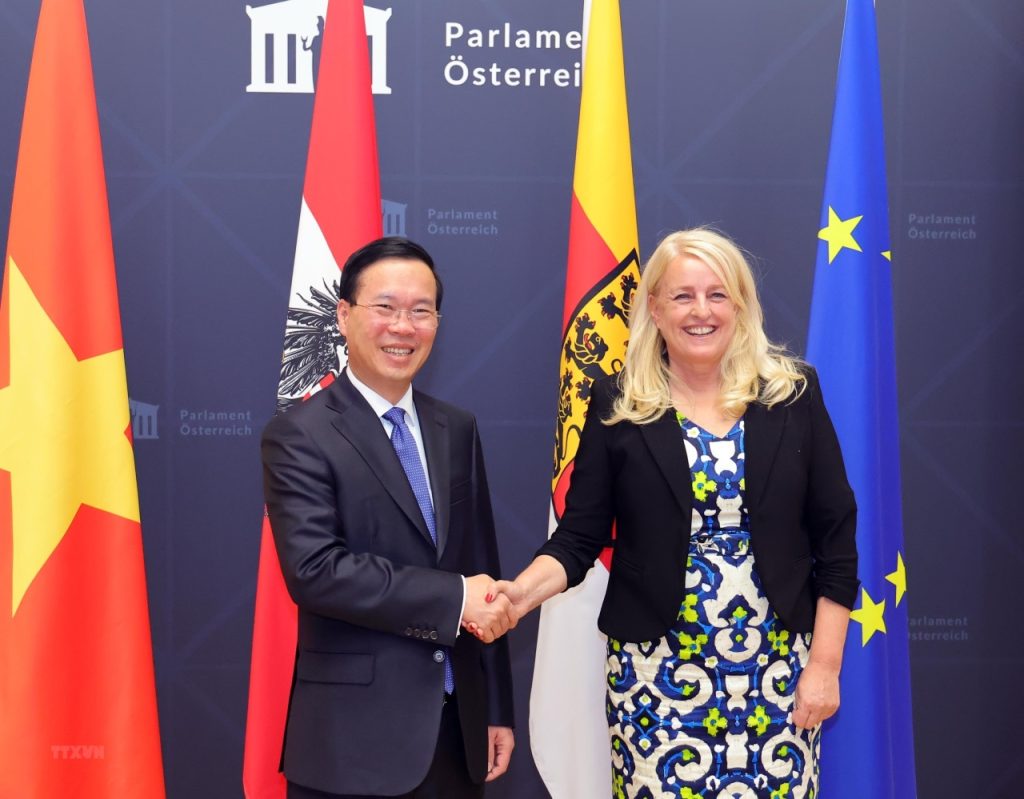 She praised Vietnam's active and responsible role in regional and international parliamentary forums, expressing the desire for Vietnam to act as a bridge in fostering stronger ties between the Austrian Parliament and the ASEAN Inter-Parliamentary Assembly.
Thuong agreed, and both leaders reaffirmed their commitment to close coordination and mutual support in multilateral forums, international organizations, and inter-parliamentary cooperation, with an aim to contribute to peace, cooperation, and development regionally and globally.
Thuong extended an invitation from the Vietnamese National Assembly to the Austrian Parliament to participate in the 9th Global Young Parliamentarians Conference in Vietnam, scheduled for September. Claudia Arpa pledged to send a delegation to the conference.