The French Embassy in Vietnam and the HCMC Department of Culture and Sports officially introduced two audio exhibit spaces, known as story cabins, at the Museum of HCMC and the Southern Women's Museum, on July 5.
Vietnam is the first foreign country where France has implemented this model, following a similar setup in the city of Lyon, France.
Visitors can select the information they want to explore inside the cabin by clicking on icons on a control panel. Subsequently, the story cabin will automatically present details about the displayed artifacts in the museums for three minutes.
The data within these story cabins is about four artifacts from HCMC Museum, Southern Women's Museum, HCMC History Museum, and HCMC Fine Arts Museum.
It is part of the Solidarity Fund for Innovative Projects (FSPI), funded by the French Embassy in Vietnam and the Consulate General of France in HCMC, according to the Tuoitre Online news site (tuoitre.vn).
Vietnamese man overpowers a troublemaker in Germany
Van Long Hoang, 62, was praised on social media in Germany for overpowering a young man who threatened passers-by with a knife in Wurzburg City, Germany. The video featuring the man's action went viral on social media.
On June 30, a young Syrian-German man threatened passers-by on a street in Wurzburg with a knife. When three policemen approached, intending to use pepper spray to arrest the troublemaker, the man dropped his knife but swung a black handbag to prevent the policemen from approaching him. From a nearby fast-food restaurant where he works, Van Long Hoang rushed out and grabbed the man tightly from behind. Thanks to Hoang, the three police officers could arrest the man to the applause of witnesses.
The German newspaper Bild reported that Hoang is a Vietnamese who has lived in Germany for 40 years. The tabloid called him a "hero of Wurzburg." Hoang told vnexpress.net that he was not afraid to overpower the threatening man because he had practiced taekwondo when he was young. He said many came to thank him for his brave deed at the restaurant, including the spokesperson of the police of Wurzburg.
Young boy cycles through four capital cities in 30 days
On June 30, Nong Quang Anh, 10, and his father, Nong Quang Duy, 39, arrived in HCMC, completing their 2,800-kilometer cycling trip from Lang Son to Hanoi, Vientiane (Laos), Bangkok (Thailand), Phnom Penh (Cambodia) and Saigon in 30 days.
Anh began riding a bicycle with his father when he was five years old. They cycled short distances around their home province of Lang Son at first, and increased cycling distances gradually, even to neighboring localities. Last year, the young boy and his father made a trans-Vietnam cycling trip from Lang Son to Ca Mau together, crossing some 2,400 kilometers.
Duy told thanhnien.vn that he prepared for their cycling trip to Laos, Thailand and Cambodia for a year beforehand, after the father and son completed their trans-Vietnam tour. They brought with them a bicycle repair tool kit and some essential belongings. During the trip, they managed to have nutritious meals and stay overnight at inexpensive guesthouses. They set the target to cycle about 100 kilometers a day, and planned to cross some 2,800 kilometers in 30 days. The father and son could eventually complete their cycling trip as planned.
A wig library for cancer patients
Nguyen Anh Tuan, a 37-year-old barber shop owner, joined in building a wig library for breast cancer patients four years ago, right on the day he began supporting his mother in her battle against this disease.
At that time, a photo of him and his mother's first head-shaving moment went viral, catching the attention of Nguyen Thuy Tien, the executive director of Breast Cancer Network Vietnam. She contacted Tuan to discuss the idea of developing a library for hair donation and wig-making for breast cancer patients, and Tuan immediately accepted. His salon became the first one to pilot the support program for hair donation and deliver wigs to the library for cancer patients.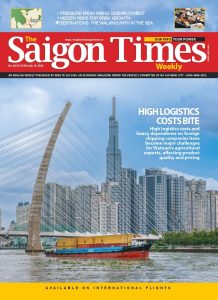 According to Tuan's interview with the VnExpress news site (vnexpress.net), hair donors at his salon have a common intention of bringing hope to cancer patients. After donating their hair, they receive a 50% discount on hair styling services. The remaining 50% of the proceeds are used for processing and shaping the wigs.
Over the past three years, hundreds of hair donors have come to his salon. On the busiest day, his salon would have up to 10 registration for hair donations. Some donors even return to his salon multiple times. 
Ever since Tuan began this hair donation program, he has discovered a deeper sense of purpose in life. His only regret is not having initiated the project earlier, he said.