Vietnam is considered one of Southeast Asia's most booming high-end product markets, worth nearly US$1 billion. Recent years have seen the domination of foreign products through official agents and hand-carried goods. While Vietnamese brands dominate most of the market, they are positioned in the low-end segment.
Gucci, Louis Vuitton, Tiffany & Co. and other global luxury fashion brands are expanding their growth elsewhere over restaurants and coffee shops. The businesses are using their luxurious image to seek a foothold among consumers, targeting young and trendy customers.
Are there branded goods "made in Vietnam"?
Vietnam's middle class is increasing, boosting the revenue of the high-end product market. Despite being hit by the Covid-19 pandemic, the market raked in US$976 million last year, up 2% over 2020.
Given the saturated market of Thailand and Singapore, Vietnam is emerging as an attractive leading market in Southeast Asia despite its small size compared to the East Asian countries.
Moreover, the positive Vietnamese attitude toward foreign-made products offers opportunities for high-end foreign products to thrive. Besides official stores and agents, fashionable garments and expensive perfume lines enter the country via flight attendants, smugglers, or as knockoffs. For example, in June 2020, France seized a counterfeiting ring of Hermes' Birkin and Kelly bags, sold at over US$10,000. The crime was committed by nine Hermes' French employees and one from Vietnam.
Paying a huge sum of money only to risk buying a fake product has made customers wary about spending their money.
Meanwhile, domestic fashion brands are increasingly asserting their position in the market. Some worth mentioning are Non Son, Viettien or An Phuoc – Pierre Cardin with their meticulously designed products. Ivy Moda, Adam Store, K&K Fashion, NEM Fashion, Owen, PT2000, Vascara, Yody and Juno are aimed at younger consumers, while Curnon Watch is in its own league.
Yet these aforementioned Vietnamese brands are still positioned in the low-end segment, just like fast-fashion brands such as Uniqlo or Zara. Some of them have developed chains with some 200 stores but are still a far cry from competing against foreign fast-fashion giants.
A local designer in HCMC, Do Manh Cuong, used to bluntly state that high-end women's fashion products would average over VND1 million to an extreme of almost VND10 million.
Likewise, the designs of Tsafari by Ho Tran Da Thao go for VND5-15 million. While ready-to-wear products are predominant, tailor-made clothes for VIP clients only make up 10%.
Thao said she would soon launch a new brand called Saigon Spirit for the young aged 18 to 25, providing ready-to-wear products priced from VND400,000 to VND1.5 million.
Domestic brands still have to face various challenges on multiple fronts from well-known foreign companies that have asserted their position among consumers. Therefore, we can say that Vietnam has yet to boast any high-end fashion products. Furthermore, it is a big mistake for local businesses to set high prices for their products as consumers still prefer foreign brands at comparable prices. In addition, counterfeit and unauthentic products remain a big obstacle for businesses.
Domestic brands are now aimed at the younger generation, adopting influencer marketing to convey the value of the business to the market, boosting brand recognition. In doing so, Curnon Watch took advantage of young key opinion leaders, or KOL, to represent their brands to the public.
One of the highlights, the "Goc canh di" campaign, has successfully featured the cooperation between Vu and Da Mieu to launch the Mykonos and Santorini watches.
High-end brands run own restaurants and coffee shops
While Vietnam's local brands are ramping up to rebrand themselves, the international ones are centering on maintaining their reputation. For example, Gucci launched the Gucci Osteria Restaurant in Itaewon, South Korea.
All the food was prepared by a three-Michelin-starred chef. A burger cost around US$19, while dinner was around US$84-119. Within minutes of the restaurant opening, seats had already been reserved despite the high price.
Louis Vuitton launched a temporary pop-up restaurant called Pierre Sang in May 2022, which quickly filled up. The presence of J-Hope, a member of the South Korean boy band BTS, at the restaurant elevated Pirre Sang to one of the most attractive spots in Seoul.
Success bred success when Louis Vuitton in September opened a second pop-up vegetarian restaurant in the Cheongdam-dong Ward in Seoul for the rich and famous. Although the price of dishes is almost US$220, the seats are always fully booked. Some even benefit from reselling the bookings.
Breitling, a Swiss luxury watchmaker, opened restaurants and coffee shops, as well as a large boutique earlier this year. Breitling wants to draw the attention of Swiss watch aficionados by highlighting the image of luxury through food and drink.
Likewise, Gentle Monster, a Korean-based eye-wear brand, launched the Nudake coffee shop at its flagship store in Apgujeong Ward in Seoul. The young flock to the store to buy the products and enjoy the robust coffee and delicious sweets.
The trend of high-end brands opening restaurants and coffee shops is mushrooming across many fashion centers such as Paris, Florence, Seoul and Shanghai. Two weeks ago, Louis Vuitton announced its first restaurant in Chengdu, the sub-provincial city of Sichuan, China, in late October or early November. Previously, Shanghai saw the opening of Coco Café of Chanel, bars and coffee shops of Ralph Lauren Corporation.
In July 2015, Gucci took the first step to invest in Shanghai with its 1921 Gucci Restaurant, the first restaurant of this giant.
Whether to strategize it temporarily or permanently depends on each brand. "It is not a big deal to couple the luxury store with a coffee shop, in terms of financial resources and building style," according to Wang Zhendong, president of consulting firm Shanghai Feiyue Management Co.
Wang also said that luxury coffee shops could help woo potential customers. A US$5.5 cup of coffee is nothing compared to a high-end product.
Hence, the coffee shop and restaurant have made the high-end brands more down-to-earth to many customers. Korea Times attributed the success of this method to the gen Z wonks, people born from 2000. This type of customer is rising and has become the main consumer group willing to spend money on high-end products.
High-end products need change
While premium brands have five to six official stores in Singapore and Thailand, Vietnam has only one or two stores in its big cities. Yet it is a great chance for major brands to expand their market in Vietnam.
Vietnam may soon get absorbed in using branded goods, depending on the sale scale and strategy of the businesses and how local consumers react to the products.
Mercedes-Benz used eatable coffee cups at coffee shops in their automobile showroom in Japan. The cups cannot be found elsewhere in Vietnam, though they were made from the used coffee grounds of Veritas Vietnam, a startup in HCMC. The carmaker wanted to highlight the environmental, social, and governance standards it has long pursued.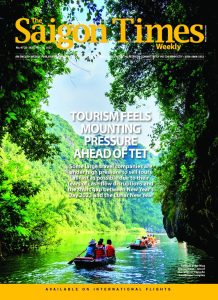 In late November, the restaurant of Dolce by Wyndham Hanoi Golden Lake Hotel introduced gold-crusted steak to the public. The eatable gold was smartly used to promote the gold-covered hotel of Nguyen Huu Duong, general director of Hoa Binh Group. The price started at US$45 per person, which is much cheaper than luxury hotels worldwide.
Duong projected the total expense for a foreign couple to come to Vietnam, live in his hotel for two days, and enjoy the steak at only US$1,200, equivalent to two-thirds of that in other countries.
Perhaps Duong's approach will be a good way for Vietnamese brands to soar toward a larger part of the luxury product market in Vietnam.