HCMC is preparing the "Study on developing HCMC into an international financial center." Analyzing the factors that have helped turn Singapore into a leading international financial center will be useful for HCMC in comprehending pros and cons so that HCMC can anticipate its future position.
Singapore is not just an international financial center, but a leading financial center of the world as well (consecutively holding the third rank in terms of competitiveness, the second position in terms of opportunities, and the sixth place among the world's largest asset management centers as endorsed by ratings agencies).
International trade, maritime and aviation hub
Singapore like other international financial centers took its root in its foundation being a convergent point for regional and international trade and maritime activities. These activities paved the way for other accommodative financial services such as forex, shipping insurance, and shipping finance, which in turn resulted in other derivative services like commercial and investment banking, and stock exchange.
The establishment and development of aviation further reinforced the position of regional and global financial centers if such centers also served as transit points for passengers and cargo. Singapore, owing to its strategic geographical position, has for long become an aviation hub for the region and the world.
A globally competitive economy
Singapore has for many years on end been ranked as the most globally competitive. With an environment friendly to the digital economy, high-quality infrastructure and efforts to absorb technology, Singapore was ranked by IMD as the best smart city, and the second place in terms of digital competitiveness in 2019. For other rankings in terms of innovation or global data competitiveness, Singapore was also among the top players.
High international connectivity
Singapore has signed more than 20 free trade pacts providing market access to partner countries with no or low barriers. With over 80 double taxation avoidance agreements, Singapore has become a magnet for financial institutions wanting to set up their regional or global headquarters.
Its geographical advantage also allows Singapore to engage in around-the-clock transactions with all other continents in such business spheres as forex and stock trading.
High quality labor force
Singapore ranked first in Asia and third in the world in the Global Talent Competitiveness Index 2020 conducted by INSEAD. Singapore also earned the top spot in training and attracting talent. They collaborated with recruiters to implement policies on upskilling domestic laborers for future posts in the financial sector.
Financial organizations will gain support from the government if they recruit and retrain laborers, or assist the occupational transition for the labor force. Laborers in the financial sector will also have financial support from the government to enhance their trades and skills.
An environment friendly to enterprises
Singapore was ranked second by the World Bank in 2020 in terms of business environment. The institutional regime in Singapore is favorable for starting up and operating a business. The country also boasts efficient and stable infrastructure, intermediary financial services, and a legal corridor for contractual fulfilment to assist business startups. While having an environment friendly to businesses, Singapore has regularly improved institutional supervision to ward off money laundering, financial crimes and terrorism financing – which are critical for a leading international financial center.
HCMC – a perspective
In considering the factor of being a hub for international trade, shipping and aviation, it is the geographical position and the economic size that hinder Vietnam in general and HCMC in particular from becoming a gateway to any major economic or dynamic region, nor being a convergent point for international trade, transshipment and aviation. Singapore aside, HCMC still struggles to compete for long with high-potential cities in the region such as Kuala Lumpur, Bangkok, or Sydney farther afield.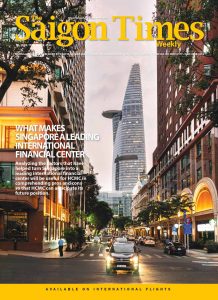 In terms of global competitiveness, unlike Singapore, HCMC is not a state. HCMC cannot move far ahead of the rest of the country unless the city is given the status of a special zone of Vietnam similar to the status enjoyed by Shenzhen of China, with all the privileges for planning and executing growth policies. Still, should that status be a reality, the question remains whether HCMC needs to become a financial center, or better embrace another growth formula, such as turning into a high-tech center like Shenzhen.
Likewise, regarding international connectivity, HCMC cannot on its own develop regional and global connectivity policies beyond the country's framework, thus its appeal to international organizations to set up their headquarters will be blurred. Furthermore, as a latecomer, how can HCMC persuade these organizations to move their headquarters from, say, Singapore to the city?
As for the remaining two factors, namely a business-friendly environment and high-quality manpower, it would be only viable for the city if it is "surrounded" by a status superior to the country's norms (in literal meaning as well, like what has applied to Shenzhen) to sustainably attract investors and manpower from far and wide.
In short, there are certain highly-unachievable factors that are decisive for determining if a city or territory can become an international financial center. Therefore, only a few can become international financial centers like New York, London, Zurich, Singapore, Tokyo and Hong Kong, while others should strive to become national or regional financial centers. As such, HCMC needs to rethink its target in the study to make it more practical and viable.