A recent surge in the number of stock trading accounts is not quite good news for the economy, many of these accounts might be inactive
The CEO of a securities company bragged about the vast number of stock trading accounts opened at his company, saying "hundreds of thousands of trading accounts remain to be counted, and new ones are still coming in." He attributed the increasing number to the easy-going requirements for opening an account, explaining that when a client opens a bank account, he or she will automatically be offered a stock trading account. For such cases, the potential securities investors are not required to deposit a sum in their trading accounts until they have the demand to begin stock trading.
Earlier this month, the Vietnam Securities Depository (VSD) caught the financial market by surprise when revealing that over 476,000 new trading accounts were registered in May, a two-fold increase month-on-month, taking the total number of trading accounts nationwide to over 5.65 million. A quick glance at the number gives the impression that up to 5.65% of the population are investing in securities, higher than the target of 5% for 2025 aimed for by the Ministry of Finance.
The data were released shortly before the Minister of Finance fielded questions from National Assembly deputies on related issues including stock market manipulation, the overheated growth of the VN-Index in the first quarter of 2022, and worries surrounding the issuance and maturity of corporate bonds, especially those issued by real estate companies.
A surge in newly-opened trading accounts can possibly mislead NA deputies and investors that the market is expanding strongly. Reality paints another picture.
During meetings with securities firms affiliated to commercial banks, the writer learns that several banks are offering service packages for those wanting to open accounts online. Clients are not required to come to the banks in person, but complete procedures via Internet banking, and can have personal bank accounts within minutes. Upon having bank accounts, clients will concurrently have card accounts (with a domestic or international credit card issued) and stock trading accounts. Such trading accounts are registered, but whether the accounts are activated or not is another issue.
The simultaneous opening of bank accounts and stock trading accounts has resulted in a surge of trading accounts, and with this pace, Vietnam may have millions more stock trading accounts by the end of the year as well.
Furthermore, since the VN-Index entered the correction phase, some securities firms have lowered brokerage fees to beef up investors' transactions. Brokers have since early this year offered different promotion services. For investors conducting frequent transactions that need consultancy (regarding financial leverage, provision of corporate information, market trends, etc., they are offered a package with a fee of 0.15% for each transaction. For those who conduct transactions on their own without consultancy, the service fee is 0.1% for each transaction. Some securities firms even offer zero fee for a period of six, 12 or even 24 months.
Laws permit investors to open multiple trading accounts at different securities firms. An investor currently trading via one securities firm may switch to another broker where the service fee is lower while still maintaining his or her account at the former, even if this account is not yet activated. Due to this, the number of stock trading accounts has also skyrocketed.
Data from the State Bank of Vietnam shows that as of the end of 2021, there were 115.2 million individual checking accounts and 129.4 million payment cards. The tendency towards cashless transactions using bank accounts and e-wallets has become stronger, and thus the growth of bank accounts. This in turn will spur the number of stock trading accounts due to the linkage between them.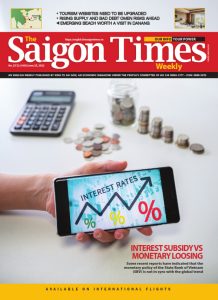 However, the number of stock trading accounts does not mirror the investors' participation on bourse. This is evidenced by the tumbling liquidity of both stock exchanges HOSE and HNX. The trade value of bluechips on VN30 has dwindled to an alarmingly low level compared to the average last year and the first quarter this year. The trade value on HOSE has now fallen to less than 50% of the average in quarter one, indicating the dwindling cashflow.
Despite the assurance of management agencies and repeated explanations by representatives of investment funds in the media that stocks in Vietnam are cheaper than regional peers, with the local P/E ratio lower than that in Thailand, Singapore and Indonesia among others, individual investors have staged an exodus from the market. Many of them have had to cut losses and it looks impossible to encourage them to return under the pressure of inflation at home and abroad.
It is also noted that Vietnam's stock markets had subdued even before stock exchanges in the U.S. and Europe shed points, largely owing to punitive sanctions being taken against stock market manipulators. The punishment is good for the market in the long term, but the biggest issue on the local market is poor transparency, especially regarding information disclosure.