This article attempts to explain why final consumption by the public has soared although income has fallen drastically due to Covid-19 and measures aimed at combating this pandemic.
For many years, to estimate final consumption every three, six and 12 months, the General Statistics Office often relies on retail and service revenue. This cannot be based on household surveys since living costs are assessed every two years.
However, retail and service revenue does not always match final consumption since some products are sold to manufacturers; certain agriculture, forestry and fishery products are partially consumed by farmers; bank interest payments must be settled; and the bills for electricity, water and rental are significant.
From 2010 to 2021, final consumption trailed behind retail and service revenue. In 2010-2020, the disparity was 10.29-15.9%. In 2021, the gap remained but dropped to merely 1.11%. Retail and service revenue was estimated at VND4,789,500 billion, down 3.8% year-on-year; if prices are not included, the decrease was 6.2% (the figure for 2020 was 3%). In contrast, final consumption by the public surged.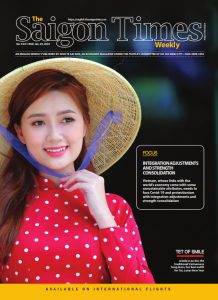 The socio-economic reports in the fourth quarter of 2021 and the entire year show that in terms of gross domestic product (GDP) use, final consumption by the public rose by 2.09% year-on-year; asset accumulation increased by 3.96%; export climbed by 14.01%; import jumped by 16.16%. Why has final consumption soar although Covid-19 and measures to tackle it have dragged down income? If the trend over the past 10 years persisted, real GDP probably dropped between VND487 trillion (when the disparity between final consumption and retail and service revenue was the smallest) and VND616 trillion (when the average disparity is used), equivalent to 0.68-2.3% in real terms.
Health care and social support activities escalated at an unprecedented rate (42.75%). This is partly because of mass Covid-19 testing at exorbitant costs. Viet A Co.'s test kits are considered overpriced (about VND470,000 each) but the public has to pay even more (usually VND720,000). Sometimes, local authorities make testing compulsory; some compel the people to pay. Did this contribute to making GDP growth in 2021 2.58%?
GDP, viewed in terms of aggregate demand, includes consumption, government expenditure, investment and net export. Demand may stimulate supply. Viet A Co. and Centers for Disease Control have contributed substantially to GDP growth, in the same way that road works add to GDP—road quality, meanwhile, remains unchanged or even drops. These are all part of public investment. It is unfortunate that corruption, profligacy and inefficient investment all seem to push up GDP.
This type of GDP growth may engender economic problems such as inflation (if investment is inefficient), soaring public debt, budget deficits and issues such as moral decay.
In terms of supply, the Government should minimize wasteful and troublesome inspection. The Government should not implement policies that inflict damage on enterprises and the public such as Circular 78/2021/TT-BTC. Red tape, waste and ineffective investment may boost GDP. The issue is GDP is merely a short-term criterion and not the only yardstick for economic health, especially in Vietnam's context.