With rapid population growth and fast urbanization, the difficulty faced by young people in HCMC in owning a home could not be resolved overnight, especially for those born in the 1990s, who are referred to as Generation 9X in Vietnam. These young people cannot afford prohibitively high housing prices given their current incomes.
The story of home purchases by young people
Gen 9X, which belongs to both Gen Y and Gen Z as known globally, comprises qualified, skilled and highly-potential workers. They are independent, dynamic and creative, with strong interest in new trendy issues and in asserting themselves through hobbies and beliefs.
Living a modern life, Gen 9X always looks for new experiences and discovers the world around them. They are different from the older generations in selecting a home for themselves. Instead of buying a home in the city center, they prefer one in an urban area with open space and abundant amenities such as schools and recreational facilities. They need a space that ensures they and their children have a comfortable living environment.
Due to rising property prices, the young generation does not look for a large apartment but a medium-sized unit with one or two bedrooms, a living room, a kitchen, a smart design and importantly a reasonable price.
It has been 15 years since Ha, aged 33, and her husband came to HCMC to study and work. They've always dreamed of owning an apartment with a pretty small balcony. With an average income of VND40 million a month together with their savings of around one billion Vietnam dong, they have since October 2022 made weekend visits to housing projects.
Having visited many model apartments in outlying districts, such as Thu Duc, Hoc Mon, 12, Tan Binh, and Go Vap, they know that this is a suitable time for them to realize their dream of owning an apartment given a reasonable price, a good discount policy and a flexible payment schedule. Thanks to their financial capacity and the reputation of the investor, they have made a deposit for an apartment in a new urban area which is a 40-minute drive from the city center with easy access to main roads. Finding a suitable apartment for their plan of giving birth to a baby in one or three years has relieved their pressure on the question about when they could settle in the city.
Homes for youth
The demand of young people for buying a house for settlement or the demand of newly-married couples in owning a home rather than living in the same house with their parents is real for Gen 9X. However, given high home prices, especially at projects in the city center, VND3-5 billion per apartment unit, it is not easy for young people in HCMC to own one.
The spikes in real estate prices in recent years and small savings of young people have made it tough for them to buy a house, leading to them living in a rented home for a long time. According to realty experts, key stakeholders like government, investors and customers need to join hands to solve this problem.
Specifically, young people should consider their financial conditions to ensure they can afford a long-term payment schedule. Other important factors which they also need to take into account are the suitability of the project with their actual needs, financial capacity, reputation of the investor and a flexible payment policy.
Regardless of financial issues, young people can now have certain opportunities given the commitments of many big property developers such as Vingroup, Novaland and Hung Thinh Land in investing in projects to satisfy the demand of the majority of people who wish to own a home.
With experience in a series of successful residential projects for people born in the 1980s, or Gen 8X, Hung Thinh Land has realized the demand of youth and launched the 9X An Suong apartment building for Gen 9X in the northwest of HCMC. The project will offer around 800 units with each ranging from 37 to 92 square meters and fully equipped.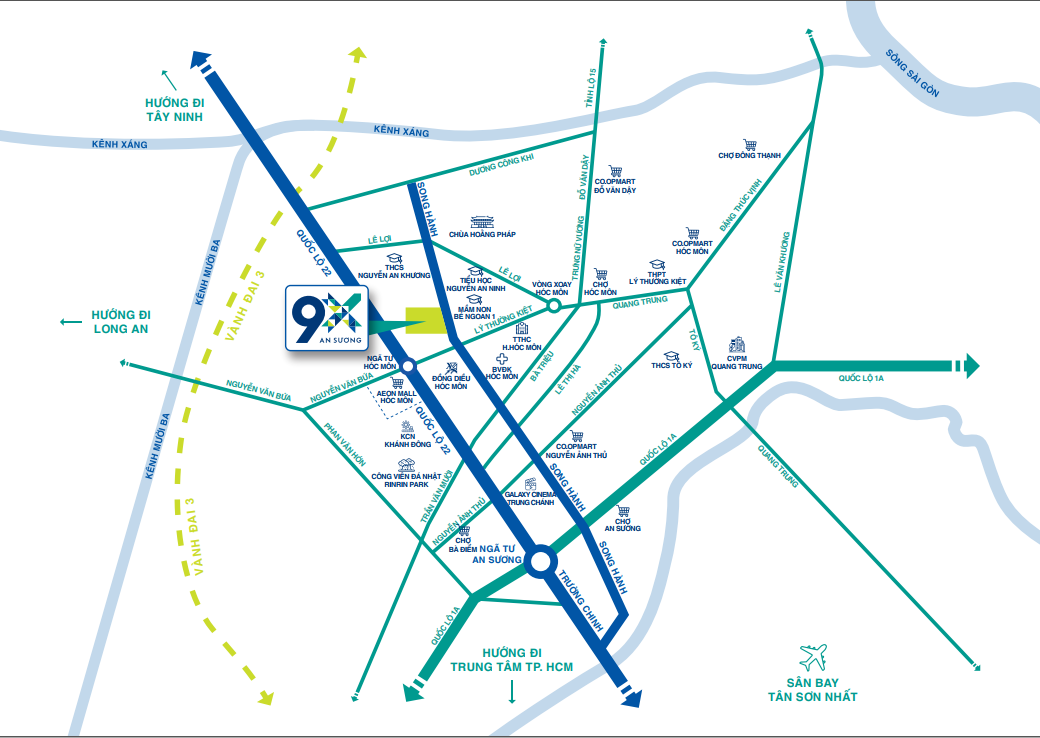 At a reasonable price of VND1.6 billion per unit, the 9X An Suong apartment project expects to meet young people's demand for settlement in HCMC in general and those living in the northwest part of HCMC in particular.