Having no objectives for their jobs or future orientation, working with moderate effort, establishing no connections with colleagues and managers, making no progress, and being unwilling to learn new things are among the signs of the "zombie" phenomenon. This phenomenon is becoming increasingly prevalent among young people, particularly those working in an office environment.
"Every day, around 3 p.m., I start looking forward to leaving the office. During the eight working hours, I only complete assigned tasks with moderate effort. I have no desire for promotion or interest in taking on new responsibilities," said Thu Thao (name changed), an administrative officer at a state-owned company.
Minh An, a 28-year-old graphic designer at an advertising company, shared her experience, saying, "I used to work for a multinational advertising company with a high salary. However, the job was so demanding that I felt exhausted and fed up with going to the office every day. Now, I feel satisfied with my current job, which offers me a reasonable salary and more leisure time." Minh An said that her friends advised her to take on additional projects outside the office to increase her salary and gain more experience, but she declined, stating that she wants to enjoy a life without pressure.
These cases of Thu Thao and Minh An are unfortunately real and indicative of a larger issue.
Lukewarm at work
A survey conducted on over 26,000 people in the Anphabe Vietnam human resources network showed that one in four office workers can be classified as a "work zombie." Even more concerning, more than half of them remain stuck in jobs they dislike. These work zombies have a negative impact on both individuals and the overall functioning of the organization. Research by Anphabe shows that 25% of work zombies lower the job performance of the entire organization by nearly 12%.
Reasons for staying in these jobs include a sense of self-satisfaction with low objectives and a fear of change. Work zombies are often afraid of challenges, resist stepping out of their comfort zones, and lack connections and passion for their work. They show no willingness to contribute, learn, or propose improvements, leading to an overall lack of motivation and a sense of apathy.
Another sign of the zombie phenomenon is individuals who appear busy but accomplish unimportant tasks and make little contribution to the company's development. These zombies find it difficult to listen to others, assuming they already know everything. They tend to blame others and external circumstances, set low targets for themselves, procrastinate, and feel indifferent to the achievements of their colleagues.
Losing direction
The loss of future direction and orientation among the younger generation, particularly when faced with socioeconomic volatility, is a significant factor contributing to the work zombie phenomenon.
After graduation, many young people find themselves working in fields unrelated to their majors or areas of interest. This disconnect leads to a loss of passion and connection with their work and workplace. However, due to financial needs, they find themselves trapped in miserable jobs, day by day, gradually turning into work zombies.
This loss of orientation can be attributed to both subjective and objective factors. Subjectively, it may result from a lack of self-awareness, choosing trendy careers, or pursuing careers to fulfill their parents' wishes. The pressures and social expectations placed on them exacerbate these challenges.
On one hand, overprotective families hinder their direction when entering a competitive labor market. On the other hand, high expectations from their families can make them feel overwhelmed, prompting them to let go of burdens.
Objective reasons also significantly contribute to this imbalance among the younger generation. Gloomy economic conditions and a turbulent labor market due to the Covid-19 pandemic, global political tensions, and military conflicts have caused concerns and negative outlooks regarding future employment prospects.
"Every morning, when I wake up, I lack the motivation to go to work. I've considered changing jobs multiple times, but it's not easy to find new opportunities post pandemic. Therefore, I stick with my current job," expressed Thao, voicing her concerns.
Psychological insecurity and pessimism about the labor market have caused Thao to fall into the trap of working with moderate effort.
Toxic trends
The rise of the internet has facilitated the widespread dissemination of toxic trends among the younger generation. One such trend is the "tang ping" phenomenon, which has gained popularity recently. Originating from China, tang ping encourages individuals to adopt a leisurely and non-materialistic lifestyle, rejecting professional demands and social expectations.
This trend has also found its way into the lives of many young Vietnamese people, adding to the pressure they face. When unable to cope with the stress, they choose to give up and become apathetic about their jobs, accepting their subpar position within the organization.
Similar concepts exist in other influential Asian countries, such as "sampo" in Korea, which means temporary giving up, and "satori sedai" in Japan, referring to a pessimistic outlook on the social situation and a lack of desire to make contributions.
Another controversial trend is YOLO, which stands for "You Only Live Once." Initially, this concept encouraged the young to live life to the fullest, embracing challenges and opportunities. However, it has gradually morphed into a mindset where many young people abandon the race and opt for a more relaxed approach, leaving everything as it is and doing only what they want.
Giving energy to work zombies
Xuan Phuong, a human resources manager at a technology company, acknowledges that the "zombie" phenomenon poses a significant challenge in the workplace. "In a society that keeps moving forward, standing still means moving backward," Phuong stated.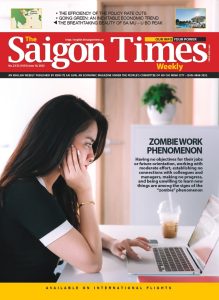 Companies can begin by providing orientation classes for both new and long-serving employees. These sessions aim to rejuvenate individuals and cultivate self-motivation in their work. Employees are encouraged to express themselves, and the company offers ongoing support to maintain motivation, including job reassignments if necessary.
Phuong suggests that businesses should organize various activities, such as internal contests and team-building exercises, to foster solidarity among employees. If all else fails, stronger actions like job transfers or layoffs may be required to minimize the negative impact on the organization.
According to Nham, a branch manager at a vocational training company in HCMC, apart from financial incentives, creating an open and supportive work environment is crucial for rejuvenating disengaged employees. "Employees should feel valued, cared for, and supported. Management should bridge the gap with employees, sharing the company's objectives and direction," Nham added. Additionally, promoting physical and mental well-being through sports activities, talks, outings, and retreats can greatly boost motivation and foster connections among employees.
Enhancing interactions within small, dynamic groups can reinvigorate employees and ignite their motivation to work, leading to a more productive and engaged workforce.