Zoomlion Service Tour 2023 in Vietnam took place smoothly and successfully within two months in many provinces and cities across the country.
Service Tour is an annual activity of Zoomlion Vietnam Co., Ltd., which is organized to develop after-sales service and to give customers who buy Zoomlion machinery and equipment the experience of being cared for the best. Accordingly, Zoomlion's team of technical experts from each region and territory will visit, inspect and maintain equipment of all customers who have purchased machinery and equipment under the Zoomlion brand in that region or territory. Previously, Zoomlion Vietnam organized the Service Tour 2023 launching ceremony with the slogan: "More than you care" – with the criterion: We care more than customers care.
This year, Zoomlion Vietnam's technical team went to the key provinces such as Phu Tho, Hoa Binh, Ha Nam, Thanh Hoa, Ha Tinh and Quang Binh, where many Zoomlion brand machinery and equipment technicians gather to directly visit the Company's customers. During this trip, the technician team carried out equipment maintenance according to the prescribed hours, recorded customers' comments and promptly discussed and resolved problems during usage processes, as well as sent gifts of different values to customers.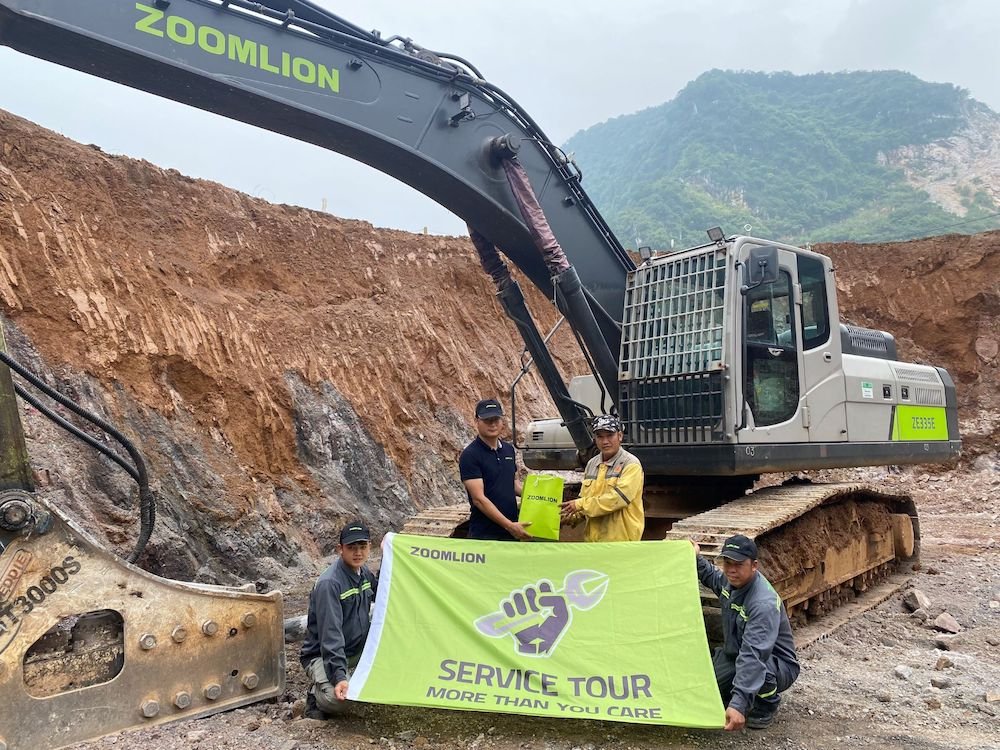 In Viet Tri City, Phu Tho Province, Zoomlion Vietnam's technical team visited customer Tu Lap Construction Company Limited. Tu Lap Construction Co., Ltd. has purchased many pieces of equipment from Zoomlion Vietnam, including the ZE335E 33 Ton medium-sized excavator – known as the "king of excavators", currently working at construction sites of a concrete factory in Hoa Binh Province.
The generalization rate of primary components is more than 70%, and the generalization rate of parts is more than 90%. The service helped reduce fuel consumption and increase workload, optimize pipeline layout, and improve reliability and maintenance. Zoomlion Vietnam technicians serviced and maintained machines, gave technical advice to customers to increase durability when in use, and gave gifts to customers.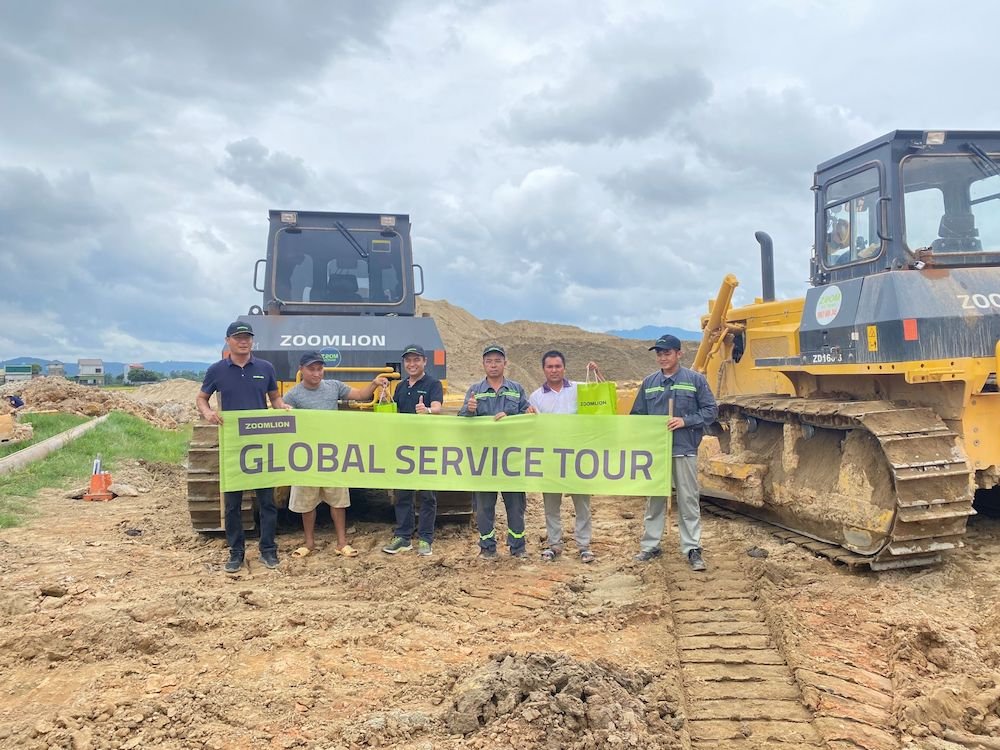 Also on this Service Tour, Zoomlion Vietnam's technical staff had the opportunity to meet many other customers, including Truong Thinh Group in Dong Hoi City, Quang Binh Province. Truong Thinh Group is a loyal and long-time customer of Zoomlion Vietnam. On this occasion, Zoomlion Vietnam's team of technical experts had the opportunity to test the equipment, the Zoomlion model ZD160S-3 bulldozer of Truong Thinh Group. This is a bulldozer with an ironing capacity of 4.7m3, a tonnage of 18,100 kg and a capacity of 131kW. The Zoomlion model ZD160S-3 bulldozer is specialized for pushing long distances, digging trenches, filling, loosening, cleaning, breaking soil, snow melting, trash removal and other functions. With the ability to use one machine for multiple purposes, the Zoomlion model ZD160S-3 bulldozer in particular and Zoomlion brand bulldozers in general are widely used in mining, construction, transportation, oilfield port construction, agriculture and forestry, national defense, building materials and other industries. Zoomlion's technical team also maintained the equipment as well as provided technical advice to Truong Thinh Group during use.
It is an honor that Zoomlion brand equipment is directly participating in construction projects across the country such as Phu Tho – Tuyen Quang interprovincial expressway construction project; Seaport Construction Project in Nghi Son, Thanh Hoa; North-South Expressway Construction Project in Quang Binh; Stone mining project in Ang Son, Quang Binh; etc. At each location, Zoomlion's technical team conducted equipment maintenance and technical consultation to increase durability during use. Zoomlion has also received a lot of positive feedback about the quality of equipment from customers, as well as recorded comments so as to improve techniques and services in the near future, ensuring customers the best service. At the end of each journey at each destination, Zoomlion technicians never forgot to send gifts as a token of gratitude to customers.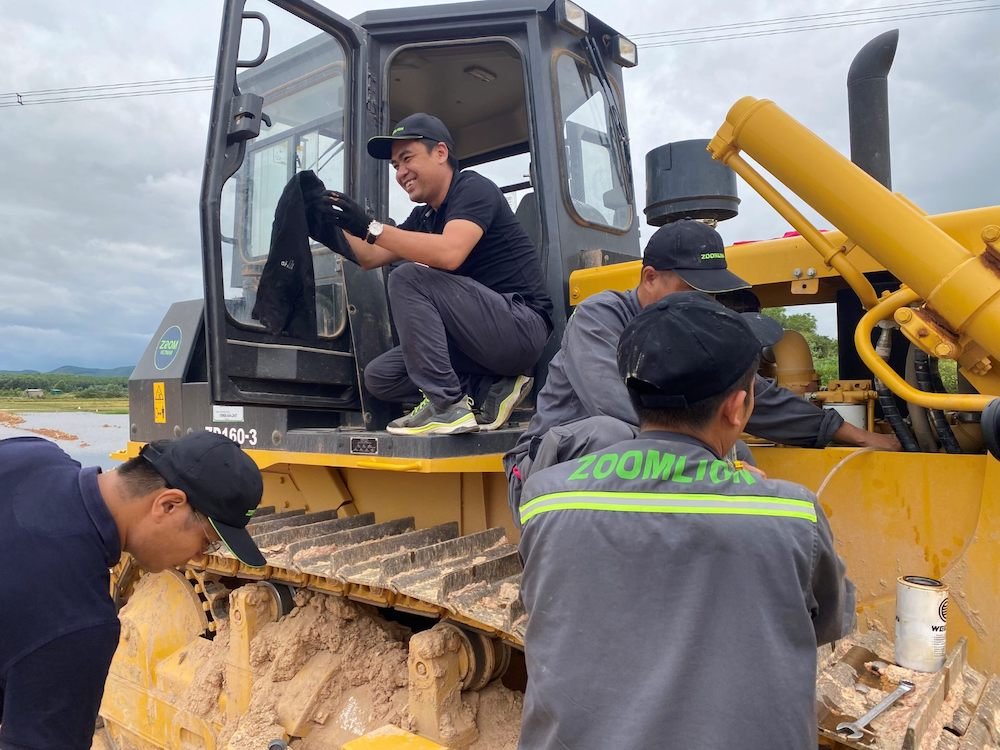 The 2023 Zoomlion Service Tour event has ended successfully, closing the journey of the Zoomlion Vietnam technician team traveling all over the world to bring services to each location for customers.