Spring is in the air and yes Tet is just around the corner! The Vietnamese Lunar New Year comes our way early this year, on January 22. It's a joyous occasion as families and friends, near and far, gather to re-connect, celebrate and usher in the new year. Amid all the festive preparation, why not include some interesting tipples to go with your favorite traditional food?
Let's start off with my favorite, Banh Chung as it is called in Northern Vietnam or Banh Tet, in the South. The glutinous, sticky rice cake is wrapped in dong leaves in a rectangular shape in the North and wrapped in banana leaves and cylindrical in the South. It is filled with lip-smacking flavors of pork, fragrant green beans, dried onions and pepper. Select a warm weather, fruit-forward Chardonnay from countries like Australia or California, USA to go with this treat. The subtle flavor notes of honeymelon and even lychees will pair nicely with the sweet green beans while the acidity from this grape variety will work well with the pork.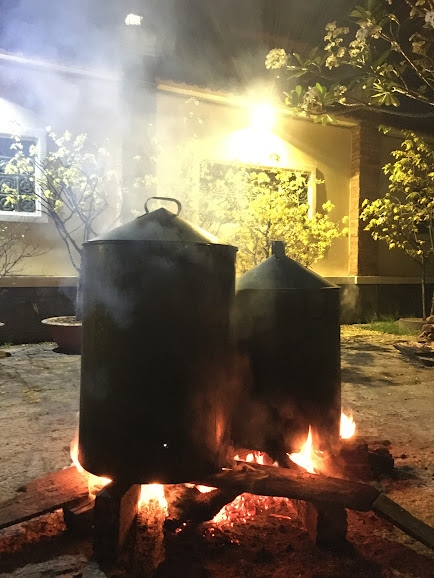 Fried spring rolls or Cha Gio as called in the South and indeed Nem Ran in the North, is another staple Vietnamese families enjoy this time of the year. The golden spring rolls, packed with minced pork, peeled shrimp or crab meat, mushrooms, wood ear and so on, make for a rich concoction of flavors. I suggest match it all with a dry German Riesling. The lemon-like minerality and high acidity will add structure and a nice bite to this dish.
A simple rule of thumb when searching for that German Riesling is to look for a bottle with the label Trocken (dry) or Halbtrocken (half-dry). Other labels to look out for in your purchase are Kabinett (simple, low alcohol style) and Spatlese (a category higher for more complex, fuller bodied wines. They are harvested from grapes picked later and so, riper, than Kabinett grapes).
In fact, another dish that will go nicely with the Riesling is Gio Cha or Vietnamese Ham/Sausage. Made with tender pork loin and wrapped in banana leaves, this dish has a clean, salty flavor which will pair well with the acidity and low sugar levels of the Riesling. The Xoi or sticky rice, which is a staple side dish for it, will also go well with this German style dry wine.
Most Vietnamese will offer Thit Ga or Boiled Chicken for prayers and to enjoy at new year meals. The chicken is a simple, rustic dish but takes skill to prepare to ensure the meat is smooth and retains its full juiciness. Usually just served with sliced lemon leaves and a salt and pepper dip, try an Italian Moscato d'Asti with this.
The delicate, fruit-forward wine, with a hint of characteristic muskiness, hails from Piedmont, northern Italy. It is made from selected, premium Moscato grapes gathered in tiny batches and limited quantities. It is always slightly fizzy, or frizzante, as is called in Italian. As such, it is usually bottled with a normal wine cork (not a sparkling wine cork with a wire cage) as the level of carbonation is low.
The wine is meant to be fresh, young and vibrant and drunk chilled. You should choose a recent vintage too. Its subtly sweet taste and low to medium tannins will lift this dish and make it even more finger-licking good! The alcohol level is also low for wines, at 5.5 percent, so watch your consumption of it as a delicious drink with low alcohol is a tempting combination!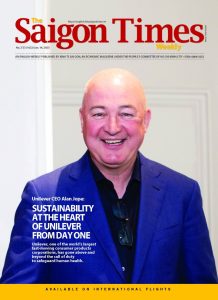 Last but not least, what wine can you serve with Mut Tet or Tet Jam? This sumptuous spread of traditional snacks like pumpkin seeds, sunflower seeds, watermelon seeds, dried sweetened ginger, carrot, coconut or pineapple and so on is always served at the table for guests to nibble when they visit. Tea is the usual beverage to accompany this kaleidoscope of snacks. Its tannins no doubt go well with it but consider something different like an Australian Rose instead.
This medium-sweet style of Rose, best served nice and cold, can be made using different types of red grapes or just a single varietal. It comes complete with medium tannins and a lovely pink hue, caused by a short mixing of the red grape skins and the extracted grape juice during the production process. The inviting pink color is fresh, bright and appropriate for the New Year. These traits will add harmony, auspiciousness, fun and laughter to the house visit.
Interestingly, this important festival, filled with centuries-old auspiciousness, symbolism and meaning, is not only celebrated in Vietnam but also in other neighboring Asian countries and territories like China, Taiwan, Korea and Singapore, albeit with their own local traditions. It is indeed quite a widespread, significant festival.
On this note, let me wish all our readers celebrating this joyous festival a Very Happy and Auspicious Lunar New Year! Wishing you much success, happiness and robust health. May all things good come your way this year of the Cat or Rabbit, as celebrated outside Vietnam. And to our Vietnamese readers, a warm "Chuc Mung Nam Moi!"