Some have opined that although the tourism industry has been hit hardest by the pandemic, it can stand up again immediately, just like a compressed spring would return to its former shape when released. However, given the real situation now, tourism may not recover on its own because the spring has lost its elasticity.
When it comes to the reopening of the tourism industry, many have argued that Vietnam should open her doors more forcefully and should not put international travelers in quarantine.
In addition, Vietnam should quickly resume international flights, allowing foreign workers and Vietnamese staying abroad to come to Vietnam more easily. At present, the costs of a return are exorbitantly high in many cases.
Aggressive resuscitation needed
Speaking of the reopening of the tourism sector and the economic recovery, Tran Du Lich, an economist, contended that further hesitation in taking urgent measures may mean we will miss the train. It's just like when a patient desperately needs medicine, doctors should prescribe what is necessary, he said. Medicine given some moments later might be ineffective.
Mr. Lich has made field trips to several provinces in central Vietnam where he saw tourism there was in tatters.
"Can the tourism industry stand again on its feet by itself?" the economist posed a rhetoric question. "No, because it's like a spring having lost its elasticity," he answered his own question. "It can't recovery on its own." Mr. Lich was speaking at a workshop on tourism reopening and economic recovery hosted by Thanh Nien newspaper last Tuesday, December 7.
According to Mr. Lich, Resolution 08 issued by the Politburo in 2017 on turning tourism into an economic spearhead has vigorously driven the growth of the tourism industry.
Of the three segments in this industry, including accommodation, travel services and transport, accommodation with tourism realty has forged strongly ahead. However, Mr. Lich warned that the segment is facing a terrible risk. Covid-19 has stalled almost all big hotel constructions. "If these enterprises die, will banks be still safe?" he asked.
Detailing the present state of tourism enterprises, Mr. Lich argued that three groups can be distinguished at the moment. The first group includes companies that are affected by the pandemic and have had to stop operation. However, as they are able to retain their work force and money flows, they may resume, conditions permitted.
The second group, also affected, saw their employees dispersed and are now lacking capital. However, if given loans, they may start after a short time. Mr. Lich insisted that money should be pumped immediately to help enterprises in this group. Otherwise, they will no longer be able to recover to help the entire sector to sit up again.
The third group involves those that no longer meet conditions for getting loans. Some of them must be given credit so that they can recover business. "The majority of tourism firms are in groups two or three," said the economist. "Very few firms are in group one." He suggested that priority should be assigned to the hospitality industry. A delay may mean they never stand up again, he insisted.
As far as the reopening of the tourism sector is concerned, Mr. Lich maintained that a focus on chartered flights would exert little effect on the recovery. It needs to resume accommodation and travel services, and aviation transport during the upcoming Tet, the Lunar New Year festival. Or else, he said adamantly, a spring that has lost its elasticity will not bounce back.
"If we are determined to reinstate tourism, we shouldn't feel fearful," he said. "We have to [fully] reopen the aviation industry."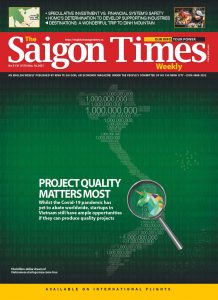 Prevention of racketeering in pandemic prevention
Luong Hoai Nam, an expert in tourism and aviation, said enterprises are in support of pandemic prevention measures. However, they argued that it is necessary to eliminate what they said are hurdles in economic activities and the people's mobility as a result of unscientific principles or fears of responsibility.
Mr. Nam told stories of Vietnamese living abroad who had to buy returning packages at prohibitively high prices. They are examples for the remark that there are currently problems in pandemic prevention that impede economic operation and the people's daily life. Rent-seeking in this case must be ruled out, he argued.
He said each of these returning packages costs at least VND80 million (more than US$3,400). One of his friends had to spend almost VND200 million (over US$8,500) to get home in Vietnam.
Previously, to arrive in Vietnam, a tourist had to buy an air ticket and pay for quarantine costs. There was a time that a ticket for a flight from Europe to Vietnam was only US$1,200, and a flight from the United States was US$1,600. Meanwhile, quarantine costs at Vietnamese military facilities were not high.
"I don't know how much the aviation and accommodation sectors received in these cases, but who would benefit when offering the packages?" said Mr. Nam, considering them devastating signs for aviation and tourism, and standing in the way of the economic reopening. He added that many are sharing how to return to Vietnam via Cambodia.
Mr. Nam suggested that Vietnamese citizens abroad should be allowed to return immediately without any formalities. This should be done urgently because the Lunar New Year is in the air and many Vietnamese want to return home.
As regards the reopening of the hospitality industry, this expert argued that no delay is necessary because the vaccination coverage in Vietnam is already high. For instance, the rate in HCMC and Hanoi is higher than that in some regions in America and Europe, and is almost equal to that of Singapore.
According to Mr. Nam, once the door has been opened to international travelers, they should not be subject to quarantine. Vietnam should look to what Thailand is doing. Our neighbor is open to many countries and applies no draconian regulations on international visitors.
In addition, visa-free polices applicable to some countries prior to the pandemic should be resumed. Visitors should not be compelled to buy package tours because many of them do not want to buy the packages. Airlines therefore find it hard to sell more tickets on a flight. Once having entered Vietnam, foreign tourists should be allowed to visit other places, not only designated destinations.
Each day, dozens of flights connecting Hanoi and HCMC are carried out. If domestic flyers do not have to undergo quarantine, the regulations that fully vaccinated foreigners are subject to quarantine is unreasonable.
Foreign travelers should be allowed to move around the way domestic passenger are. That means if they meet safety regulations on pandemic prevention, they may visit any place which is accessible to domestic visitors.