Set foot in the Mekong Delta province of An Giang or just mention Bay Nui (Seven Mountains), and one will hear numerous stories and rumors about multiple sacred vestiges that have existed for hundreds of years.
Those famous vestiges include Buddha's hand-shaped statue, a sacred yard, a sacred tomb, sacred wells or a magic eye stone, shoe-shaped footprint, and many others. They are all bizarre but appear in real life.
The legends about the treasure in the heart of Cam Mountain or the anecdotes about Emperor Nguyen Anh sound even far more thrilling. Many tales about King Cobra, the Gods of Cam Mountain, Bo Hong Mount, Chu Tien Mount, Hoi Mount, the Temple for the King of Heaven, the Temple for Love Gods, the stone chess board, the stone belt, and many other locations have long hinted at the presence of supernatural powers.
Another definition of fairyland
Many human footprints with toes clearly visible on the ground have aroused curiosity among locals and visitors about their origins, whether they were formed by an extraordinary coincidence of Nature or supernatural spirits. Some people even believe that those were of the aliens when they set foot on Co To and Cam Mountains, perhaps after rains, a long time ago.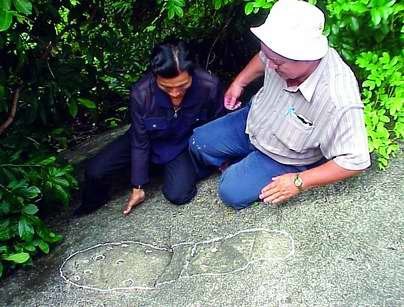 Travelers will find it interesting to see those sacred vestiges with their own eyes. Standing amid a sacred atmosphere with extraordinary coincidences of Nature, people tend to believe in the presence of supernatural spirits. Some visitors place their foot on those footprints, while others pray for their families and themselves.
Additionally, sacred wells in the Bay Nui Region are on everybody's lips, both locals and visitors. The five sacred wells on the Ngu Ho Son Mount stand out as special and unique things there.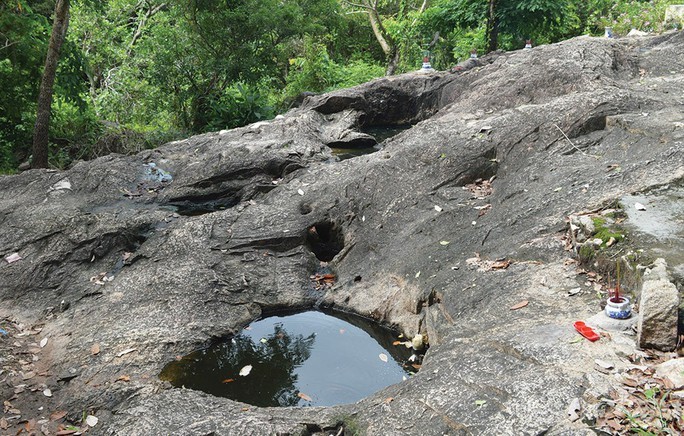 One story has it that Gods and fairies gather and hold festivals on Thien Cam Son or Cam Mountain every year when spring comes. They have a party, sing, and play chess together. That explains why the stone chess table has appeared in Cuu Pham Temple until now. It takes them just one step to move from one to another mountain. It is said to be the reason why the prints of the left foot appeared on Cam Mountain, while the right footprints were found on Co To Mountain.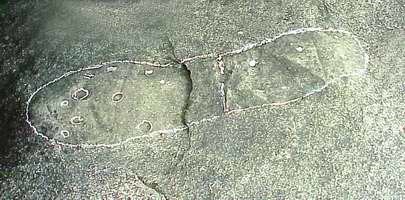 The number of visitors taking cable car rides up Cam Mountain has increased sharply compared to the figure in the same period last year, showing a positive signal for bustling tourism in the spring season. Tourists burn incense at those sacred vestiges to pray for their protection and peace.
A spring tour around Cam Mountain is a good opportunity for travelers to see multiple sacred vestiges with their own eyes, pray for peace and protection from supernatural spirits, enjoy the tranquil atmosphere and green landscape, as well as participate in the traditional food festivals there. Notably, special buffets are offered at the Cable Car Station as a colorful and cozy version of those traditions and customs.