Howie Roberts, an internationally recognized golf course operator, is falling head over heel with the beauty of MerryLand Golf Club. The first golf course of Hai Giang Peninsula made this expert put all his efforts into planning a "destination for golfers with no boundaries in age and level."
Before taking on the role of General Manager of MerryLand Golf Club, Howie was General Manager at many famous golf clubs in Southeast Asia and the Middle East such as Yas Links Abu Dhabi (UAE), The Montgomerie Dubai, Sutera Harbour (Malaysia), Cengkareng (Indonesia), and Danang Golf Club in Vietnam, and has more than 25 years of experience in golf management. He is a member of The British Professional Golfers' Association (PGA), the world's oldest PGA with over 8,000 members in 80 countries and partners of the renowned Ryder Cup. Howie is also a member of The Club Managers Association of Europe (CMAE), which organizes prestigious educational courses to enhance the professional skills of more than 4,000 club managers across 40 countries.
Good morning, you have served as General Manager of many famous golf clubs all over the world, so what brought you to MerryLand Golf Club?
The creative design team of Greg Norman and the vision of a high-class developer who are creating a world-class golf club. I believe the vision that Hung Thinh Corporation has for MerryLand Golf Club is truly amazing and I want to be part of that vision.
The course itself will be quite unique due to the topography and its location along with its integration within MerryLand Quy Nhon. The course will play a little over 7,200 yards from the Championship tees and with multiple tee ground options available, the course will be both playable and challenging for golfers of all abilities. The Par 72 course will also provide spectacular views overlooking Mai Huong Bay.
What is the distinction of MerryLand Golf Club compared to other golf clubs in Vietnam, which will make golfers visit more than once in their life?
What makes MerryLand Golf Club different is the unique terrain of the project itself. This 18-hole championship course overlooks the sea, Mai Huong Bay and the adjacent mountain range. You will feel the spirit of golf is everywhere here, from the diversified design of the holes, the rocky terrain with isolated tee boxes, creative bunkering through the winding fairways and the contoured manicured greens.
MerryLand Golf Club will continuously create memorable experiences, both challenging professional golfers with strategic bunkering whilst still allowing club players to enjoy their game. Whether it's sunrise or sunset, sunny or a rare cloudy day, this course will captivate golfers with its own enchanting landscape on Hai Giang peninsula.
Many functional areas will be built in MerryLand Golf Club, what will these additional items increase the experience for players?
A golfer's experience can influence a player's decision to choose a course, especially when golfers are tourists, which can account for up to 80% of play in tourist destinations. Understanding that, we've decided to focus more on service quality and customer experiences, both physically and emotionally. From the design of the course, the integrated 5-star facilities such as restaurant, bar, member lounge, locker rooms and wellness area… all are built for the purpose of enhancing the overall experience, bringing pleasure to all those who are passionate with the great game of golf. You will also find a well stocked Pro shop with a wide range of the latest apparel, accessories, and equipment from famous brands such as Callaway, Titleist, PING & TaylorMade. In addition, we plan to offer unique VIP services for famous international politicians, businessmen and celebrities when attending events at MerryLand Golf Club.
In particular, MerryLand Golf Club will be designed for players of all abilities. This course will host professional golfers and organize international tournaments, but at the same time we are conscious to provide a diverse experience for players, both domestic and international guests, tourists and businessmen or family guests. MerryLand Golf Club will be a golf course that everybody who loves this sport will also aspire to experience and return many times.
In your opinion, what are special points that help optimizing the operation of MerryLand Golf Club in the future?
We have a specific plan for operational activities at MerryLand Golf Club. The guest journey is paramount to our vision, and the operational team will be very focused on the touch points of the guest's experience. Technology will play a big role in supporting this journey. The technology itself won't necessarily be seen by the guest but it will be running in the background supporting the team to bring the best experience to members and guests alike.
In addition to the golf course, supporting services are also important. Golfers come to the course not only to experience the golf, but also to bring the family to relax and explore the adjacent surroundings and atmosphere. Being located in the "world-class smart commercial tourist peninsula city", MerryLand Quy Nhon also offers countless one-of-a-kind experiences and helps to extend the guests stay, so that the guest stays longer and continues to return.
MerryLand Golf Club will cater for three types of guest: serving residents of "peninsula city", local golfers and tourists. The golf club not only helps support guests, but also contributes to increasing the value of real estate and provides outstanding investment opportunities for investors in MerryLand Quy Nhon.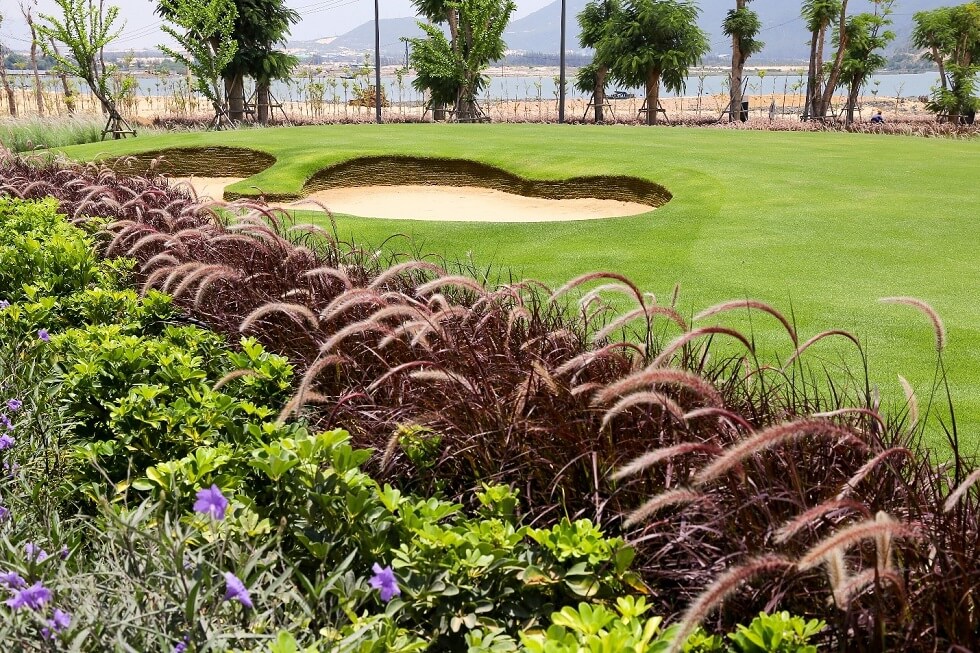 Vietnam has been ranked in the top of the best golf destinations in the world and Asia, so what do you expect from the potential of MerryLand Golf Club?
Vietnam has the fastest growth in the golf market world-wide with approximately 100 golf courses and 100,000 golfers (according to Forbes). Hung Thinh Corporation will create a golf course that not only attracts these 100,000 golfers, but also be ready for the most prestigious international professional tournaments, and become a favorite destination for golfers around the world. Ultimately, we would like MerryLand Golf Club to be featured in the ranking of the World's Greatest Golf Courses.
The potential of golf in the east of ​​Vietnam is just beginning to be discovered. As a golf course that emphasizes a sustainable balance between golf and nature, MerryLand Golf Club focuses on keeping the natural features of the terrain, besides investing and building high-class quality services. We want to position MerryLand Golf Club to become a symbol of MerryLand Quy Nhon, attract visitors and bring high value to the owners of Bizhouses and Villas in this megacity.
MerryLand Golf Club is currently under construction and is expected to open at the end of the first quarter of 2024. I believe that we will honour the expectation for a world-class golf course in Merryland Golf Club.
Thank you!