Vietnam's rice exports rose strongly by nearly 45% in value in the first months of the year, while many enterprises did not have sufficient rice to export, given the increasing global demand for food.
On April 26, the Ministry of Industry and Trade held a conference in HCMC to evaluate rice exports in the first quarter and orient the management of rice trading in the coming months. The conference was attended by officials of the Mekong Delta provinces and leading rice exporters.
According to Nguyen Ngoc Nam, chairman of the Vietnam Food Association (VFA), as of April 15, Vietnam had exported nearly 2.4 million tons of rice valued at US$1.3 billion, rising 33.7% in volume and 45% in value compared to the same period of last year.
The Philippines, one of Vietnam's largest rice buyers, has rejected news reports that it would import some 330,000 tons of rice. India, a competitor of Vietnam in exporting rice, decided to remove a 20% tax imposed on white rice exports. That information is said to be bad news for Vietnam's rice exports. Many local rice exporters, however, said that Vietnam's rice exports this year will not be affected by the situation.
Nguyen Van Thanh, board chairman and general director of Phuoc Thanh IV Trading – Production Company Limited, told The Saigon Times that the market shares of the two countries are different. One focuses on low-quality rice, and the other's market is intermediate. Vietnam has many rice buyers from China, the Philippines, Malaysia, and Indonesia that focus on importing high-quality long-grain and jasmine rice. In contrast, parboiled rice and basmati rice are the advantages of India.
Some Asian countries are forecast to face a rice shortage due to unfavorable weather conditions this year; thus, many countries will consider boosting rice imports to ensure food security.
"We need to control the rice quality to maintain exporters' prestige. Tighter control over pesticide residues in cultivation will enable businesses to penetrate demanding markets," Thanh said.
Speaking at the conference, Huynh Van Khoe, director of Blue Ocean Export-Import Company, said that Vietnamese rice now has the opportunity to improve its position in the global market. However, local rice exporters lack quality rice to sell to the U.S. and EU markets.
Nam of VFA said Vietnam's rice export is seeing favorable conditions this year as the demand is higher than the supply. However, it is necessary to restructure production, linkages, and adaptation to climate change to seize market opportunities.
Robust local rice trading
Advantages in exports have boosted local rice trading during the past time, especially when the supply of the 2022-2023 winter-spring rice crop ran out.
Ngo Ngoc Yen, director of Hoa Phat Tan Chau Export-Import Company Limited, said that low-quality rice such as IR 50404 or OM 380 is priced at VND6,500 – VND6,600 per kilogram. Meanwhile, the other high-quality ones like OM 5451 and OM 18 are sold from VND6,800 – VND6,850 per kilogram, higher VND500 – VND600 compared with the prices recorded two weeks ago.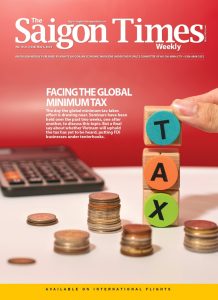 Based on the development of the global market and the current situation of local rice supply, a representative foresees that the rice market will continue to be busy till the end of the year. Many state-owned enterprises have contacted traders to buy rice, but the supply is limited.
There is one month left in the run-up to the ripe summer-autumn rice crop in Tien Giang and Long An provinces, but many traders have spent money buying young rice at a high price.
Nguyen Van Hai, a trader in Cai Lay District, Tien Giang Province, said that till now, he has to advance money to buy rice from farmers at a price ranging from VND2 million to VND3 million per hectare and spend VND6,500 – VND6,600 buying each kilogram of IR 500404 and OM 380 rice.
A farmer in Phu Cuong Commune, Cai Lay District, Tien Giang Province, said that if the rice yield achieves seven tons per hectare, after deducting investment costs, farmers will earn profit of around VND2.5 million for each 1,000 sqm, equal to VND25 million per hectare.