Modest growth reported by securities firms in the first quarter of 2023 came as no surprise given the dismal market conditions and the high base in the year-ago period.
A predictable fall
Securities firms reported lower revenue and profit in the first three months of the year. Leading companies are no exception.
VNDirect Securities Corporation posted a 27% drop in revenue, at VND1,290 billion. Its profit after tax dived by 82% year-on-year, from VND762 billion to VND140 billion, while earnings from margin lending and securities brokerage services dipped 46% and 68%, respectively. Its costs inched up 4% and its financial expenditures tripled. It lost another VND220 billion from expenses for proprietary trading despite an 18% increase in proprietary trading revenue, at VND782 billion.
Saigon – Hanoi Securities JSC and Viet Capital Securities JSC were in the same situation. The former said its first-quarter pre-tax profit had slumped 88% over the same period last year to VND51 billion, while the latter saw its after-tax profit slipping 84% at VND77 billion.
Likewise, SSI Securities Corporation recorded VND590 billion in pre-tax profit, down 33% year-on-year. Revenue from its operations fell 26% to VND1,439 billion, in which financial assets at fair value through the statement of profit or loss, or FVTPL, edged up to VND679 billion. However, loans and receivables dipped by half to around VND340 billion. Income from brokerage services plummeted by 57% to VND257 billion. As a result, SSI's after-tax profit accounted for two-thirds of the first-quarter net profit in 2022, at VND481 billion.
Techcom Securities JSC and HCMC Securities Corporation saw a 55% slump in profit over the year-ago period, at VND334 billion and VND124 billion, respectively. Mirae Asset Securities JSC's pre-tax profit contracted by 53% at VND160 billion due to revenue from its operations falling by 25% to VND562 billion.
Securities companies' revenue from stock brokering services totaled VND2 trillion, down 34% from the previous quarter or lower than a third from the final quarter of 2021. This is the lowest level in nine quarters. The stock market's volume and value have been dwindling, with the matching value of several trading sessions below VND10 trillion.
On the other hand, expenses for securities brokering services in the first quarter dropped by 21% compared to the previous quarter, at VND1,850 billion. Consequently, the gross profit from brokering services in the first quarter was lower than VND200 billion, down a staggering 76% compared to the fourth quarter of last year and the lowest level since the first quarter of 2020. Gross profit margin contracted to a mere 9%, much lower than the quarter earlier and the first quarter of 2021, at 24% and 38%, respectively.
Most securities firms attributed the steep fall in revenue and profit in January-March to the negative influence of common market movements on proprietary trading, brokerage and margin lending, not to mention that investors became more prudent amid the bleak market conditions.
In addition, interest rates are highly influential on market sentiment. A high-interest rate environment triggered investors' concerns over businesses' profit prospects due to rising interest expenses and weak demand. They also discouraged investors from taking out a margin loan.
A glimpse of hope
The profit contractions occurred within expectations due to the gloomy market and the high base in the year-ago period. However, their profit improved over the fourth quarter of 2022, raising hopes that the market has reached its bottom and may bounce back in the following quarters.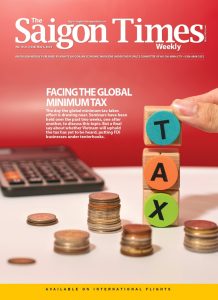 The recent interest rate cuts further support the belief in the return of a bullish market. In March, the State Bank of Vietnam slashed interest rates two times. Its move raised investor confidence in the market, reflected in improvements in liquidity and trading value of the stock market. Since early April, the average matching value on the Hochiminh Stock Exchange reached over VND10.4 trillion per session, 30% higher than in the previous month.
That, coupled with joint efforts between authorities and securities firms to put into operation the stock trading system built by South Korea, known as KRX, casts a ray of hope for stock buyers. The KRX is expected to be a turning point in helping the Vietnamese stock market move up some notches, for which investors have long been yearning.
Though optimistic signals have emerged, challenges for the stock market are still ahead due to unpredictable market movements. Most securities stocks have recovered strongly since the beginning of March. Thus, investors should take careful consideration before buying securities stocks.